This article is about the third age mage named Zuriel. For the equipment owned by Zuriel, see
Zuriel's equipment
.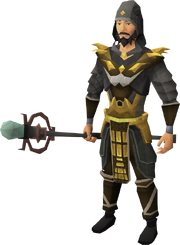 Zuriel was a mage that lived in the Third Age. He was one of the Ancient Warriors and was capable of casting the strongest spells known so far on RuneScape, Miasmic spells.
The Miasmic spells were the strongest spells on the Ancient Spellbook, which made them the strongest combat spells in RuneScape. They were very useful for Mages since they halved the speed of their opponent's Melee and Ranged attacks. To cast these spells, players needed to be wielding Zuriel's staff which behaves exactly the same as the robes, except that the Defence requirement is instead an Attack requirement.
Zuriel means "my rock is God" in Hebrew.
Ad blocker interference detected!
Wikia is a free-to-use site that makes money from advertising. We have a modified experience for viewers using ad blockers

Wikia is not accessible if you've made further modifications. Remove the custom ad blocker rule(s) and the page will load as expected.