Zenn[1], or as he was known during development, Wise Panda Sprout, is a pet in the Solomon's General Store. It won over others in the Design a Pet competition hosted by Solomon himself.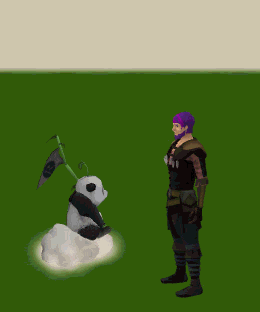 Zenn, the panda Sage was one of over 700 entries to the competition and was designed by a player known as Zhiry. The pet's features include a cloud upon which he floats and a stick of bamboo which he carries around with himself on the cloud. It also has an interactive emote in which the pet begins to doze off to sleep before waking up again with a fright as the player screams at him.
The pet can be purchased for Solomon's General Store for a price of 80,000 Loyalty Points.
References
Edit