The
barrows-dyed Zaros godsword
is a
Zaros godsword
that has been dyed with a
barrows dye
- it is otherwise the same as the undyed variant. This process is irreversible. It can be augmented with an
augmentor
to make the
augmented Zaros godsword (barrows)
.
The Zaros godsword has a special attack, Blackhole, which summons a black hole over the player's location for 20 seconds. While this black hole is active, melee damage is increased by 25%, and if your target enters the black hole, it takes 25-50% ability damage every 1.8 seconds. This costs 50% adrenaline, and has a 60-second cooldown. The black hole continues to persist and increase the player's damage even if the Zaros godsword is unequipped for a different weapon.
The godsword has 60,000 charges of combat (a minimum of 10 hours) before degrading to a broken state. It can be recharged at a repair NPC for 4,800,000 coins, or less on an armour stand.
Making a barrows-dyed Zaros godsword costs 915,735,969 coins.
Combat Stats
Requirements
Degrades
92
60,000 charges
Class
Slot
Unknown edit
Tier
92
Weapons
Main
Off
Damage
2056
-
Accuracy
2577
-
Style
Slash
Range
1
Speed

Average (3.6s)

Attributes
Damage reduction
Armour
0
PvM:

0%

PvP:

0%

Life points
0
Style bonuses
Prayer
0

0

0

0

[FAQ] • [doc]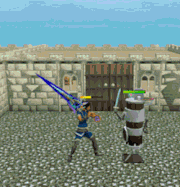 The base repair cost of the Zaros godsword (barrows) is 4,800,000 coins. It can be repaired by:
Alternatively, it can be repaired on an armour stand in a player-owned house, or a whetstone device anywhere. This provides a discount of 0.5% per Smithing level (including boosts).
template = Calculator:Template/Smithing/Armour stand form = repairForm result = repairResult param = level|Smithing level (1-105)|1|int|1-105 param = cost|cost|4800000|hidden|
Calculator
The calculator form will appear here soon. You will need Javascript enabled and cannot be using the mobile version of the Wiki. If you are on a mobile device, you can load the full version of the site by clicking here.
Result
The result will appear here when you submit the form.
Disassembly
Edit
Armour
Elite armour
Weapons

| | |
| --- | --- |
| Drygores | |
| Seismic | |
| Ascension | |
| Noxious | |
| Telos |  Zaros godsword (Augmented) |
| Khopeshes | |
| Nex: Angel of Death | |
| Solak | |
Swords
Halberds
Godswords
Reward
Other
Promotional
Dyed noxious scythe
Dyed Zaros godsword
 Barrows
 Blood
 Ice
 Shadow
 Third Age