The Third Age-dyed Zaros godsword is a Zaros godsword that has been dyed with a Third Age dye - it is otherwise the same as the undyed variant. This process is irreversible. It can be augmented with an augmentor to make the augmented Zaros godsword (Third Age).
The Zaros godsword has a special attack, Blackhole, which summons a black hole over the player's location for 20 seconds. While this black hole is active, melee damage is increased by 25%, and if your target enters the black hole, it takes 25-50% ability damage every 1.8 seconds. This costs 50% adrenaline, and has a 60-second cooldown. The black hole continues to persist and increase the player's damage even if the Zaros godsword is unequipped for a different weapon.
The godsword has 60,000 charges of combat (a minimum of 10 hours) before degrading to a broken state. It can be recharged at a repair NPC for 4,800,000 coins, or less on an armour stand.
Combat Stats
Requirements
Degrades
Tier
92
60,000 charges
92
Class
Slot
Attributes
Unknown edit
Armour
0
Life points
0
Weapons
Main
Off
Prayer
0
Damage
2056
-
Damage reduction
Accuracy
2577
-
PvM:

0%

PvP:

0%

Style
Slash
Style bonuses
Range
1

0

0

0

[FAQ] • [doc]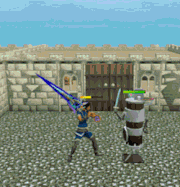 The base repair cost of the Zaros godsword (Third Age) is 4,800,000 coins. It can be repaired by:
Alternatively, it can be repaired on an armour stand in a player-owned house. This provides a discount of 0.5% per Smithing level (including boosts and assists).
template = Calculator:Template/Smithing/Armour stand form = repairForm result = repairResult param = level|Smithing level (1-105)|1|int|1-105 param = cost|cost|4800000|hidden|
Calculator
The calculator form will appear here soon. You will need Javascript enabled and cannot be using the mobile version of the Wiki. If you are on a mobile device, you can load the full version of the site by clicking here.
Result
The result will appear here when you submit the form.
Disassembly
Edit
Armour
Weapons

| | |
| --- | --- |
| Drygores | |
| Seismic | |
| Ascension | |
| Noxious | |
| Telos |  Zaros godsword (Augmented) |
Swords
Halberds
Godswords
Reward
Other
Promotional
Dyed noxious scythe
Dyed Zaros godsword
Ad blocker interference detected!
Wikia is a free-to-use site that makes money from advertising. We have a modified experience for viewers using ad blockers

Wikia is not accessible if you've made further modifications. Remove the custom ad blocker rule(s) and the page will load as expected.