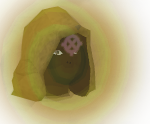 Zaros (pronounced "ZÀ-ross"[2]) is the god of control and an extremely powerful entity whose power was close to that of Guthix.[3] His ways are characterised as Machiavellian, 'empty' and manipulative and he is sometimes associated with shadow, emptiness, fate and absence.[2]
Unlike any of the other younger gods, Zaros was never a mortal, nor did he ascend to godhood through the use of Elder Artefacts; he has never been anything else but a divine being. While his history prior to entering Gielinor is unknown, he had so much might that all the other gods present in the Second Age feared him immensely. Because merely saying his name is enough to empower him, he has earned various titles, some of which may also have been invented by creatures who did not follow Zaros.[4] His ambition is said to be to become fate itself, exercising control over all that is in existence so as to achieve a world without chaos.
Zaros wants the world to belong to mortals, like Guthix, but he is of the opinion that mortals would neither be safe nor capable of living without the guidance of gods, who are able to set some rules and exercise proper control; otherwise, everything would turn to chaos. As such, he suggests that he watches silently, making checks and balances to ensure 'balance' is maintained. He wishes to become fate itself, and control the life of the mortals.
Zaros' arrival in Gielinor was one of the most important events of the early Second Age. During this age, he ruled a vast empire of hitherto unrivalled size, stretching from the borders of the Troll Country and the Frozen Wastes to Kharyrll, bordering the Hallowland, and from Ghorrock by the Northern Sea to the northern cliffs of the Kharidian Lands in the south. From his arrival, which was some time after Guthix's first descent into the earth and subsequent sleep, and until his downfall at the hands of Zamorak, Zaros was one of the most powerful gods known to Gielinor, both in personal power and influence. Even millennia after his defeat, the few people aware of his existence are aware of his immense might and the gods familiar with him express great fear at his name.[5] The very few present-day Saradominists and Zamorakians who possess knowledge of Zaros consider him an adversary. For instance, the legendary adventurer Dionysius becomes furious upon hearing his name.[6] Others, like certain inhabitants of the Kharidian Desert, and some Mahjarrat, still worship Zaros as their lord.
He is the patron of the Ancient Magicks and Ancient Curses, and is strongly associated with conquest and domination. Zaros has only recently regained contact with his followers on Gielinor by way of a communion portal. He is currently located in a far and distant world, planning his return with Azzanadra.[7]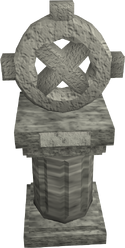 The symbol of Zaros is a circle with four small, rounded juts pointing outwards surrounding a Greek (equidistant) cross, and is usually found as ornament on Zarosian artefacts and clothing, as well as Zarosian fortresses such as Viggora's Fortress. Unlike some gods, such as Saradomin and Armadyl, who derived their symbols from Elder Artefacts, Zaros' symbol is his own creation. Its meaning and what it represents however, is unknown.[8] Zaros' colour seems to be various shades of purple, although cream and gold dominated the temple of Senntisten. The Zarosian religion makes extensive use of the Latin language. Although it is also used in other instances nowadays, albeit rarely, it is originally a Zarosian language and the non-Zarosian groups and individuals using it, such as the Kinshra or Dionysius, may be unaware of its origins.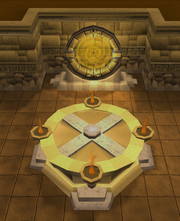 Zaros' goal is to rule Gielinor, believing that mortals need a god to control certain aspects of their life. Upon arrival to the planet in the Second Age, he deemed establishing a large empire with massive armies the best way to achieve this. However, this led to a rebellion and his own defeat. As such, he will choose a different means of accomplishing his goal upon return, trying to rule as an unseen but omnipresent power and keeping only a small number of trusted followers.[9]
Moral alignment
Edit
Due to his conquering of land and initiating of many wars in the Second Age, Zaros has often been called an evil god by followers of the gods who aided in his attempted damnatio memoriae, given that history is often written to suit the dominant party's views. Few people know of Zaros today but those who do not follow him usually regard him as evil and something to be feared. However, it should be noted that his intention is not one of malevolence, unlike, for instance, Bandos, god of war. As a result of never being mortal, Zaros can be considered very alien to emotions; in other words, he will attempt to achieve his goals by whatever means, oblivious to, and unfamiliar with, concepts such as remorse, hatred, greed, ruthlessness, evil or good.[9] This contrasts with Saradomin, for example, who adopts a similar consequentialist philosophy, but is capable of considering the ethics of his actions, unlike Zaros. As such the often said statement that Zaros' morality is disputed is not fully accurate, for he possesses no sense of morality at all. This, along with his gradual retreat from public eye in the Second Age, is the most likely source of his being associated with emptiness and his title of The Empty Lord.
Zaros' followers, however, differ greatly in morality. Some of Zaros' followers may be called evil in the conventional sense of being ruthless, enjoying being deceptive and seeking power for power's sake. In addition, the Ancient Curses and Ancient Magicks, the Zarosian patron prayers and spells respectively, seem to be highly combative in nature as they focus on inflicting damage on others and draining them of their powers. Saradominists have claimed that the "evil" nature of the Second-Age-Zarosians, most likely referring to traditionally hostile races such as demons and vampyres, is to blame on the god himself, stating that he willingly allied himself with them.[10] Queen Senliten, who aided in defending her empire from Zaros' armies, has described him as an ever-plotting vile creature. However, as noted before, he was not aware (nor had he the ability to be) of the alleged cruelty of his followers' actions. He used them because they served him well, and for no other reason.
Zaros was always a god, and thus has never been mortal in the conventional sense. How he came into existence is unknown.
Arrival to Gielinor
Edit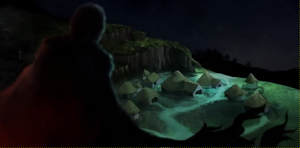 Zaros arrived to Gielinor, more commonly known as RuneScape, in its Second Age, relatively soon after Guthix, the god who had shaped Gielinor, had entered his first sleep. Although Zaros knew of Guthix, a god of approximately equal power whom he did not consider a threat, Guthix had no knowledge of Zaros at all.[9][11] He was not the first god to set foot on Gielinor after Guthix and Seren, with other gods, such as Saradomin, Tumeken, Armadyl and Bandos, discovering the planet at approximately the same time.
Upon arrival, Zaros began building a large empire in and around the continent known as Forinthry, which is nowadays known as the Wilderness. To do this, he engaged in combat with another god, and defeated them.[12] He established a massive army consisting of various races. For instance, he bound the demons from the Infernal Dimensions of Pandemonium to himself with a pact that brought them into his service.[13] Likewise, he allied himself with the vampyres of Vampyrium, and the Auspah, a race of humanoids with power over fire. Many humans also joined his side, if not because his ever-growing armies conquered territory owned by deities such as Saradomin. Either in fear of or respect for his power, other lesser gods joined Zaros as well.
Building an Empire
Edit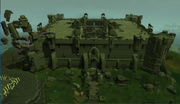 Over the course of several centuries, Zaros' empire grew to massive size, stretching more land than any kingdom ever established since, and the god ruled with force, aiming to put the entirety of Gielinor under his control. Its capital became Senntisten, a large city in the south of the empire and the most advanced settlement of its time, possibly rivalling the elven city Prifddinas. It was also the centre of Zarosian worship, housing a renowned temple to the god. Other fortresses and cities rose from the ground as well, scattered throughout the empire, the most notable of which are Ghorrock, north of the Troll Country, Carrallangar, Dareeyak, Paddewwa, Kharyrll, bordering the Saradominist Hallowland, and Annakarl. The empire was constantly expanded through campaigns to the south, west and east, which were usually successful. Soon enough, the other gods came to despise and fear Zaros in equal measure. Although they could have taken him down in an alliance, their fear for him as well as disagreements with each other presumably prevented this from happening.[14]
However, the constant warfare and dominance of aggressive and hostile races such as demons made for poor living conditions, most notably for the humans living under Zaros. Although they had access to better technology and magic than, for example, the humans living in Hallowvale, life in his empire was generally dangerous and unsatisfactory.[15] Additionally, humans were considered the lowliest of the Zarosian races, not dissimilar to goblins in the army of Bandos, and often looked down upon.[16]
Early on in the Second Age, Zaros managed to take control of the World Gate, stealing it from the elves in Tirannwn, and sealed it for an unknown reason.[17][18]
At some point, Zaros discovered a race of infertile reptilian humanoids riding creatures known as gurh in a realm very different to Gielinor, both geologically and culturally; it was a peaceful world, with no need for conflict. Eventually, after some time observing them, Zaros came before them, and offered them to join his army on Gielinor in return for a cure to their infertility. Faced with the promised prospect of the return of childbearing to their race, they accepted Zaros' offer and accompanied to Gielinor through a portal. Adapting quickly to the ways their new world worked, learning the concepts of combat, war, betrayal, loyalty, and lies, they began to tame dragons instead of gurh and thus became known as the Dragon Riders. Over time, they proved to be formidable soldiers, becoming feared by Zaros' enemies. Yet despite this, Zaros did not deliver on his original promise, and with their infertility still an issue, the Dragon Riders' numbers gradually diminished, never to increase again, until by the end of the Second Age only five of them would remain: Hannibus, Morvannon, Apropos, Balustan, and Ablenkian.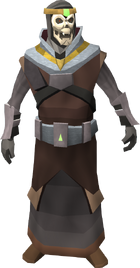 At one point, Zaros launched a campaign to the south in an attempt to add the Kharidian Empire, ruled by the Menaphite Pantheon, to his empire. The Menaphites assembled an army, supplemented with mercenaries, to fight back but the overwhelming Zarosian forces proved too powerful. Therefore, Icthlarin, god of the dead, set out to other planes in the hopes of finding allies who would be strong enough to defend his lands in the Kharidian - Zarosian War. He found these allies on Freneskae, realm of constant warfare, where he made a deal with the Mahjarrat; a race of extremely powerful magicians who extend their lifespan and increase their powers periodically through a Ritual of Rejuvenation. The Mahjarrat agreed to venture to RuneScape with Icthlarin and defend the Kharidian Empire in return for the promise to revel in bloodshed.
Icthlarin and his 'Stern Judges' arrived in the midst of battle and the Mahjarrat immediately vanquished the Zarosian troops with little effort. With their help, the Menaphites were able to stop the Zarosians' advancing and pushed them back to the northern cliffs, where the armies of Zaros were decisively defeated. As the Mahjarrat grew discontent with the recently established peace, Zaros showed interest in those who had defeated him. Promising even greater glory, he convinced the Mahjarrat Sliske, who had got into a feud with Icthlarin, to join him, after which the rest of his kin followed and permanently abandoned Icthlarin.[19] Strengthened by the Mahjarrat, who soon came to occupy the highest ranks in his army, Zaros' might and influence grew more and more as he became practically invincible.
Growing rebellion
Edit
As his plans of domination began to come to fruition, Zaros showed himself less and less until he was seen only very rarely outside his castle, where he communicated only with his closest followers such as Azzanadra, Char and Zamorak. This absence combined with his tremendous power earnt him the title of "Empty Lord" and he became shrouded in mystery.
Eventually, nearly two millennia after Zaros' arrival, some of his followers began to grow dissatisfied with the strict regime and poor living conditions. Most notable amongst these was General Zamorak the Scourge, the most powerful of the Mahjarrat. Along with other members of his race, such as Lucien, Enakhra, Hazeel and Zemouregal, as well as other powerful Zarosians, such as the elder demon Thammaron, the human Viggora and the vampyre Lord Lowerniel Drakan, he began planning a rebellion against Zaros, hoping to usurp his master and rule for himself, hungry for power. On a mission to the Fremennik Province, he took the journal of the scribe Perjour, which directly communicated his thoughts to Zaros, and substituted it with a fake duplicate, thus preventing the Empty Lord from finding out about his plans. And, even though Zaros did not fully trust Zamorak,[20] he did not suspect any betrayal.
He also began to eradicate opposition. For example, during a mission to Prifddinas to spy on Seren, the elven goddess in whom Zaros seemed to express significant interest,[21] Zamorak attacked the auspah Char during an elven ambush and poisoned her, thus preventing her from stopping his plans and providing her with a slow and painful death. However, Char powered down and entered a magical sleep, allowing her to resists the poison's effect for millennia.
Despite this, Zamorak's rebellion would not have succeeded due to his master's immense power. However, when he managed to obtain the legendary Staff of Armadyl, the tides turned. The staff had been taken from its temple by the explorer Valdez, who planned to give it to Saradomin, until he was robbed by a thief named Rennard, who decided to sell the staff to Zaros and sent a messenger, Kharrim, to deliver the news. Kharrim was part of Zamorak's conspiracy however, and went to the Mahjarrat instead, who was able to buy the staff from Rennard for a bargain. Being in possession an Elder Artefact, Zamorak's powers were increased sufficiently to be able to stand against Zaros.
Zamorak was aided further when Lennissa, a Saradominist spy in Zaros' camp, found out about his possession of the staff and informed her superior, the Wizard Dhalak. Figuring that Saradomin would benefit from Zaros being defeated, Dhalak cast a concealing spell on the staff, enabling Zamorak to sheathe it without the Zarosian loyalists detecting it, rather than informing his god. After securing the services of Morvannon and Apropos, two of the last five Dragon Riders, and somehow obtaining the Stone of Jas itself, Zamorak and his followers made their move.
Defeat by Zamorak
Edit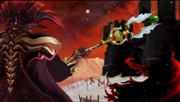 Under the pretence of discussing war plans, Zamorak - powered up by the Stone -, Hazeel, Zemouregal, Lowerniel, Viggora and Thammaron approached Zaros' fortress and went inside. There, Zamorak revealed the Staff of Armadyl and struck it into his master's back while his cohorts engaged in combat with his bodyguards. The events that followed are described by General Viggora as follows:
While we distracted the Empty Lord with our feints and attacks, and kept his bodyguards busy, Lord Zamorak outflanked him, unsheathed the staff and plunged it into his back! [...] The Empty Lord turned away from our battle, eyes burning with hatred, and towards Zamorak instead. Seeing this, we all fought with extra vigour, so that General Zamorak would not face our lord alone, but we were outnumbered by many hundreds of warriors and demons, and could not reach him to assist him. [...] The Empty Lord was a powerful god, stronger than any of the others awake at the time, possibly even as strong as Guthix is, and Zamorak was but a mortal: a Mahjarrat warrior all the same, with all of the strength and power that that entails, but mortal nonetheless, but to see him fight, you would not think of him as a 'mere' anything… He was war itself! Flurry after flurry of blows he rained upon the Empty Lord, and the very castle walls shook and quivered with their power, but the Empty Lord would not fall! Even with the weapon of a god embedded in his back, he fought on, and with each blow our victory seemed less and less certain…

— Viggora
Even with the Staff sticking out of his back, Zaros fought Zamorak and overpowered him, lifting his former general into the air and proceeding to choke him as the Mahjarrat was screaming and kicking defiantly. It is likely that, aside from the physical battle, the two beings were also involved in a mental clash, unperceivable by 'simpler' beings such as humans.[22] However, at that moment, Zaros "lost his footing", according to Viggora, and fell over, which caused the Staff, still sticking out of his back, to impale Zamorak as well. What exactly happened remains a mystery, although it is quite unlikely that the god simply tripped, as Viggora believes.[23] At that moment, by pure chance, a great part of Zaros' divine power was transferred into Zamorak with the staff as conduit.
Realising he was going to die, Zaros abandoned his body in a bright flash followed by cold darkness and his spirit left the scene as his body began to fade from existence, while Zamorak's newly acquired power made him seem more present than before. As Zaros, now incorporeal, was fleeing, he uttered a powerful curse, perceived as a "whisper upon the wind", which affected all those who had played a role in his betrayal. Although powerful magical beings such as Mahjarrat, demons and vampyres were not visibly afflicted by the curse, the humans, including Valdez, Rennard, Kharrim, Lennissa, Dhalak and Viggora, were and as such they too faded from the material realm and were trapped for eternity in the Shadow Realm.
The other gods appeared at that point and banished Zamorak for daring to "kill" one of their kind. However, he returned triumphantly, now a god himself, and the majority of Zaros' former following defected to him. Upon seeing that Saradomin had stolen the Stone of Jas from him, Zamorak declared war on him, throwing the world into a war of gods.
Diminishing of Zarosian following
Edit
Throughout the Third, Fourth and Fifth Ages, Zaros' spirit travelled the multiverse and ventured far away from Gielinor. He eventually arrived on Freneskae, the Mahjarrat's homeworld, where he would indefinitely remain.[24] In this state, he did not have the ability to think or perceive anything, and through a slow process only was he able to recover his power and restore his mind through means currently unknown.[9]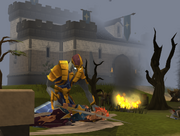 Meanwhile, the Zarosian Extermination was performed mainly by Zamorakians and Saradominists throughout the entirety of the Gielinorian God Wars; in an attempt to completely wipe all memory of the Empty Lord from the world, the Zarosian settlements were systematically attacked and destroyed. Zarosians themselves were persecuted; those who did not flee to safe harbours such as Senntisten, which would remain safe from attacks until the final few centuries of the wars, were mercilessly slaughtered. However, most of them remained faithful, believing Zaros to be ruling from the Shadow Realm rather than dead, and high-ranked Zarosians such as archbishop Ayanetka urged the others to remain vigilant. All dragon riders but Hannibus, who managed to escape to the cave in which his race had first stepped foot on RuneScape, were assassinated, having been branded traitors.
Indeed, the Zarosians did not lose their faith. Mahjarrat such as Wahisietel and Azzanadra, whose prowess in battle and unconditional loyalty had earnt him the title 'Champion of Zaros', defended the Zarosian settlements with relative success. Nex, a terrifying and exceptionally powerful monster leading the army of Zaros, defended the Mahjarrat ritual marker in the Battle for the Ritual Site but was lured into a cave by the opposing army of Saradomin, where Nex and her troops were imprisoned beneath the Temple of Lost Ancients for centuries. Meanwhile, Azzanadra attempted to re-establish contact with Zaros from Senntisten, to no avail.
Towards the end of the wars, however, the Zarosians were unable to persevere. During the Battle for the Godsword, the Zarosian Mahjarrat Sliske tricked a group of Saradominists into releasing Nex from her prison before disappearing, but an alliance between Saradomin, Zamorak, Bandos and Armadyl magically sealed her once more. Azzanadra fell to a Zamorakian-Saradominist alliance and was imprisoned in the Jaldraocht Pyramid in the Kharidian Desert.[25] Before he was imprisoned, however, he provided Sliske with an artefact for safekeeping, which would allow them to re-establish contact with Zaros later.[26] Around 3700, Wahisietel's attempts to make the Zamorakian and Saradominist besiegers of Senntisten turn on one another failed, prompting priest-king Dagroda to order the city's immediate evacuation, believing that its fall was plan of Zaros' "grand scheme". As the Zarosians fled to Ghorrock, Dareeyak and Carrallangar, the only fortresses to remain standing, Senntisten was taken over by Zamorakians and utterly levelled by Saradominists a century later, who built a new city on top of it; Saranthium.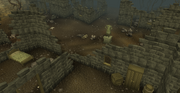 When Guthix awoke from his slumber and ended the God Wars another two centuries later, he established the Edicts of Guthix and banished nearly all gods from the planet. By this time, Zamorak had utterly destroyed Forinthry with the aid of the Stone of Jas, completely laying waste to all Zarosian fortresses except for Ghorrock, which housed a small number of Zarosian refugees led by matriarch Lamarinta. As such, the Zarosian Extermination had not been completely successful; although most inhabitants of Gielinor had forgotten him and those who hadn't did not dare utter his name, he was still worshipped, even though his followers had been reduced to the colony in Ghorrock and a camp of bandits in the desert.
Only in the Fourth Age did the few remaining Zarosians realise that Zaros was not ruling from the Shadow Realm, but had truly gone.[27] By the end of the age, knowledge of Zaros had almost completely disappeared, save for his very scarce followers. The god himself slowly regained his power as well as the ability to think.[9]
Communication restored
Edit
In 169 of the Fifth Age, an adventurer and newly qualified archaeologist working for the Varrock Museum discovered the ruins of the Senntisten Temple in the digsite east of the city. They found a Zarosian talisman and a stone tablet with Zaros' name there which are now on display in the museum, thus returning knowledge of Zaros to the world, to a small extent.
Some time later, the same adventurer was recruited by Eblis, leader of the desert bandits, to release Azzanadra from Jaldraocht. They defeated three of the Guardians of the Diamonds of Azzanadra, the fourth giving up his diamond in return for a favour, and opened the pyramid. Azzanadra, who had lost track of time and turned into a ghostly being, was shocked to learn that the God Wars were over and that Zaros had disappeared from his mind as well as the dominance of Saradominism and Zamorakianism in addition to the existence of Guthix before leaving to plan.[28] The adventurer also released Akthanakos, another Zarosian Mahjarrat, from the grip of his rival Enakhra in the latter's temple.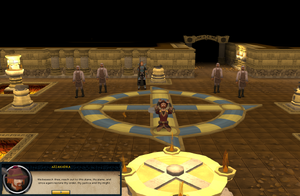 Azzanadra and Wahisietel began to plan and requested the adventurer's help in rebuilding the Senntisten Temple to establish contact with Zaros. Disguised as the human archaeologist Dr Nabanik, Azzanadra acquired clearance to renovate the temple with his new ally's help and oversaw its reconstruction by Kharidian workmen. He had an adventurer retrieve the frostenhorn from Ghorrock, the Barrows icon from the Barrows and another ancient relic which an accomplice had taken from Entrana. With these items, Azzanadra was able to create a communion portal, of which the magic could be amplified to reach even the farthest and most distant realms. He contacted Zaros, who made contact with Gielinor for the first time in millennia. After rewarding Azzanadra for his efforts, the two began to plan the god's return in secrecy. A significant problem was that Zaros was still incorporeal, and would require a body, even though he had more than regained his former power at this time.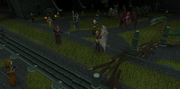 Some time later that same year, tectonic activity caused the magical seal imprisoning Nex to weaken, making the Ancient Prison accessible. Char was also restored in her cave near the Galarpos Mountains. At the very end of the year, after the eighteenth Ritual of Rejuvenation which saw the sacrifice of Jhallan, the resting place of Guthix himself was discovered and various factions raced inside to claim the kill, for Guthix' death would allow their respective gods to return to Gielinor. The Zarosian Mahjarrat, Char, and Nex convened and decided that Guthix should be woken and bargained with rather than killed, and Sliske enlisted the adventurer's help to aid them. When the other Zarosians arrived to the cave after a series of battles with other factions, Azzanadra asked the adventurer to wake Guthix, but Sliske betrayed his allies and assassinated Guthix using the Staff of Armadyl he had secretly obtained beforehand. Although this cast doubt on his loyalty to Zaros, the death of Guthix was accompanied by the abolishment of his Edicts, thus allowing Zaros to return more easily.
Currently, Zaros and Azzanadra are planning the former's return as the Sixth Age has begun.
Followers
Edit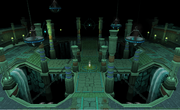 Originally Zaros was worshipped in his empire in the north-east of the known continent. However, its settlements were destroyed by Zamorak and Saradomin before the former utterly laid waste to the land itself. Most traces of the Zarosian religion and the god himself, such as altars and temples, have been destroyed by Saradomin and Zamorak during the Zarosian Extermination in an attempt to wipe all traces of him from RuneScape. His remaining followers were either killed or forced into hiding if refusing to defect. Without their god, the Zarosian following diminished throughout the Third and early Fourth Ages, until being reduced to a small number of Kharidian bandits.
Groups and races
Edit
Notable individuals
Edit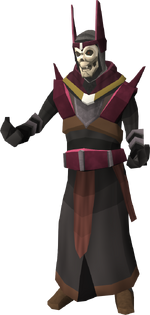 Zaros has a secret power source, which he has been utilising for a long time. After his banishment at the hands of Zamorak, he lost a large portion of his power. With this other source of power, he has been regaining his strength. This is further supported by Kharshai claiming that Zaros's power is stronger than it has been in a long time.[29]
The concept art of Zaros' incorporal form bears a resemblance to both Seren's and the un-named Elder God's concept art. Seren and Zaros bear similar crystalline structures on their forms, and all three have a very similar facial structure.
The Kalphite Queen used to remark that "[the kalphites] are faithfully waiting for the return of Zaros" when talked to in a skill hall. This connection has not been explained, but the dialogue is no longer present.
The encrypted message in the description of the Chaos Elemental's card in the RuneScape Top Trumps reads, once decyphered: "There will come a time when the Empty One returns aiming to take the Stone and confirming himself as an Elder God." This is likely a hint at Zaros's future plans. Additionally, it once said "bizarre boron swell", which is an anagram of "Zaros will be reborn".[30]
Bob the Cat says "Well, I don't believe much really since I know I am Zar-.... erm, well, no, I erm, meow?", but he is known not to be Zaros.
Non-Zarosians referring to Zaros as the 'Empty Lord' and avoiding the use of his real name to avoid empowering him may be a reference to Harry Potter, where the same is true with Lord Voldemort.
During Sliske's Grand Ascendancy, there appears to be a purple haze above Zaros' empty podium. However, this haze only appears during the scenes where the player is present in the room, possibly hinting at Zaros' presence.
References
Edit
Tier 1
Tier 2
Tier 3

Saradomin

Tier 4

Armadyl • Bandos† • Tuska • Skargaroth†

Tier 5

Brassica Prime • Elidinis* • Marimbo • Tumeken* • Zamorak

Tier 6
Tier 7

Apmeken* • Crondis* • Het* • Scabaras*
Avatars: Bandos Avatar • Avatar of Creation • Avatar of Destruction

Unknown tier

† denotes that a god is deceased
* denotes gods part of the Menaphite Pantheon