Zamorakian spear
Discuss

28
24,370pages
on this wiki
For the Lucky version, see Lucky Zamorakian spear.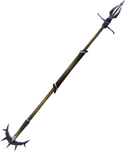 The Zamorakian spear is obtained from the God Wars Dungeon as a drop from K'ril Tsutsaroth and his bodyguards. A player must have 75 Attack to wield this spear. Like all spears, it is a two-handed weapon.
The Zamorakian Spear is currently the second-best spear in the game, and also ties with the godswords in having the third highest damage per second output. The spear is even equal in stats to the four legendary godswords in most ways, but it is a stabbing weapon. For this reason it is useful to players looking for the type of damage that can be done with godswords, but against enemies with a specific weakness to stab. It is a good weapon if the player does not want to grab a chaotic or drygore weapon, both which take a while to get and are somewhat expensive. It is also commonly used to fight the Corporeal Beast, which the spear hits without a damage penalty.
When received with CoinShare active, the Zamorakian spear will be dropped as 120 Zamorakian spear shards split evenly among the players and sent directly to their banks. 120 shards can be combined to create this item.
Combat Stats

| Class | Slot |
| --- | --- |
| Melee | |

Weapons
Main
Off
Damage
1676
-
Accuracy
1694
-
Style
Stab
-
Attributes
Armour rating

0

Life bonus

+0

Prayer bonus

2

Critical bonuses

0%

0%

0%

Attack speed

Average

Interval: 3.6 seconds

Compare item

A player wielding a zamorakian spear

[view] • [talk]
Dropping monsters
Edit
Prior to the Evolution of Combat, the Zamorakian spear had a special attack, Shove, that would stun opponents and push them back three spaces, similar to the Dragon spear.
Before the God Wars Graphical update, when the spear was on the ground it looked much smaller than the one players would equip.
This spear is featured in the In Pyre Need RuneScape banner.
This is the only Zamorak weapon that has an "-ian" suffix at the end of "Zamorak" in its in-game name.
Standard

Bronze • Iron • Steel • Black • Mithril • Adamant • Rune • Dragon • Corrupt dragon

Other
Godswords

Armadyl • Bandos • Saradomin • Zamorak

Robes of subjugation
Armadyl armour

Helmet • Chestplate • Chainskirt • Gloves • Boots • Buckler

Bandos armour
Torva armour
Pernix armour
Virtus armour
Ancient ceremonial robes
Frozen key

Frozen key • Armadyl • Bandos • Saradomin • Zamorak

Weapons

Saradomin sword • Zamorakian spear • Armadyl crossbow • Steam battlestaff • Zaryte bow • Virtus wand • Virtus book

Amulets
Books

Armadyl's assault • Zilyana's notes • The glory of general graardor • Nex's followers • Razulei's tale

Soulstones

Armadylean soulstone • Bandosian soulstone • Saradominist soulstone • Zamorakian soulstone