Zamorakian siege beast
Discuss

0
24,255pages
on this wiki
Zamorakian siege beast
Release date
23 September 2013 (Update)
Members?
No
Combat level
None
XP per kill
Varies
Always drops
Divine tears
Examine text
Bred for destruction.

Combat stats
LP
Max hit
212,500
32,000 (on Saradominist colossus)
Attack
Defence
Ranged
Magic
Varies
Varies
Varies
Varies
Other
Immune to Poison?
Immune to Stun?
No
No
Attack Speed

Speed 4 (Interval: 3.6 seconds)

Aggressive?
Poisonous?
No
No
Attack styles
Weakness
Melee
Ranged

Nothing

[view]

The
Zamorakian siege beast
is an extremely large and powerful
behemoth
serving
Zamorak
, that appeared in the final week of the
Battle of Lumbridge
. It would have appeared earlier on in the battle depending on the outcome of the second Zamorakian vote. It is the only known
behemoth
found outside of
Daemonheim
, because Zamorak took it with him during his escape.
[1]
 The second vote resulted in favour of the
Zamorakian champion
. The eighth vote again gave the behemoth the possibility of appearing in battle, but resulted in favour of the 
Zamorakian butcher demon
, meaning it still didn't make it into the game.
On the final week of the battle, they were finally released, and it can be found standing by the entrance to Zamorak's camp.
They fire huge flaming rocks at Saradomin's units, which deal a large chunk of damage to them. The Siege beasts are capable of dealing up to 32,000 damage on their Saradominist counterparts, the colossi.
Like all special units, they do not retaliate against players unless they are not currently under attack or are attacking any other target.
Killing it gives six times their current multiplier in divine tears. Merely participating in the kill is enough to yield the tear reward - it is not required to deal the most damage.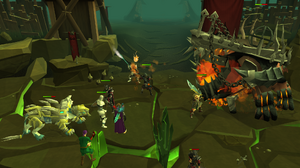 The Zamorakian army summons a fearsome behemoth.
(
link
)
References
Edit
Personalities

| | |
| --- | --- |
| Saradominists | Saradomin • Padomenes • Recruitment officer • Quartermaster • Follower • Devotee • Sentry • Priest summoner |
| Zamorakians | Zamorak • Moia • Recruitment officer • Quartermaster • Follower • Devotee • Sentry • Herbalist |
| Other | Duke Horacio • Kara-Meir • Lumbridge guardsman • Elite Lumbridge guardsman (upgraded) • Falador White Knight • Taverley wardsman • Lumbridge guard dog |
| Gossips | Excited knight • Belligerent man • Argumentative man • Panicking old soldier • Drunken mariner • Saradominist fanatic • Zamorakian fanatic • Frightened girl • Concerned mother • Harbinger of destruction |
| Pre-release Portal (Lumbridge) | Portal expert • Old man • Farmer • Villager • Red-dressed villager • Blue-dressed villager • Worried female H.A.M. cultist • Worried male H.A.M. cultist • Woodcutter • Goblin • Black Knight • Druid • Monk • Travelling elf • Village boy • Village girl • Gnome pilgrim |

Combatants

| | |
| --- | --- |
| Saradominist | Crusader • Ranger • Sage • Rogue • Sharpshooter • Field medic • Minelayer • Gatherer • JMod clone • Champion • Colossus • Prideleader |
| Zamorakian | Footsoldier • Sniper • Warlock • Rogue • Sharpshooter • Field medic • Minelayer • Gatherer • JMod clone • Champion • Siege beast • Butcher demon |

Warpriest armour
Overrides

| | |
| --- | --- |
| Icyenic | Bowstaff(Bow) • Greathammer head(Greathammer) • Orb(Staff) |
| Infernal | Bowstaff(Bow) • Greathammer head(Greathammer) • Orb(Staff) |

Tokens
Emotes
Other items

| | |
| --- | --- |
| Resources | Divine tears • Divine shard • Sacred metal fragments • Sacred mine • Renown |
| Drinks | Smite(0 • 1 • 2 • 3) • Divine Fury(0 • 1 • 2 • 3) • Divine Inspiration(0 • 1 • 2 • 3) • Guardian Angel(0 • 1 • 2 • 3) |
| XP lamps | Small XP lamp • Medium XP lamp • Large XP lamp • Huge XP lamp |
| JMod clone drops | Saradominist banner • Zamorakian banner • Off-white partyhat • Garish-pink partyhat • Really rotten potato |

Locations

Lumbridge • Lumbridge crater • Lumbridge Castle • Portal of Lumbridge • Lumbridge Refugee Shelter