Yk'Lagor the Thunderous
Release date
19 August 2010 (Update)
Members
Yes
Combat level
100, 140, 152, 156, 180, 186, 192, 198
XP per kill
Unknown edit
Always drops
Nothing
Examine text
A demon used to barking orders to its warriors.

Combat info
LP
Max hit
60,000 (at 198)
400+; Special attack can result in instant death.
Attack
Defence
Ranged
Magic
Unknown
Unknown
Unknown
Unknown
Immune to
Poison
Stun
Deflect
No
Yes
No
Attack speed

Speed 7 (Interval: 1.8 seconds)

Aggressive
Poisonous
Yes
No
Attack styles
Weakness
Melee
Magic
Nothing
[view]

Yk'Lagor the Thunderous is the final Dungeoneering boss monster encountered on the occult floors. He is found on floors 45 to 47 of Daemonheim. A Dungeoneering level of 89 is required to fight him. He is a high-ranking Kal'Gerion demon and one of Kal'Ger the Warmonger's generals.
Unlike other bosses who are immediately ready to fight when the player enters the room, Yk'Lagor must first be freed before he can be fought; upon entrance to the boss room, Yk'Lagor is bound to the ground and surrounded by a barrier that appears to be held by several Mysterious mages in the room. After attacking four of the mages, the demon will roar, "My turn!" and break free from the barrier, causing the entire dungeon to shake and killing the rest of the mages with a single, powerful blast of magic.
Yk'Lagor's standard melee attack involves slashing the player if the player is standing in melee-range. It is fairly quick, so Protect from Melee/Deflect Melee is suggested. However, this attack drains prayer relatively quickly, so an altar and/or rejuvenation potions is recommended. The demon will attack with a fire based magical attack if the player is not next to him. Yk'Lagor also has a powerful move where he jumps up and slams into the ground, generating an earthquake. Additionally, he can grab the player with magic and throw them across the room, which stuns the player for a short time (This should be AVOIDED at all cost, otherwise the demon will heal). Both the earthquake attack and the grab attack can be dodged by running behind one of the pillars in the room.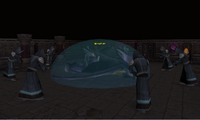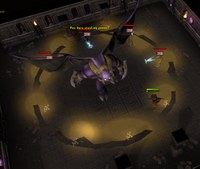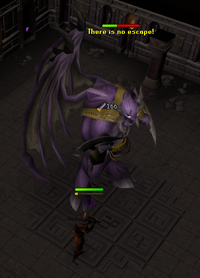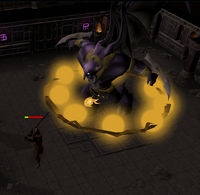 | Level | Life points |
| --- | --- |
| 98 | 10500 |
| 103 | 15000 |
| 106 | 16000 |
| 109 | 18500 |
Yk'Lagor's boss room has different rules for teleporting than any other place inside the Dungeoneering skill. You can only use the regular Gatestone teleport or the Group Gatestone teleport if you're standing behind one of the pillars, otherwise you'll receive a "You can't teleport here." message.
Special attacks
Edit
Yk'Lagor has two Special attacks. They can be avoided by running behind a pillar as soon as the text appears above his head or you hear his voice.
Yk'Lagor will shout "Come Closer" and try to drag you in. When he succeeds he will heal 15% per player dragged in. He will stun you for a relatively long time, drain your Prayer and disable any protection prayers. The attack can be blocked by hiding behind a pillar. This can potentially be the most deadly move he has if the player cannot use Freedom. He will always use this attack after you land the first hit on him, so you can easily prepare to run behind the pillar.
Yk'Lagor will shout "This is..." and jump into the air. When he lands he shouts "TRUE POWER" while shattering the ground. This special attack can easily kill ANYONE not hiding behind the pillars. You will have a few seconds to hide when he starts using this attack.
NOTE: Resonance will not heal from this move as of 5 February 2013.
To successfully hide from the boss's special attacks, it is recommended for players to attack with either ranged or magic.
Regular attacks
Edit
Apart from his Special attacks, Yk'Lagor will behave in a pattern depending on how you're fighting him.
As long as 1 person is close to him, Yk'Lagor will use his melee attacks. They can be partially blocked by Protect/Deflect Melee. This is a usually fast attack and can hit very hard on unprotected players.
As long as 1 person stands away from him, he will use his Magic attack, which hits everyone in the room. This is indicated by him shouting "Fear my wrath!". Protect/Deflect Magic will block most of the damage. You will still get hit even if you stand behind a pillar, but only if he can target a player in his range, meaning if one player is not hiding behind a pillar, all players will get hit.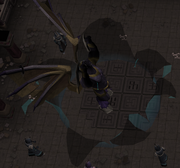 One of the phrases the mages binding Yk'Lagor The Thunderous are chanting is "Heim crabs are awesome" backwards. (This was confirmed during the Q&A session at Runefest.)
With the addition of this boss, this is the first time voice acting has appeared in the game aside from the tutorial.
In Yk'Lagor's concept art, it is shown that his original title was "the Vociferous", which can be understood as a synonym for "the Thunderous" (a loud or noisy scream); he was also entitled as "Demon Prince".
Yk'Lagor introduced a trend in which his Magical Drag attack is used by many powerful monsters, not limited to Kal'Ger the Warmonger, a variation that Nex, troll wizards, and Mother Mallum all use, and its sound effects are used in the Ancient ceremonial robes emote.
This demon always has a max hit of 250 on the mysterious mages.
Yk'lagor used to have another special attack in which he created an area of explosions around him (similar to the ancient curse Wrath), but for some reason this was removed.
At the same time, the model became more detailed featuring better textures, added spikes and smoother graphics, which made him look much more like the concept art. This is shown on a video in Jagex's YouTube channel.
As shown in the video from Jagex's YouTube channel, there are 4 pillars on the northern and the southern part of the room. In the actual game, there are only 2 pillars on each side.
Since Dungeoneers unaccustomed to the strategy associated with this boss have a high chance of making critical mistakes and allowing Yk'Lagor to heal, sometimes only 2-3 players in a five-player team will fight to reduce this risk.
Currently there is a glitch where if a player dies at the same time as Yk'Lagor's magical drag special attack is used, the player may be dragged into the boss room from the start room.