Yelps is the goblin host of Squeal of Fortune. He is a well-cultured goblin businessman who seems to be extraordinarly wealthy, as evidenced by pictures of him sitting on piles of gold.
Before the Squeal
Edit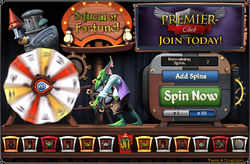 Yelps was born some time in the Fifth Age to unknown parents. It is unknown exactly where Yelps was brought up. Unlike most goblins, he is seemingly pacifistic and friendly. Yelps does not seem to follow the goblin 'Big High War God' Bandos, but, if he does, he seemingly rejects his teachings of war, similarly to another goblin, Grubfoot.
At some point Yelps came into the possession of a massive hoard of coins and items. It is unknown exactly where or how he obtained these, but the variety of items he possesses, which include items from the God Wars Dungeon, TzHaar City and Eastern Lands, suggests that he is extremely well-travelled.
Establishing the Squeal of Fortune
Edit
In year 169 of the Fifth Age, Yelps opened up the Squeal of Fortune, a special wheel that rewards items out to those who spin it, by causing a giant boxing glove to punch him in the face. He allowed adventurers up to two spins on his wheel a day, with a promise of winning something every time. A few months after the Squeal was established, he managed to make a deal with various quest-givers to make them reward adventurers two extra spins for every time they complete a quest.
Later that year, in a massive update to his Squeal, Yelps started rewarding adventurers for skilling by giving them free spin tickets for use on his Squeal. Meanwhile, various monsters had somehow got a hold of some tickets, and Yelps was happy to reward adventurers who retrieved them by allowing them to use the ticket for an extra spin. Yelps also made a deal with the PBJ, leprechauns, Balthazar Beauregard and the Burthorpe Imperial Guard, meaning that adventurers can gain up to one extra spin a week by participating in the activities they host.
At the same time, Yelps started selling spins in various packages, seemingly having turned his squeal into a profitable venture, begging the question of whether he had intended this all along, having not just opened the Squeal out of the goodness of his heart.
Continued Success
Edit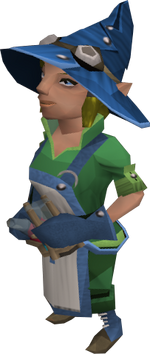 The Squeal of Fortune proved a massive success News of his success had even reached the gnomes of the Tree Gnome Stronghold, although the gnomes seemed to be less impressed with him, with Mieliki Tapio referring to him as "a stupid goblin that gives you things for free". Around this time, Yelps upgraded the Squeal, replacing the boxing glove by a sharp arrows, presumably for a bigger impact on his body.
Yelps also made another deal with the Imperial Guard of Burthorpe, the terms of this meant that Yelps would give a free spin to those that helped the Imperial Guard stock their supplies by completing various challenges for Captain Haskell.
A dwarf named Ivar was recently attacked and robbed of his blueprints. These very same blueprints mysteriously showed up on the Squeal the next week, implying that Yelps could be linked to various criminal activity.

Woohoo, extra spin for the win!
(
link
)
Yelps' voice

Woohoo, extra spin for the win!
(
link
)
Yelps' voice with a diving helmet
Yelps seems to be a masochist, as he seemingly enjoys the pain provided by people spinning his squeal, which causes him to be punched in the face.
He is one of the few Goblins whose name is not a combination of a body-part and an unpleasant word. Other goblins who are like this include Greldo and Thump-thump.
Yelps • Promotions (2012) • Controversies
Bonus spins
Cash bags
XP Lamps
Material packs (small)

Construction crate • Crafting crate • Farming crate • Herblore crate • Smithing crate • Summoning crate

Material packs (large)

Construction crate • Crafting crate • Farming crate • Herblore crate • Smithing crate • Summoning crate

Pets
Weapons

Wizards' Tower staff • Dominion Tower maul • Slayer Tower shortbow

Headgear

Legendary Horns • Closed helmet • Skullbuster hat • Headsplitter hat • Queen Black Dragon helm • Kalphite King helm • Sombrero

Lucky armour

Lucky Armadyl chainskirt • Lucky Armadyl chestplate • Lucky Armadyl helmet • Lucky Bandos tassets • Lucky Bandos boots • Lucky Bandos chestplate • Lucky dragon full helm • Lucky dragon chainbody • Lucky dragon platebody • Lucky spectral spirit shield • Lucky arcane spirit shield • Lucky elysian spirit shield • Lucky divine spirit shield

Lucky weapons

Lucky Bandos godsword • Lucky Zamorak godsword • Lucky Saradomin godsword • Lucky Armadyl godsword • Lucky dragon claws (Mainhand, Off-hand) • Lucky dragon 2h sword • Lucky Zamorakian spear • Lucky Saradomin sword • Lucky abyssal whip • Auspicious katana

Luchador masks

El Astado • El Chango Descarado • El Defensor • El Dios de la Guerra • La Diosa de Cristal • El Hombre Verde • La Justicia Voladora • El Padre de la Luz • El Serpiente • La Sombra

Other

Coin of balance
Prismatic pendants
Gems
Normal

| | |
| --- | --- |
| Combat | Attack • Strength • Defence • Ranged • Prayer • Magic • Constitution |
| Other | Crafting • Mining • Smithing • Fishing • Cooking • Firemaking • Woodcutting • Runecrafting • Dungeoneering |
| Members | Agility • Herblore • Thieving • Fletching • Slayer • Farming • Construction • Hunter • Summoning |

Prized Pendants of Skill

| | |
| --- | --- |
| Combat | Attack • Strength • Defence • Ranged • Prayer • Magic • Constitution |
| Other | Crafting • Mining • Smithing • Fishing • Cooking • Firemaking • Woodcutting • Runecrafting • Dungeoneering |
| Members | Agility • Herblore • Thieving • Fletching • Slayer • Farming • Construction • Hunter • Summoning |
Outfits

Experience boosting sets

| | |
| --- | --- |
| Artisan's outfit | Artisan's bandana • Artisan's top • Artisan's legs • Artisan's boots • Artisan's gloves |
| Blacksmith's outfit | Blacksmith's helmet • Blacksmith's top • Blacksmith's apron • Blacksmith's boots • Blacksmith's gloves |
| Botanist's outfit | Botanist's mask • Botanist's top • Botanist's trousers • Botanist's boots • Botanist's gloves |
| Sous chef's outfit | Sous chef's toque • Sous chef's jacket • Sous chef's trousers • Sous chef's shoes • Sous chef's mitts |
| First age outfit | First age tiara • First age ring • First age amulet • First age bracelet • First age cape |
| Slayer masks | Mask of Broken Fingers • Mask of Stone • Mask of Reflection • Mask of the Kura • Mask of the Abyss |

Cosmetic outfits

Ramokee outfit

Ramokee headwear • Ramokee torso • Ramokee legs • Ramokee feet • Ramokee hands

Warband armour

| | |
| --- | --- |
| Bandos themed | Warlord headdress • Warlord tunic • Warlord kilt • Warlord gloves • Warlord boots |
| Armadyl themed | Archon headdress • Archon crest • Archon tassets • Archon gloves • Archon boots |
Mad May's Wild Weekends

Barrel of monkeys • Monkey mace • See-no-evil monkey hat • Speak-no-evil monkey hat • Hear-no-evil monkey hat

Squeal of Neptune
Sizzling Summer

Sunbathe item • Candyfloss • Seaside rock • Beach ball • Water balloon • Ice cream cone hat • Summer sun ring • Summer storm ring • Summer barbecue • Shark fists (1-4 and off-hand 1-4)

Dragon ceremonial outfit

Dragon ceremonial hat • Dragon ceremonial breastplate • Dragon ceremonial greaves • Dragon ceremonial boots • Dragon ceremonial cape

Queen's Guard outfit

Queen's guard hat • Queen's guard shirt • Queen's guard trousers • Queen's guard shoes • Queen's guard staff

Hallowe'en
D&D tokens

Evil tree • Familiarisation • Fish Flingers • Penguin Hide and Seek • Phoenix Lair • Shooting Star • Tears of Guthix • Circus • The Pit • Troll Invasion • God Statues • Sinkholes • Daily • Weekly • Monthly

December Winter Weekends

TzHaar whips (1-7) • Sapphire blue present • Emerald green present • Ruby red present • Diamond white present • Dragonstone purple present

Valentine items

Valentine heart • Chilli chocolate • Coconut cream • Dwarven delight • Noisette triangle key • Rose essence truffle • Vanilla fudge log

Tribute to Guthix
Starfire/Starfury

Starlight ore • Starborn diamond • Sword blueprints • Staff blueprints • Bow blueprints • Starfire sword • Starfire staff • Starfire bow • Starfury sword • Starfury staff • Starfury bow

Tattoos

Arcane Tattoo • Mystic Tattoo • Bold Tattoo • Intricate Tattoo • Marauder Tattoo • Tribal Tattoo

Horns
Cinco de Mayo

Plain wrap • Avocado sauce • Avocado wrap • Bean puree • Bean wrap • Spicy pepper sauce • Spicy pepper wrap • Soured cream • Sour cream wrap • Beef-filled flatbread • Chicken-filled flatbread • Fish-filled flatbread • Vegetable-filled flatbread • Corn chip platter

Other

Alchemist's amulet fragments (1-10) • Transmutation tablet • Radiant alchemist's amulet • Shining alchemist's amulet •Samid's gloves • Flying Goblin Hat • Swag Bag • Swagger Stick