Wydin's Food Store
Discuss

4
22,529pages
on this wiki

Wydin's Food Store sells a variety of fresh food, and is located in Port Sarim. Unique ingredients can be found here, otherwise not readily accessible in the F2P game worlds.
Other than this, it plays a notable role in the Pirate's Treasure quest - it is the drop off point between Karamja and Asgarnia to find the otherwise illegal beverage Karamjan rum, after being smuggled from Karamja.
It is a requirement to start the quest to access the back part of the store. However, a white apron (which can be taken from the Fishing shop to the north) is the prerequisite to access the back. Each crate is notable of having an unlimited amount, albeit low-levelled, of food stock: cabbage, potato, raw chickens and bananas aplenty. If you are looking for a small bit of change, selling back Wydin's own stock can be useful.
His store is handy to buy such things as Cheese, Tomato, and Pot of Flour, as these items sell for much higher on the Grand Exchange. The nearest bank is in Draynor Village or players can use the deposit box near the Entrana Monks. Alternatively, the lodestone system can be used.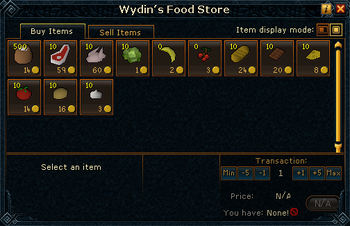 Shops in Burthorpe

Burthorpe Guard Quartermaster • Carwen Essencebinder Magical Runes Shop • Corporal Boothe's Armoury • Gaius's Two-Handed Shop

Shops in the Dwarven Mine

Dwarven Shopping Store • Crossbow Shop (Dwarven Mine) • Drogo's Mining Emporium • Nulodion's Multicannon Parts • Nurmof's Pickaxe Shop

Shops in Entrana

Frincos's Fabulous Herb Store

Shops in Falador

Falador General Store • Cassie's Shield Shop • Garden Centre • Flynn's Mace Market • Herquin's Gems • Party Pete's Emporium • Wayne's Chains - Chainmail Specialist

Shops in Port Sarim

Betty's Magic Emporium • Brian's Battleaxe Bazaar • Gerrant's Fishy Business • Grum's Gold Exchange • Wydin's Food Store

Shops in Rimmington

Rimmington General Store • Brian's Archery Supplies • Rommik's Crafty Supplies

Shops in Taverley

Alfred Stonemason's Construction Shop • Alison Elmshaper's Flying Arrow Fletching Shop • Ayleth Beaststalker's Hunting Supplies Shop • Bettamax's Shop • Head Farmer Jones's Farming Shop • Jack Oval's crafting Shop • Jatix's Herblore Shop • Marcus Everburn's Firemaking Shop • Martin Steelweaver's Smithing Supplies Shop • Martin Thwait's Lost and Found • Mess Sergeant Ramsey's Cooking Supplies Shop • Nicholas Angle's Fishing Shop • Pet Shop • Poletax's Herblore Shop • Tobias Bronzearms's Mining Supplies Shop • Pikkupstix's Summoning Shop • Will Oakfeller's Woodcutting Supplies Shop

Shops in other areas
Shops in Etceteria
Shops on Jatizso

Armour Shop • Contraband Yak Produce • Flosi's Fishmongers • Keepa Kettilon's Store • Ore Store • Weapons Galore

Shops at the Lighthouse

The Lighthouse Store

Shops on Lunar Isle

Moon Clan General Store • Baba Yaga's Magic Shop • Moon Clan Fine Clothes

Shops on Miscellania

Miscellanian General Store • Greengrocer of Miscellania • Island Fishmonger • Miscellanian Clothes Shop • Miscellanian Food Shop

Shops on Neitiznot

Neitiznot Supplies

Shops in Rellekka

Sigmund The Merchant • Fremennik Fishmonger • Fremennik Fur Trader • Skulgrimen's Battle Gear • Yrsa's Accoutrements • Yrsa's Shoe Store
Shops in Catherby

Arhein's Store • Candle Shop • Harry's Fishing Shop • Hickton's Archery Emporium • Vanessa's Farming Shop

Shops in East Ardougne

Aemad's Adventuring Supplies • Ardougne Baker's Stall • Ardougne Fur Stall • Ardougne Gem Stall • Silk stall • Ardougne Silver Stall • Ardougne Spice Stall • The Poison Arrow • Zenesha's Platebody Shop

Shops in Hemenster

Richard's Farming Shop

Shops in King Lathas's training ground
Shops in Piscatoris Fishing Colony

Arnold's Eclectic Supplies

Shops in Port Khazard

Khazard General Store

Shops in Tree Gnome Stronghold

Funch's Fine Groceries • Gianne's Restaurant • Grand Tree Groceries • Gulluck and Sons • Rometti's Fine Fashions • Yaktwee's Invizzy Critters Stall

Shops in Tree Gnome Village

Bolkoy's Village Shop

Shops in West Ardougne

West Ardougne General Store

Shops in Seers' Village
Shops in Witchaven
Shops in Yanille
Shops in other locations
Shops in Brimhaven

Davon's Amulet Store • Dead Man's Chest • The Shrimp and Parrot

Shops in Herblore Habitat
Shops in Musa Point

Karamja General Store

Shops in Shilo Village
Shops in Tai Bwo Wannai

Jiminua's Jungle Store • Gabooty's Tai Bwo Wannai Cooperative • Gabooty's Tai Bwo Wannai Drinky Store • Tamayu's Spear Stall • Tiadeche's Karambwan Stall

Shops in TzHaar City

TzHaar-Hur-Lek's Ore and Gem Store • TzHaar-Hur-Tel's Equipment Store • TzHaar-Mej-Roh's Rune Store
Shops in Al Kharid

Al Kharid General Store • Ali's Discount Wares • Dommik's Crafting Store • Faruq's Tools for Games • Gem Trader (stall) • Louie's Armoured Legs Bazaar • Ranael's Super Skirt Store • Shantay Pass Shop • Zeke's Superior Scimitars

Shops in Bandit Camp
Shops in Bedabin Camp
Shops in the Duel Arena
Shops in the Monkey Colony

Monkey Colony General Store • Banana store • Gem Store (Monkey Colony)

Shops in Nardah

Nardah General Store • Nardah Hunter Shop • Rok's Chocs Box • Seddu's Adventurers' Store

Shops in Pollnivneach

Pollnivneach General store

Shops in Sophanem

Blades by Urbi • Jamila's Craft Stall • Nathifa's Bake Stall • Raetul and Co's Cloth Store • The Spice is Right
Shops in Dorgesh-Kaan

Dorgesh-Kaan General Supplies • Nardok's Bone Weapons • Miltog's Lamps • Reldak's Leather Armour

Shops in Draynor Village

Ava's Odds and Ends • Diango's Toy Store • Draynor Seed Market • Fortunato's Fine Wine

Shops in Edgeville
Shops in Gunnarsgrunn

Peksa's Helmet Shop

Shops in Lumbridge

Lumbridge General Store • Beefy Bill's Supplies • Bob's Brilliant Axes • Culinaromancer's Chest • Hank's Fishing Shop

Shops in Varrock

Varrock General Store • Aubury's Rune Shop • Construction Supplies • Dealga's Scimitar Emporium • Fancy Clothes Store • Horvik's Armour Shop • Iffie's Random Costume Shop • Lowe's Archery Emporium • Naff's Knockoff Staves • Thessalia's Fine Clothes • Urist's Crafting Supplies • Varrock Swordshop • Zaff's Superior Staves • Ye Olde Tea Shoppe
Shops in East Keldagrim

Armour Store • Carefree Crafting Stall • Crossbow Shop (Keldagrim) • Green Gemstone Gems • Keldagrim's Best Bread • Kjut's Kebabs • Ore Seller • Pickaxe-Is-Mine • Reinald's Smithing Emporium • Silver Cog Silver Stall • Vermundi's Clothes Stall

Shops in Troll Stronghold
Shops in West Keldagrim

Gunslik's Assorted Items • Agmundi Quality Clothes • Keldagrim Stonemason • Quality Armour Shop • Quality Weapons Shop • Vigr's Warhammers
Shops in other locations

Shops in Ape Atoll

Ifaba's General Store • Daga's Scimitar Smithy • Hamab's Crafting Emporium • Solihib's Food Stall • Tutab's Magical Market

Shops in Mos Le'Harmless
Shops in Polypore Dungeon

Polypore Dungeon Supplies

Shops in Void Knights' Outpost

Void Knight General Store • Void Knight Archery Store • Void Knight Magic Store

Shops in the Wilderness

Bandit Duty Free • Battle Runes • Darren's Wilderness Cape Shop • Edmond's Wilderness Cape Shop • Edward's Wilderness Cape Shop • Ian's Wilderness Cape Shop • Larry's Wilderness Cape Shop • Lundail's Arena-side Rune Shop • Mage Arena Staves • Neil's Wilderness Cape Shop • Richard's Wilderness Cape Shop • Sam's Wilderness Cape Shop • Simon's Wilderness Cape Shop • Tony's Pizza Bases • William's Wilderness Cape Shop

Shops in Zanaris

Zanaris General Store • Elnock's Backup Supply • Irksol's Ruby Rings • Jukat's Dragon Sword Shop

Other areas

Crossbow Shop (White Wolf Mountain) • Trader Stan's Trading Post