Wounded men are found within the grounds of the ruined Lumbridge Castle, just south of the castle itself. They are casualties of the Battle of Lumbridge, between Saradomin with the White Knights and Zamorak with the Kinshra.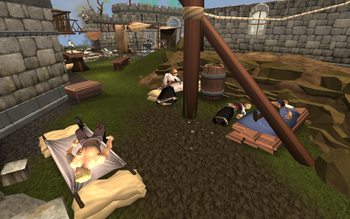 NPCs
Combatants
Warpriest armour
Overrides
Tokens
Emotes
Other items
Locations
Music
Ad blocker interference detected!
Wikia is a free-to-use site that makes money from advertising. We have a modified experience for viewers using ad blockers

Wikia is not accessible if you've made further modifications. Remove the custom ad blocker rule(s) and the page will load as expected.