Wizards' Guild
Discuss

16
25,785pages
on this wiki
RuneScape uses the British convention for floor numbering: Ground floor, first floor, second floor, etc.
Wizards' Guild
Also called
Magic Guild
Location
Yanille
Members Only?
Yes
No. of Stores/Banks
2 stores
Required level
66 Magic
[view] • [talk]
The Wizards' Guild has a number of useful things for those interested in Magic. It is located in Yanille, and requires level 66 Magic to enter. Boosts can be used to enter. The Wizards' Guild was founded by Jack in the First Age and is as such the oldest known institute of magic on Gielinor. However, the guild has changed immensely over the course of millennia and is very likely to have been destroyed, rebuilt or otherwise changed many times.[1] The guild seems to have a sort of friendly rivalry with the Misthalanian Wizards' Tower, most evident during the christmas banquet of 169.
Transportation
Edit
Players can reach the guild by going to Yanille. Besides walking, there are several fast-transport means to the area near Yanille:
Ground floor
Edit
Wizard Distentor is the guildmaster. He can teleport players to the Rune Essence mine. He's the closest one to the bank of any rune essence teleporter. However, for those that do not meet the level 66 requirement to enter the guild, using Aubury in Varrock and Varrock's east bank is the next fastest. Wizard Distentor wears lighter blue robes than other wizards, helping him stand out like Zavistic Rarve.
Professor Imblewyn is a gnome professor studying magic. He features in the Gnome Restaurant minigame.
There are also two attackable wizards.
First floor
Edit
The first floor includes two shops, Zavistic Rarve and three attackable wizards.
Zavistic Rarve is involved in quests such as The Hand in the Sand and Zogre Flesh Eaters. If players cannot get in to talk to him, they can ring the bell just outside the guild's front door to call him. He wears special robes that make him stand out.
Wizard Guild's Magic Robe Store
Edit
The Robe Store Owner sells a variety of mystic equipment, as well as stones of binding used to produce tectonic armour. He also sells the Magic Cape of Achievement for 99,000 coins to players with level 99 Magic.
Item
Number
in stock
Price
sold at
Price
bought at
GE
price
GE resale
value
Mystic hat (blue)
10
15,000
4,500
9,503
-54,970
Mystic robe top (blue)
10
120,000
36,000
71,366
-486,340
Mystic robe bottom (blue)
10
80,000
24,000
47,608
-323,920
Mystic gloves (blue)
10
10,000
3,000
5,370
-46,300
Mystic boots (blue)
10
10,000
3,000
5,173
-48,270
Mystic shield
10
20,000
6,000
11,892
-81,080
Mystic orb
10
20,000
6,000
20,831
8,310
Mystic wand
10
30,000
9,000
30,186
1,860
Stone of binding
10
500,000
150,000
508,658
86,580
Magic cape
∞
99,000
Not sold
Not sold
Not sold
Wizard Guild's Rune Store
Edit
The Magic Store owner sells all runes except cosmic runes, astral runes, and combination runes. As a result of the high amount sold by this store, restocking takes many days, and it is not advised to buy runes here and resell them at the Grand Exchange as a profit is unlikely to be made on most runes.
Item
Number
in stock
Price
sold at
Price
bought at
GE
price
GE resale
value
Air rune
1,000
17
5
24
7,000
Water rune
1,000
17
5
26
9,000
Earth rune
1,000
17
5
13
-4,000
Fire rune
1,000
17
5
46
29,000
Mind rune
1,000
17
5
6
-11,000
Body rune
1,000
16
4
7
-9,000
Chaos rune
300
140
42
41
-29,700
Nature rune
300
372
111
300
-21,600
Death rune
1,000
310
93
169
-141,000
Law rune
100
378
113
272
-10,600
Blood rune
100
550
165
322
-22,800
Soul rune
100
410
123
164
-24,600
Staff of fire
10
1,500
450
613
-8,870
Staff of water
10
1,500
450
590
-9,100
Staff of air
10
1,500
450
604
-8,960
Staff of earth
10
1,500
450
590
-9,100
Second floor
Edit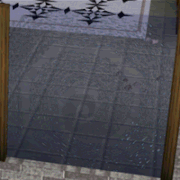 The second floor contains three magic portals.
The magic portals are one-way teleportation devices. There are no portals at the destinations to return players to the Wizards' Guild.
The basement houses eight level 42 zombies in a locked cage. This is a good Magic training spot, but players have to use Telekinetic Grab to gather any drops.
Wizard Frumscone is the creator of the "magic zombies" and gives players permission to kill them. He is also part of the Swan Song quest and gives a puzzle box to players doing clue scrolls.
References
Edit