Wizard wand
Discuss

0
24,365pages
on this wiki
This weapon has an off-hand variant.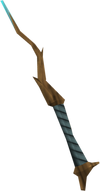 The wizard wand is a magic wand, released with the Evolution of Combat.
While the wizard wand could be used by free players, it could only be received as a drop from wizards, only accessible to members. However the wizard wand can actually be obtained as a fairly uncommon drop from Spellwisps, which are available on F2P worlds.
Combat Stats

| Class | Slot |
| --- | --- |
| Magic | |

Weapons
Main
Off
Damage
-
-
Accuracy
150
-
Style
-
-
Attributes
Armour rating

0

Life bonus

+0

Prayer bonus

0

Critical bonuses

0%

0%

0%

Attack speed

Fastest

Interval: 2.4 seconds

Compare item

[view] • [talk]
Dropping Monsters
Edit

Hat Black, (t), (g) •

Robe top Black, (t), (g) •

Robe skirt Black, (t), (g) •

Gloves

Boots •

Wand •

Book
General wands

Wizard (150) • Imp horn (202) • Spider (316) • Mystic (454) • Splitbark (628) • Bat (850) • Grifolic (1132) • Ahrim's (1486) • Treachery (1486) • Virtus (1924) • Seismic (2458)

Mage Training Arena

Beginner (732) • Apprentice (850) • Teacher (983) • Master (1132)

The Great Orb Project
Quest wands

Fairy • Wand • Infused wand • Betty's wand • Resurrection

Other

Christmas • Broken wand • Academy wand • Void knight mace (668) • Rosethorn wand 1 2 3 4 5 6

Customisation

Shatterstorm Wand

(Accuracy shown in parentheses, where applicable)