Wizard Valina is the entrance clerk of the Wizards' Tower and an expert on crystalline magic. She gives some details about the tower.
She plays minor roles in the Rune Mysteries and Missing, Presumed Death quests.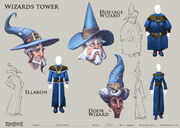 Ad blocker interference detected!
Wikia is a free-to-use site that makes money from advertising. We have a modified experience for viewers using ad blockers

Wikia is not accessible if you've made further modifications. Remove the custom ad blocker rule(s) and the page will load as expected.