Wizard Isidor is an expert on teleportation on the first floor of the Wizards' Tower, and brother to Archmage Sedridor. He is said by Explorer Jack to be rather forgetful. Isidor plays a role in Myths of the White Lands. During and after the quest, he will teleport players to the Land of Snow using the spell Ectosum Glissendo. Isidor also played a role in the 2011 Christmas event, where the player is asked to cover the banquet hall in snow via a puzzle.
According to Explorer Jack, Isidor is an acquaintance of his, and who now resides on the second floor of the Wizards' Tower, but 'has a memory like a sieve' due to his experimenting with magic all day.
If you have not yet started the quest and speak to Isidor, you will learn that he is a wizard who "works on portals and teleportation" and could teleport you anywhere, in theory, if he has a "a precise means of knowing where, like a phrase or something" but is working on something else right now and will be unable to teleport you to the Land of Snow.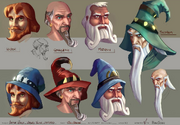 According to Explorer Jack, he is awfully forgetful and easily distracted, and for that reason you have to remind him of the teleport spell every time you want to go to the Land of Snow.
Isidor has a phobia of sleds. If you try to bring a sled to the Land of Snow he will say: "I've a phobia of sleds, you see. If I were to teleport you with one, who knows where you'd end up?" This is probably due to technical reasons.
His examine text during A Towering Feast is a reference to the game Portal.
Ad blocker interference detected!
Wikia is a free-to-use site that makes money from advertising. We have a modified experience for viewers using ad blockers

Wikia is not accessible if you've made further modifications. Remove the custom ad blocker rule(s) and the page will load as expected.