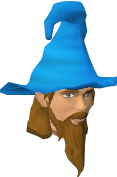 Wizard Distentor is one of the leader of the Magic Guild in Yanille. He is also considered by most to be the best NPC for rune essence, as he is positioned closest to a bank; however players need to have a magic level of 66 to access this.
He could be found in the alternate Wizards' Tower during the 2011 Christmas event.
Ad blocker interference detected!
Wikia is a free-to-use site that makes money from advertising. We have a modified experience for viewers using ad blockers

Wikia is not accessible if you've made further modifications. Remove the custom ad blocker rule(s) and the page will load as expected.