Wintumber tree
Discuss

19
22,502pages
on this wiki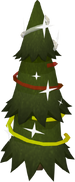 The Wintumber tree, named for the final month of the RuneScape calendar, was one of two rewards for completing the 2006 Christmas event (the other being the Reindeer hat). The tree is untradeable and may be planted on any free space in the Garden or on any free outdoor space of a player-owned house. The tree is similar to a Christmas tree, donned with garlands and constantly glittering. If lost or destroyed, the player can obtain another from Diango in Draynor village. Like all recent holiday items, they can only have one Wintumber tree at a time. Wintumber trees are now discontinued.
The sparkles on the tree slightly resemble Holy symbols, but this may not be intentional.
If one plants the tree inside, like the photo below, they will get a message explaining "You must plant a new Wintumber tree out of doors" the next time they enter construction mode. The same will happen if they plant it in other plants or centerpieces in their garden.
If a player tries to dig up a Wintumber tree they will get a message "You can't dig up the owner's Wintumber tree! How unfestive!"
As one of the only Members' holiday items (the others are the Icicle crown, the Hourglass, Mackers, and Sparkles), it is impossible to obtain the tree if you did not complete the event as a member, even if the member completed the event as a free player. This was a common topic of complaint on the forums, and has been changed with the release of Mackers, a members only pet turkey reward from the 2011 Thanksgiving Event.
Easter

Easter egg • Bunny ears • Rubber chicken • Easter ring • Chicken set • Chocatrice cape • Easter carrot • Squirrel ears • Sunbeam crown • Icicle crown • Egg on face mask • Chocolate egg on face mask • Eggsterminator

Hallowe'en

Pumpkin • Halloween masks • Scythe • Zombie head • Jack lantern mask • Skeleton set • Grim reaper hood • Warlock / Witch costume • Web cloak • Eek • Bone brooch • Deathcon lanyard • Deathcon t-shirt • Hourglass • Sock mask • Buskin mask • Hallowed robes • Unhallowed robes • Ectoplasmator

Christmas

Christmas cracker • Partyhats • Santa hat • Yo-yo • Hats and scarves • Marionettes • Wintumber tree • Reindeer hat • Snow globe • Santa costume • Ice amulet • Ghost costume • Candy cane • Salty claws hat • Heimland games souvenir • Christmas wand • Sparkles • Santa beard

Thanksgiving
RuneFest

Flagstaff of festivities • Runefest 2011 hood • Golden scythe

Commemorative

Golden cracker and (hammer) • 200m glasses • 10th anniversary cake and candles

Cryptic Clue Fest

Magnifying glass • Investigator's outfit • Rock fragment • Avalani's robes • Mysterious book • Diamond sceptre • Diamond crown

Other

Lily of the valley • Oktoberfest pretzel • Carnival headdress • Skull mask