Willow logs
Discuss

2
22,529pages
on this wiki


Willow logs are logs which can be cut from willow trees using the Woodcutting skill. Though willow logs used to be a good source of income for players, the drop in their selling price has made them useless to sell. Cutting willow logs from a willow tree requires a hatchet and level 30 Woodcutting, and grants 67.5 Woodcutting experience per log. Therefore, a full inventory will grant you 1890 experience. Players can burn willow logs using the Firemaking skill and a tinderbox. This requires level 30 Firemaking, and grants 90 Firemaking experience per log, or 105 if adding willow logs to a bonfire. (135 experience if using a Firemaking ring.) In addition, members trained in the art of barbarian firemaking can light willow log fires with a bow instead of a tinderbox at level 35, also yielding 90 experience per log. They can also create pyre ships from willow logs at level 40 along with level 40 Crafting with a tinderbox or bow, a hatchet, and chewed bones or mangled bones, giving 22.5 Crafting experience and 90 Firemaking experience.
Willows can be a very cost-effective way of getting to 99 Firemaking. It is estimated that it takes no more than 150,000 willows to get from 30-99 Firemaking. This adds up to just 3300000, however this process is very time consuming, so most players tend to avoid it.
Members may also use the Fletching skill and a knife to carve willow logs into unstrung willow shortbows, unstrung willow longbows or willow stocks. This requires levels 35, 39, and 40 Fletching, and grants 33.3, 41.5, and 22 Fletching experience, respectively. Willow logs are also the tertiary ingredient for infusing beaver pouches. They can also be used to travel to Varrock using the balloon transport system.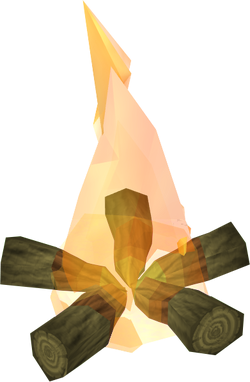 Another way to make profit with willow Logs is using the Low Level Alchemy granted 30 times a day from explorer's ring 2: each use gives 16 coins per log, -6 higher than its GE cost and 31 Magic Experience, resulting in 480 (-168 profit if bought) coins and 930 Magic Experience. Willow logs can also grant money if a player uses the High Level Alchemy feature on the explorer's ring 4, giving 24 coins and 65 Magic experience. This would be a total of 2 coins gained per log.
Dropping monsters
Edit
| Monster | Combat level | Quantity | Rarity |
| --- | --- | --- | --- |
| Vampyre Juvinate | 54,59,64,90,119 | 5 | |
Before the creation of the Grand Exchange, they used to sell for 20-30 coins each. However, since they require such a low level to cut, there was an oversupply, which is why they rest at the much lower (30%) price they do today. This used to make them very hard to sell on the Grand Exchange, but now there is a great demand for them for people training Firemaking and Fletching. Willow logs used to be about 30gp in 2009 summer. Then they suddenly fell to a price of 6gp. It gradually began getting higher and higher again until Free Trade was reintroduced when the price crashed back down to around 8gp. It has since stabilised at the higher price of around 25gp each, likely due to the introduction of the bonfire Firemaking training method, which led to the increased demand of a majority of log types.
Prior to the 10 December 2007 update, players would often have macroing software control their accounts and would often be seen chopping down willow trees (most notably the ones south of Draynor) in order to get their levels up to chop down Yew Trees. Macroing is against rule 7, now known as 'Macroing or use of bots' under the Honour section of the new Report Abuse system. Players (bots) that had successfully cut large quantities of Willow or Yew logs would often be sold by the owner for gold, or be used as is in Real World Item Trading.
Willow Trees only grow by bodies of water, such as ponds, lakes, rivers, and seas, as in real life.
The value of one Willow log in Mobilising Armies is 9 Investment Credits.
Tools

Knife • Sacred clay fletching knife • Volatile clay fletching knife

Strings
Logs

Logs • Oak logs • Willow logs • Maple logs • Achey logs • Yew logs • Magic logs

Unstrung shortbows

Shortbow (u) • Oak shortbow (u) • Willow shortbow (u) • Maple shortbow (u) • Yew shortbow (u) • Magic shortbow (u)

Unstrung shieldbows

shieldbow (u) • Oak shieldbow (u) • Willow shieldbow (u) • Maple shieldbow (u) • Yew shieldbow (u) • Magic shieldbow (u)

Arrows

Arrow shaft • Feathers • Headless arrow • Bronze • Iron • Steel • Mithril • Broad • Adamant • Rune • Dragon

Ogre bows

Ogre arrow shaft • Flighted ogre arrow • Wolfbone arrowheads • Unstrung comp bow

Crossbow stock

Wooden • Oak • Willow • Teak • Maple • Mahogany • Yew • Magic

Crossbow limbs

Bronze • Blurite • Iron • Steel • Mithril • Adamantite • Runite • Dragon

Unstrung crossbows

Bronze • Blurite • Iron • Steel • Mithril • Adamant • Runite • Dragon

Bolts

Bronze bolts (unf) • • Blurite bolts (unf) • Silver bolts (unf) • Iron bolts (unf) • Steel bolts (unf) • Mithril bolts (unf) • Adamant bolts (unf) • Runite bolts (unf) • Abyssalbane bolts (unf) • Basiliskbane bolts (unf) • Dragonbane bolts (unf) • Wallasalkibane bolts (unf)

Gem bolt tips

Opal • Jade • Pearl • Red topaz • Sapphire • Emerald • Ruby • Diamond • Dragonstone • Onyx

Darts
Scrimshaws

Log-splitting scrimshaw (superior) • Rock-crushing scrimshaw (superior) • Tree-shaking scrimshaw (superior) • Gem-finding scrimshaw (superior) • Scrimshaw of vampyrism (superior) • Scrimshaw of strength (superior) • Scrimshaw of the elements (superior) • Scrimshaw of magic (superior) • Scrimshaw of cruelty (superior) • Scrimshaw of ranging (superior)

Others

Blisterwood stake • Blisterwood polearm • Blisterwood staff • Bakriminel bolt shafts • Bakriminel bolt tips