The Wildstalker helmet is a helmet that keeps track of the kills that the wearer has achieved in player versus player combat in the Wilderness.
The main feature of the helmet, as with the Duellist's cap, is the change of feature that occurs with each kill amount milestone reached (shown below). As well as the Duellist's cap, this helmet will also give the owner the ability to transform into a statue, which also like the Duellist's cap lets other players view your various PvP stats that you have achieved, such as amount of total kills, death, and kill-death ratio. It will also give access to an emote by selecting Brag while the helmet is worn. You need at least ten kills in order to do both these actions, as the emotes are only available for the tier 2 helmet and up, as with the tier 2 Duellist's cap.
The kills made in free to play servers will NOT be counted, although free-to-play players can receive a helmet. Every time you check them it will be whatever you had when you last got a kill in a pay to play server. These helmets can only be upgraded in member worlds. However, members can equip these helmets on free worlds at any upgraded stage.
Players can retrieve the helmet from Mr Ex in Edgeville. If you reset the Wildstalker Helmet all kills and deaths will be reset as well as the tiers. A player's existing kills are not transferred to the hat when it is obtained.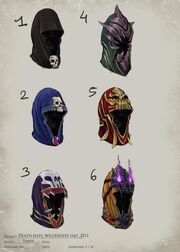 The wearer does not really turn into a statue, but the 'object' is spawned and placed over the player.
Ad blocker interference detected!
Wikia is a free-to-use site that makes money from advertising. We have a modified experience for viewers using ad blockers

Wikia is not accessible if you've made further modifications. Remove the custom ad blocker rule(s) and the page will load as expected.