Wild Weekends
Discuss

0
22,488pages
on this wiki
Wild Weekends are events that are run throughout the month of May 2012 as a part of Mad May. They were announced with a news update on 20 April 2012. Details of each weekend will be released closer to each one.
Weekend 1 (5-7 May 2012)
Edit

The first Wild Weekend involved a selection of horns (curled horns) and tattoos (mystic and marauder) being added to the Uncommon and Common slots on the Squeal of Fortune, vastly increasing the chances of winning those items.
Weekend 2 (12-14 May 2012)
Edit
This weekend offered double points in Runespan (NOT experience). Each rune actually kept its original value, however each successful siphon granted the player 2 runes instead of 1, effectively doubling the points gained. This event was available to both Members and Non-Members.
Weekend 3 (19-21 May 2012)
Edit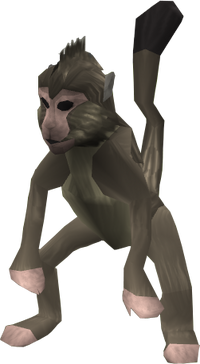 Double drops from bosses and a selection of monkey themed items from the Squeal of Fortune were released, which included:
To maximize the player's chance of obtaining every single one of these items, Jagex coded Squeal of Fortune such that any item from the above list (except for the Barrel of monkeys) would disappear from the wheel if a player already owned one. For example, if a player already owned the See-no-evil and Speak-no-evil monkey hats as well as the monkey mace, the only other monkey-themed item that would appear on the wheel was the Hear-no-evil monkey hat. There were double drops from:
Effigy drops were NOT doubled. Because of said weekend certain items will not sell.
Weekend 4 (26-28 May 2012)
Edit

The fourth and final Wild Weekend offered 2 events.
Chase the Monkey
Edit
The first was a variation of Penguin Hide and Seek that involved monkeys, a chance to hunt down 10 monkey escapees from the Ardougne Zoo. Finding all 10 monkeys rewarded the exclusive monkey cape which was put in the player's inventory upon finding the last monkey. It can be retrieved from Diango in Draynor Village if lost.
Rise of the Zombie Monkeys!
Edit
The community team spawned invasions of zombie monkeys (level 65) throughout the weekend. If the player killed at least 5 on a given day a medium XP lamp was awarded. The event would be repeating Saturday through Monday allowing for 3 XP lamps to be earned.
References
Edit
Hallowe'en event

2001 • 2002 • 2003 • 2005 • 2006 • 2007 • 2008 • 2009 • 2010 (Zombie Outbreak) • 2011 (The Dead Walk!) • 2012

Christmas event

2001 • 2002 • 2004 • 2005 • 2006 • 2007 • 2008 • 2009 • 2010 • 2011 • 2012

Easter event

2002 • 2003 • 2005 • 2006 • 2007 • 2008 • 2009 • 2010 • 2011 • 2012

Thanksgiving event

2008 • 2009 & 2010 • 2011 • 2012

April Fools'

2004 • 2005 • 2007 • 2008 • 2009 • 2010 • 2011 • 2012 • 2013

Cryptic Clue Fest
Winter event

2011 • 2012 (Wolf Packs) • 2013

RuneFest
Membership thanks

Mad May (Wild Weekends) • Sizzling Summer • Winter Weekends

Other

Oktoberfest • Start of May • RuneScape 10th Anniversary • Wildywyrm • Royal Wedding • The Ultimate Showdown • Açaí • Diamond Jubilee • Gielinor Games (Preparation) • Festival of the Dead • Tribute to Guthix