Wild jade vine
Discuss

6
22,528pages
on this wiki
This article is about the slayer monster which is a reward from the Back to my Roots quest. For the maze in Karamja, see Jade Vine Maze and for the plant, see Jade vine.
Wild jade vine
Release date
9 October 2007 (Update)
Members?
Yes
Combat level
130
XP per kill
536.7 (and 177.1 experience)
Slayer level
59
Always drops
Jade Vine Seed
(appears in your inventory)
Examine text
Prior to combat: This vine has grown wild.
In combat: A sentient plant - ready, willing and able to kill.
As a stump: A sentient plant - ready, willing and not very likely to kill.
[view] • [talk]
Wild jade vine is a repeatable event that was introduced with the Back to my Roots quest. If the player does not keep the vine pruned, it becomes a Wild Jade Vine. The player earns 2500 Slayer experience for killing the Wild Jade Vine. It can be repeated about every 24 hours, as that is the time it takes to grow into a mature jade and become a "wild" jade vine.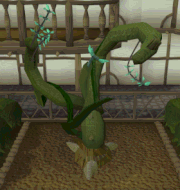 If the Jade Vine is left alone after growing 5 branches, it turns wild and becomes a level 130 Wild Jade Vine, which players can kill for 2500 Slayer experience and 202
Woodcutting
experience, in addition to the combat experience.
Alternatively, if players don't want to battle a wild jade vine, they can ask Horacio to dig up the plant just after checking its health. Horacio takes five coconuts and five watermelons as payment to kill the wild vine.
The vine can only be damaged by a hatchet and dreadnips. Protection prayers are only partially effective against the vine, because it uses all three combat styles, and can deal up to 158 damage. The vine attack also poisons for 70 life points, so a dose of super antipoison potion, poison purge aura or an Anti-poison totem can be used to defend against it. The vine may also snare the player in its tendrils, stunning them for a few seconds. It is possible to break free from this by using Freedom.
Players can leave via the gate once the battle has begun. However, the vine will still be attacking them (via magic) and may bind them with tendrils as they run. Hence, a one-click teleport can be useful for making an emergency escape, although other teleports can work.
The recoil effects of deflect curses will not work against this monster, although they can still be used to protect from damage. Likewise, the vine cannot be affected by the Ring of recoil. The knockback effect of Kick will not work, and the Barge ability cannot be used against the vine.
Recommended equipment
Edit
Equipped
Inventory
Optional
Alternatives
Instead of praying against melee and using magic armour (which is the recommended option), one can pray against magic and use melee armour.
Use the Protect from Magic prayer throughout the battle and wear good defence armour (like Dragon armour or Barrows equipment). However, bear in mind that over 80% of the jade vine's attacks are melee-based, regardless of which protection prayer players use.
After reducing the Wild Jade Vine to a stump, use the 'Cut' option on it with a pair of secateurs in inventory or toolbelt to get another jade vine seed to replant and start the cycle over. If the seed is lost, talk to Horacio to get another one.
Get some of the recommended equipment. If players have +90 Magic defence, getting damaged will be rare occurrence, generally negating the need for food (although bring some just in case). First drink one dose of Super antipoison, since the effect lasts for five minutes, which is usually longer than the battle. If players have 70+ for every melee stat, they shouldn't need more than 550 prayer points. Before choosing the "attack" option, turn on Protect from Melee. Protect from Magic is not recommended, since the vine doesn't use magic more than 10 times throughout the whole fight. Deploy your dreadnips, if you have them. After defeating the vine, do not forget to use secateurs or players will not be able to kill it and will be forced to teleport and start over. Make sure to have an empty inventory slot available to get the seed back after killing it.
Horacio stated during the quest: If you let this species get wild by leaving it unpruned, it will attack anything. Some closely related species that can pop up pretty much anywhere has a large purple fruit, you've probably seen it. He is referring to the Strange plant (discontinued random event) or Stranger Plant (summoning pouch).
The scientific name of the real-life jade vine is strongylodon macrobotrys. It has been suggested by some that the only reason Jagex chose to use this plant for the quest was because the scientific name contains the words "macro" and "bot".
The Jade Vine will not need pruning or killing until you have checked its health.
If a player prunes The Jade Vine accidentally, hoping for it to attack, they can wait an additional 5 minutes for the 'prune' option to occur again.
Growing and killing your own Wild Jade Vine after Back to my roots is needed to complete the hard Ardougne Tasks.
Curiously enough, the player does not need to kill the Wild jade vine; the Wild jade vine becomes harmless and cuttable at 828 LP exactly. This is most evident when using Monster Examine on the vine.
External links
Edit
Slayer Tower

Crawling Hand • Banshee • Infernal Mage • Bloodveld • Aberrant spectre • Gargoyle • Nechryael • Abyssal demon

Fremennik Slayer Dungeon

Cave crawler • Rockslug • Cockatrice • Pyrefiend • Basilisk • Jelly • Turoth • Kurask • Aquanite

Lumbridge Swamp Caves
Poison Waste Slayer Dungeon
Pollnivneach Slayer Dungeon

Banshee (Mighty) • Cave crawler (Monstrous) • Basilisk (boss) • Turoth (Mightiest and Swarming turoth) • Kurask (overlord) • Aberrant spectre

Meiyerditch Dungeon
God Wars Dungeon

Pyrefiend • Bloodveld • Spiritual ranger • Spiritual warrior • Spiritual mage

Jadinko Lair

Mutated jadinko baby • Mutated jadinko guard • Mutated jadinko male

Polypore Dungeon

Grifolaroo • Grifolapine • Ganodermic runt • Ganodermic beast

Daemonheim

Crawling hand • Cave crawler • Cave slime • Pyrefiend • Night spider • Jelly • Spiritual guardian • Seeker • Nechryael • Edimmu • Soulgazer

Others

Gelatinous Abomination • Desert Lizard • Mogre • Harpie Bug Swarm • Killerwatt • Molanisk • Terror dog • Brine rat • Fever spider • Mutated zygomite • Cave horror • 'Rum'-pumped crab • Dust devil • Skeletal Wyvern • Jungle strykewyrm • Desert strykewyrm • Dark beast • Ice strykewyrm

Specials

Bork • Skeletal horror • Phoenix • Jade vine(wild)

Slayer pets

| | |
| --- | --- |
| Soul Wars | Creeping hand • Minitrice • Baby basilisk • Baby kurask • Abyssal minion • TzRek-Jad |
| Social Slayer | |
| Other | Cresbot |