This article is about the organisation. For the monster, see
White Knight
.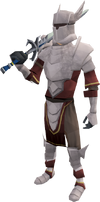 The White Knights of Falador are a monastic Saradominist military group, with strong ties to the Temple Knights of Saradomin. They can be found at the White Knights' Castle in Falador.
The White Knights are arguably the most important political group in Asgarnia, as their leader, Sir Amik Varze, is the effective ruler of the kingdom, save Burthorpe. They have a long rivalry with the Black Knights, and more recently with the Burthorpe Imperial Guard. In general, they are said to stand against evil, being followers of Saradomin. However, players are occasionally cautioned by knowledgeable NPCs like Bob the Jagex Cat and Juna that the White Knights may not be as pure as they seem. Also, the Burthorpe Imperial Guard believes the White Knights have illegally taken control of the Kingdom of Asgarnia when King Vallance disappeared.
The White Knights have an agreement with the rulers of Misthalin, allowing the king to grant white knight squires full knighthood. This is rarely done though and as such is considered to be a great honour upon the knight.
The White Knights have a code of honour which disbars them from many recreational activities or distractions, such as having children. However, they are allowed to drink alcohol and dance.
Players as White Knights
Edit
After completing the Recruitment Drive quest, players become members of the Temple Knights, an ancient order with strong ties to the White Knights. Completion of the Wanted! quest gives the player access to White Knight equipment after obtaining a sufficient rank in the order. Players' ranks within the order are different from the ranks suggested by the various plume colours. This is because the ranks suggested by the plume colours are earned by completing quests given out by the Temple Knights, such as Slug Menace, and do not increase your reputation with the White Knights. Players gain in rank by killing Black Knights; however, killing White Knights lowers rank.
| Black Knights killed | Player rank |
| --- | --- |
| <100 | N/A |
| 100–199 | White Knight Novice |
| 200–299 | White Knight Peon |
| 300–499 | White Knight Page |
| 500–799 | White Knight Noble |
| 800–1299 | White Knight Adept |
| 1,300+ | White Knight Master |
Upon entering the order, the player is automatically a White Knight Novice and is credited with 100 black knight kills. Thereafter, killing a regular Black Knight counts as one kill while killing an Elite Black Knight counts as 10 kills. Killing a white knight reduces the player's kill count by one and can result in the player being demoted in rank. Players can check their rank by clicking Wanted! in the Quest Journal control panel; the player's current rank is shown with the wording "I am currently a (Rank) white knight." Likewise players can check their black knight kills with quick-chat FS8.
When the player is promoted to a new rank, the game window displays the promotion: "Congratulations you are now a White Knight (Rank)." There is no announcement, however, for being demoted or being promoted again to a rank the player once held.
Knight rankings can be used to obtain White Knight equipment from Sir Vyvin at the White Knights' Castle in Falador. Each piece of equipment requires a specific knight ranking to buy, but not to wear. Pieces of white knight equipment can be sold back to Sir Vyvin at the same price as they were bought at. When compared to the armour of White Knight NPCs, this equipment has less shine, and the NPC's armour appears to have a black trim on it.
If you kill enough White Knights and have been demoted to "no rank," Sir Vyvin will refuse to sell anything to you.
Achieving the White Knight Master rank is a requirement to trim the completionist cape and to obtain the master quest cape.
Key figures
Edit
Grotworm Lair
Edit
Betrayal at Falador
Edit
Knights

| | |
| --- | --- |
| Active | |
| Retired or deceased | |

Squires and attendants
NPCs

Main characters
Adventurers
Other
* Only during the Mega May event.
Experience lamps from Meg

Small
Medium
Large
Huge
Ad blocker interference detected!
Wikia is a free-to-use site that makes money from advertising. We have a modified experience for viewers using ad blockers

Wikia is not accessible if you've made further modifications. Remove the custom ad blocker rule(s) and the page will load as expected.