Whale's Maw is an island in The Arc region of the Wushanko Isles.
Getting there
Edit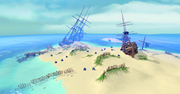 Notable features
Edit
Personalities
Edit
Music unlocked
Edit
Player-owned port voyages
Edit
It is described as having seas teeming with fish and turtles, which draw whales in to feed. The legendary whale Shuma is often found here.
In A Friend Indeed, the player may befriend a local fisherman in Whalesmaw .
In Howdy Pilgrim, a group of Saradomin priests may be travelling to a place of religious significance on the coasts of Whalesmaw .
In In Dire Need, the player may deliver desperately needed supplies to the local fishermen at Whalesmaw .
North of the Tortle hunting area, there is a raft and a volleyball with a hand-printed face floating in the water, a reference to the movie Cast Away.
On the docks there is a boat with three barrels next to it, a reference to the movie Jaws.
Islands
The Crew
Items
Other