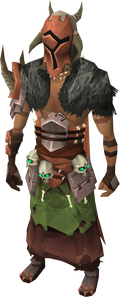 Warpriest of Bandos armour is a set of hybrid armour obtained from the second world event, The Bird and the Beast. The full set can be bought from the Bandosian quartermaster for 200,000 renown. At the reclaim price, the full set costs 80,000 renown. After the event, pieces of this armour can be received as drops from killing Bandosian followers in the God Wars Dungeon. It could also be bought during the Tuska Comes world event.
When three or more parts of the set are equipped, there is a chance that the cooldown of certain abilities (those with a cooldown of 30 seconds or longer) will be reduced by 15%. The more pieces are equipped, the bigger the chance the set effect will be activated. When the set effect occurs, the following message appears:
<ABILITY>: Your armour reduced the cooldown from <ORIGINAL DURATION> to <REDUCED DURATION>.
Note: If you die with this armour set it is worth actual coins and will be dropped as such.
The set consists of:
The complete outfit can be stored in an armour case of a player-owned house.
Tier 1 (Defence 25-49)
Edit
Tier 2 (Defence 50-74)
Edit
Tier 3 (Defence 75+) (m)Edit
The stats at level 75 are equivalent to level 60 armour i.e., black d'hide and dragon plate.