Ad blocker interference detected!
Wikia is a free-to-use site that makes money from advertising. We have a modified experience for viewers using ad blockers

Wikia is not accessible if you've made further modifications. Remove the custom ad blocker rule(s) and the page will load as expected.
Warpriest of Armadyl armour is a set of hybrid armour that was obtained from The Bird and the Beast world event. It could be bought from the Armadylean quartermaster. The full set cost 200,000 renown, or 80,000 at reclaim price. After the event, it can be obtained as drops from followers of Armadyl within the Armadyl eyrie in the God Wars Dungeon. It could also be bought during the Tuska Comes world event.
This armour has a set effect that is activated with various chances of success depending on the number of pieces worn. The set effect is a 15% reduction in cooldown time for abilities with cooldowns of at least 30 seconds or more.
The chance that the ability activates is:
5% when wearing three (3) pieces of armour.
10% when wearing five (5) pieces of armour.
20% when wearing six (6) pieces of armour, the full set.
When the set effect occurs, the following message appears:
<ABILITY>: Your armour reduced the cooldown from <ORIGINAL DURATION> to <REDUCED DURATION>.
The set consists of:
The complete outfit can be stored in an armour case of a player-owned house.
Once a player "unlocks" the stats to the next tier, the following will show in the chatbox:
The armour adapts to suit your current abilities.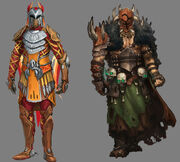 Tier 1 (Defence 25-49)
Edit
Hybrid


Item

Mainhand info

Off-hand info

Attributes

Strength bonus

Style

Dmg
Acc

Style

Dmg
Acc
Warpriest of Armadyl helm
-
-
-
-
-
-
40
0
0
-
-
-
Warpriest of Armadyl cuirass
-
-
-
-
-
-
46
0
0
-
-
-
Warpriest of Armadyl greaves
-
-
-
-
-
-
44
0
0
-
-
-
Warpriest of Armadyl gauntlets
-
-
-
-
-
-
10
0
0
-
-
-
Warpriest of Armadyl boots
-
-
-
-
-
-
10
0
0
-
-
-
Warpriest of Armadyl cape
-
-
-
-
-
-
6
0
0
-
-
-
Totals
-
-
-
-
-
-
156
0
0
-
-
-
Tier 2 (Defence 50-74)
Edit
Hybrid


Item

Mainhand info

Off-hand info

Attributes

Strength bonus

Style

Dmg
Acc

Style

Dmg
Acc
Warpriest of Armadyl helm
-
-
-
-
-
-
107
0
0
-
-
-
Warpriest of Armadyl cuirass
-
-
-
-
-
-
123
0
0
-
-
-
Warpriest of Armadyl greaves
-
-
-
-
-
-
117
0
0
-
-
-
Warpriest of Armadyl gauntlets
-
-
-
-
-
-
26
0
0
-
-
-
Warpriest of Armadyl boots
-
-
-
-
-
-
26
0
0
-
-
-
Warpriest of Armadyl cape
-
-
-
-
-
-
16
0
0
-
-
-
Totals
-
-
-
-
-
-
415
0
0
-
-
-
Tier 3 (Defence 75+) (m)Edit
Hybrid


Item

Mainhand info

Off-hand info

Attributes

Strength bonus

Style

Dmg
Acc

Style

Dmg
Acc
Warpriest of Armadyl helm
-
-
-
-
-
-
226
0
0
-
-
-
Warpriest of Armadyl cuirass
-
-
-
-
-
-
260
0
0
-
-
-
Warpriest of Armadyl greaves
-
-
-
-
-
-
249
0
0
-
-
-
Warpriest of Armadyl gauntlets
-
-
-
-
-
-
56
0
0
-
-
-
Warpriest of Armadyl boots
-
-
-
-
-
-
56
0
0
-
-
-
Warpriest of Armadyl cape
-
-
-
-
-
-
33
0
0
-
-
-
Totals
-
-
-
-
-
-
880
0
0
-
-
-
NPCs

| | |
| --- | --- |
| Armadyleans | |
| Bandosians | |
| Others | |

Combatants

| | |
| --- | --- |
| Armadyleans | |
| Bandosians | |
| Random events | |

Wisps
Warpriest armour
Tokens
Overrides
Emotes
Other items
Locations