War tortoise
Discuss

7
22,528pages
on this wiki
The War tortoise is a Summoning familiar that a player is able to summon at 67 Summoning. The war tortoise has the capability of holding up to 18 items for a player, whose total value can be no more than 900,000 gp (but no more than 50,000 gp per item). It is the second best general-use Beast of Burden and a common choice for mid-high level summoners who can't summon the Pack Yak.
War tortoise pouch
A War tortoise pouch is made by using a Summoning pouch on a Summoning obelisk with 1 spirit shard, a Gold charm and a Tortoise shell in the player's inventory. Using the pouch to summon a War tortoise costs 7 summoning points. If players exchange their War Tortoise pouches at Bogrog, they will receive 1 spirit shard per pouch. Players must also have 72 Summoning to be able to exchange this pouch.
A Perfect shell may NOT be used in place of a regular Tortoise shell.
Testudo scroll
The Testudo scroll enables the use of the Testudo special ability for a War tortoise. Using a War tortoise pouch on a Summoning obelisk creates ten Testudo scrolls.
Testudo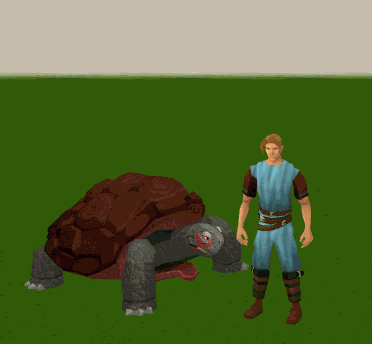 Testudo is a special move of the War tortoise, activated by a Testudo scroll. When activated, it temporarily boosts Defence by 9 points. Each use of a Testudo scroll requires 20 special move points.
When used in conjunction with potions and more scrolls, this effect will NOT stack on top of what has already been boosted. Because of this, even players with a War Tortoise following them will typically prefer a Defence potion, Super defence potion, Saradomin brew, or the Excalibur/Enhanced Excalibur special attack for raising their defence.
Dialogue
Trivia
Testudo is the Latin word for "tortoise", and is a genus of tortoises found in North Africa, western Asia, and Europe
Testudo is also a battle formation used in Ancient Roman Warfare. Soldiers would use their shields to cover the front and top of the unit to increase defence against incoming arrows.
There is a glitch when having a tortoise out at the duel arena near the bank. The tortoise looks like it is on the side of the wall.
Gold charm

Spirit wolf • Dreadfowl • Spirit spider • Thorny snail • Granite crab • Spirit mosquito • Bull ant • Spirit terrorbird • Barker toad • War tortoise • Arctic bear

Green charm

Desert wyrm • Compost mound • Beaver • Void ravager • Macaw • Spirit cockatrice • Spirit guthatrice • Spirit saratrice • Spirit zamatrice • Spirit pengatrice • Spirit coraxatrice • Spirit vulatrice • Magpie • Abyssal parasite • Ibis • Abyssal lurker • Bunyip • Fruit bat • Forge regent • Giant ent • Hydra • Unicorn stallion • Abyssal titan

Crimson charm

Spirit scorpion • Spirit Tz-Kih • Vampyre bat • Honey badger • Evil turnip • Pyrelord • Bloated leech • Smoke devil • Spirit cobra • Stranger plant • Ravenous locust • Phoenix • Granite lobster • Praying mantis • Talon beast • Spirit dagannoth • Swamp titan • Wolpertinger • Iron titan • Pack yak • Steel titan

Blue charm

Albino rat • Spirit kalphite • Giant chinchompa • Void shifter • Void spinner • Void torcher • Bronze minotaur • Iron minotaur • Spirit jelly • Steel minotaur • Spirit graahk • Spirit kyatt • Spirit larupia • Karamthulhu overlord • Mithril minotaur • Obsidian golem • Adamant minotaur • Fire titan • Ice titan • Moss titan • Lava titan • Rune minotaur • Geyser titan

Other

See also: Summoning • Beast of Burden • Forager • Charms • Summoning Obelisks • Summoning pets • Summoning pouches • Summoning scrolls • Wishing well • Dungeoneering familiars