Wally
 is one of
Varrock
's most famous heroes. When the powerful demon
Delrith
attempted to destroy the city, Wally narrowly managed to defeat him with the sword
Silverlight
in the 19th year of the
Fifth Age
, 150 years ago. He died sometime after but his greatness has never been forgotten.
Sir Prysin is his great grandson and is currently in possession of Silverlight.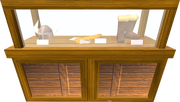 Wally's helmet, which he is said to have worn when he battled Delrith, is displayed at the Outpost near Ardougne after completion of the Making History quest. During the old version of Demon Slayer, when a cutscene showed Wally defeat Delrith, he was not wearing a helmet. This was most likely just an accident by Jagex.
Originally, Wally did not appear in any cutscenes and was only mentioned by Gypsy Aris and Sir Prysin. Since the rework of the quest, he does not appear once again.
For some reason, Wally appeared bald in the cutscene, but was shown with hair in his picture slaying Delrith in the Lores article, Eulogy for a Forgotten Hero(which was released after the cutscene update). This lore has since been removed from the website, indicating a possible retcon (i. e., Wally is not canon anymore).
Although Wally was visible in a cutscene during the Demon Slayer quest, he had no examine option.
If you looked carefully you'd notice that Wally's beard was different from his face upclose to his beard in character form.
If the player was quick enough and chatted, it would appear above Wally, indicating that Wally was just a player skin. The same is the case for the Wise Old Man during Swan Song.
Wally wore Silverlight as a two-handed weapon, unlike the player.