Vulnerability
Discuss

0
22,530pages
on this wiki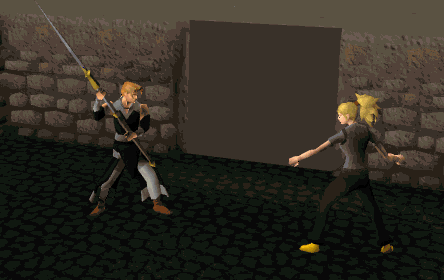 Vulnerability is a spell in the standard spellbook that temporarily reduces the target's Defence level by 10%. It does not stack with Curse, any Defence-draining Ancient Curses such as Leech Defence, or itself; once the target's Defence has been drained by any effect, it cannot be drained again.
Along with Enfeeble and Stun, Vulnerability is sometimes used for training Magic in metal armour and with a mud battlestaff or mystic mud staff. Because the spell will always miss with a low enough Magic attack bonus (-65), it can be re-cast indefinitely in this manner, resulting in quick experience.
Remember, you cannot use Ancient Magicks or Lunar Spells if you are using standard spells.
Cost
Spell Costs
Runes
Cost
5 5 1
 

231

Staff
Cost
5 1
 

166

5 1
 

186

1
 

121

Combination runes
Cost
5 1
 

816

Confuse •

Weaken •

Curse •

Bind •

Snare •

Vulnerability •

Enfeeble •

Entangle •

Stagger •
Teleport Block
Teleport spells

Dungeon Home Teleport • Gatestone Teleport • Group Gatestone Teleport

Curse spells

Confuse • Weaken • Curse • Vulnerability • Enfeeble • Stagger

Cure spells
Other spells

Bones to Bananas • Bind • Low-level Alchemy • Create Gatestone • Snare • High-level Alchemy • Monster Examine • Humidify • Entangle • Vengeance Other • Vengeance • Vengeance Group