The void knight mace is a wand that can be bought from a Void Knight for 250 commendation points, although a player must have 42 Attack, Strength, Defence, Constitution, Ranged, and Magic, along with 22 Prayer.
Despite this item being called a mace, it is classified as a wand and cannot be used to deal melee damage, but yet it overrides as a melee weapon.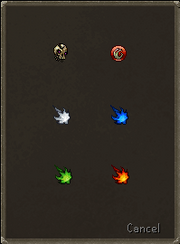 Combat Stats
Requirements
42 42 42 42
42 42 22
Class
Slot
Magic
Tier
42
Weapons
Main
Off
Damage
-
-
Accuracy
668
-
Style
Spell-casting
Range
8
Speed

Fastest (2.4s)

Attributes
Damage reduction
Armour
0
PvM:

0%

PvP:

0%

Life points
0
Style bonuses
Prayer
3

0

0

0

[FAQ] • [doc]
Disassembly
Edit
Wands
Mage Training Arena
Rewards
 Sceptre of the gods
 Void knight mace
Dyed seismic wand
Promotional
Melee
Ranged
 Armadyl crossbow
Magic
 Virtus wand
 Void knight mace
Rewards
 Wolfbane
 Rolling pin
 Keris
Treasure Trail
 Black cane
 Adamant cane
 Rune cane
Promotional
 Ardent mace
 Lucky Armadyl crossbow
Dyed drygore maces
Ad blocker interference detected!
Wikia is a free-to-use site that makes money from advertising. We have a modified experience for viewers using ad blockers

Wikia is not accessible if you've made further modifications. Remove the custom ad blocker rule(s) and the page will load as expected.