Void knight mace
Discuss

7
22,513pages
on this wiki

The Void knight mace can be bought from a Void Knight for 250 commendation points, although a player must have 42 Attack, Strength, Defence, Constitution, Ranged, and Magic, along with 22 Prayer.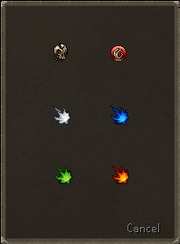 Combat Stats

| Class | Slot |
| --- | --- |
| Magic | |

Weapons
Main
Off
Damage
-
-
Accuracy
668
-
Type
-
-
Attributes
Armour rating

0

Life bonus

+0

Prayer bonus

3

Critical bonuses

0%

0%

0%

Compare item

A player wielding a void knight mace

[view] • [talk]
Wielding the Void Mace with an aura causes an outline of a staff to glow, instead of a mace. This has not been fixed yet.
It was once used to autocast spells, before the 2nd of September, 2009. The spells it used to autocast include Crumble Undead, Claws of Guthix, and Wind, Water, Earth, and Fire Wave.
General wands

Wizard (150) • Imp horn (202) • Spider (316) • Mystic (454) • Splitbark (628) • Bat (850) • Grifolic (1132) • Ahrim's (1486) • Treachery (1486) • Virtus (1924)

Mage Training Arena

Beginner (732) • Apprentice (850) • Teacher (983) • Master (1132)

The Great Orb Project
Quest wands

Fairy • Wand • Infused wand • Betty's wand

Other

Christmas • Broken wand • Academy wand • Void knight mace (?) • Rosethorn wand 1 2 3 4 5 6

Customisation

Shatterstorm Wand

(Accuracy shown in parentheses, where applicable)
Helms
Other equipment

Void knight top • Void knight robe • Void knight gloves • Void knight deflector • Void knight mace • Void seal

Elite