Vitalis is a boss pet obtained by inspecting the ancient summoning stone, a rare drop from Vorago. After the ancient summoning stone is used the Vitalis may be summoned from the pets tab in the Hero interface. Examining a Vitalis pet will display the owner's total number of Vorago kills in the chatbox.
If another Vitalis is nearby, the third dialogue will change, and the pet will yell "Vitalis!" If both players do this, the pets will perform an emote.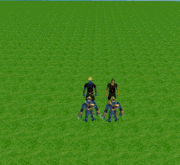 Using an item on a Vitalis prompts the message, "Vitalis is not interested in that."
Prior to an update on 30 August 2016, the Vitalis used to be a pet item that could be summoned by dropping the Vitalis from the inventory. It could be lost on death in the inventory as well as released and another could only be obtained through another ancient summoning stone drop, although in certain cases a pet shop owner could return the pet. The Vitalis was moved to the Hero interface with the other boss pets, along with the ability for it to override familiars.

Prior to this update, if the player also had Bombi, using the Vitalis on the Bombi gave the message "Congratulations on level 99 luck."
Monsters
Magic gear
Maul
Pet drops
Other
Ad blocker interference detected!
Wikia is a free-to-use site that makes money from advertising. We have a modified experience for viewers using ad blockers

Wikia is not accessible if you've made further modifications. Remove the custom ad blocker rule(s) and the page will load as expected.