Virtus book
Discuss

0
22,498pages
on this wiki
This weapon has an off-hand variant.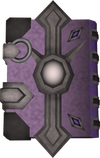 The Virtus book is an off-hand Magic weapon that requires 80 Magic to wield. It was released with the Evolution of Combat, and is dropped exclusively by Nex in the God Wars Dungeon. The Virtus book is currently the strongest and most expensive off-hand Magic weapon in the game.
Like the Virtus wand, the Virtus book is not officially part of the Virtus equipment set. It does not degrade, and does not need to be repaired; however, it will not protect the wielder from followers in the God Wars Dungeon as most Virtus items do. Additionally, the book is not required for the Virtus equipment set effect.
Combat Stats

| Class | Slot |
| --- | --- |
| Magic | |

Weapons
Main
Off
Damage
-
-
Accuracy
-
1924
Type
-
-
Attributes
Armour rating

0

Life bonus

+0

Prayer bonus

0

Critical bonuses

0%

0%

0%

Attack speed

Fastest

Interval: 2.4 seconds

Compare item

A player wielding a virtus book

[view] • [talk]
Godswords

Armadyl • Bandos • Saradomin • Zamorak

Robes of subjugation
Armadyl armour

Helmet • Chestplate • Chainskirt • Gloves • Boots • Buckler

Bandos armour
Torva armour
Pernix armour
Virtus armour
Ancient ceremonial robes
Frozen key

Frozen key • Armadyl • Bandos • Saradomin • Zamorak

Weapons

Saradomin sword • Zamorakian spear • Armadyl crossbow • Steam battlestaff • Zaryte bow • Virtus wand • Book

Amulets
Books

Armadyl's assault • Zilyana's notes • The glory of general graardor • Nex's followers • Razulei's tale

Soulstones

Armadylean soulstone • Bandosian soulstone • Saradominist soulstone • Zamorakian soulstone
Orbs

Spider orb (316) • Mystic orb (454) • Splitbark orb (628) • Grifolic orb (1132)

Books

Wizard's book (150) • Imphide book (202) • Tome of frost (801) • Bat book (850) • Mages' book (1132) • Ahrim's book of magic (1486) • Virtus book (1924)

Other

Ankh (?) • Broken heart (Varies)

(Off-hand accuracy shown in parentheses)