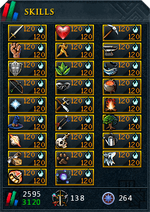 Virtual levelling is a feature that a player can enable. It allows players to see how far they have progressed past skill mastery (99), towards true skill mastery (120) (150 for Invention). It was released on 5 October 2015. Max virtual total level is 3270.
Although there is no content to unlock between levels 99 and 120 in most skills, players will still receive level up messages with this feature enabled. Players have the ability to set icons that will be displayed on a specific skill when it reaches the virtual level equivalent of level 120, and when the skill reaches 200 million experience.
To enable virtual levelling, players can find the feature under the Miscellaneous tab of the Game Settings interface.
Virtual level icons
Edit
Ad blocker interference detected!
Wikia is a free-to-use site that makes money from advertising. We have a modified experience for viewers using ad blockers

Wikia is not accessible if you've made further modifications. Remove the custom ad blocker rule(s) and the page will load as expected.