This article is about christmas item. For the quest item, see
jug of vinegar
.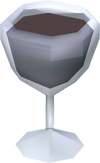 Vinegar is used to feed the wizards in the 2013 Christmas Event. Serving them the right food will earn from 1 to 5 naughty points, with the amount increasing with the number of consecutive correct orders. An unlimited supply is available on the banquet table.
Ad blocker interference detected!
Wikia is a free-to-use site that makes money from advertising. We have a modified experience for viewers using ad blockers

Wikia is not accessible if you've made further modifications. Remove the custom ad blocker rule(s) and the page will load as expected.