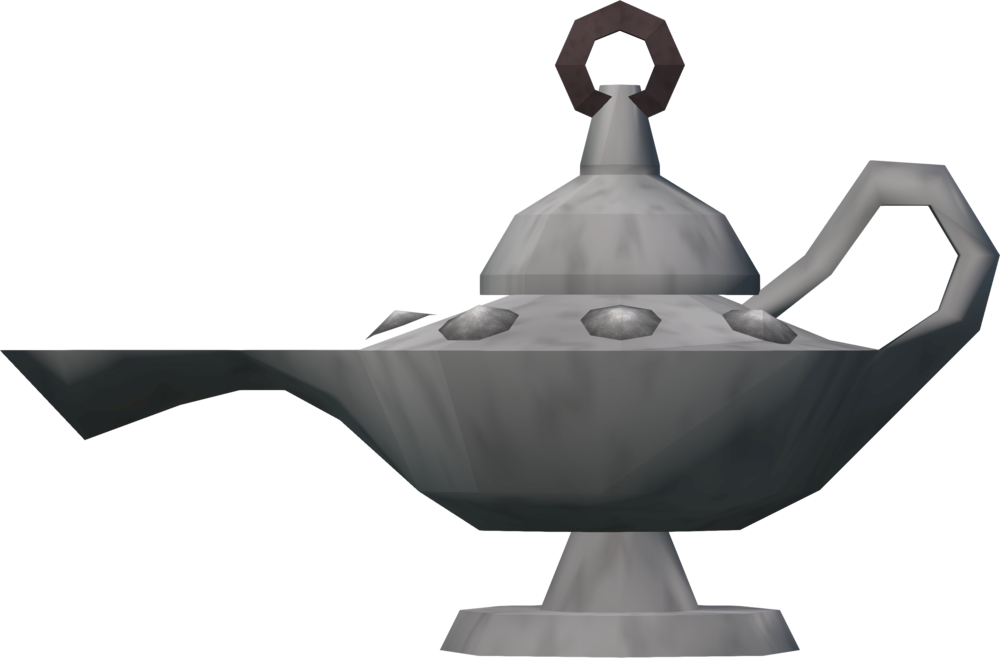 A Vetal lamp is a special type of XP lamp that requires you to join a lamp pot, lamp handle, and spout of the same type. You cannot mix and match other genie lamps. When combining the parts, players will be notified that the process is irreversible and the lamp will become untradeable. If the lamp parts are combined, the lamp will be unbankable, and the lamp must be used or kept in inventory. Players will gain experience in Agility, Crafting, Fletching, Ranged and Smithing when they rub the Vetal lamp.
This lamp can be combined with the four other Genie lamps as well as a bottled genie, to form the Lamp of the Djinn. Experience from this lamp is roughly 25% more than the xp of a medium XP lamp in your chosen skill, and roughly 50% of a small XP lamp's xp in the other 4 skills. Parts for all 5 base lamp types are found while skilling or in combat. While the parts for these lamps are not sold or tradeable in the normal sense, they were made exchangeable in a face-to-face trade with other players for an equivalent number of lamp parts. To trade them there must be an equal number of lamp parts on both sides of the trade, and no money or other items in the trade at all.
Ghul
Ifrit
Marid
Sila
Vetal
 Lamp
 Handle
 Pot
 Spout
Ad blocker interference detected!
Wikia is a free-to-use site that makes money from advertising. We have a modified experience for viewers using ad blockers

Wikia is not accessible if you've made further modifications. Remove the custom ad blocker rule(s) and the page will load as expected.