Vesta's longsword
Discuss

16
22,527pages
on this wiki
Vesta's longsword is the second strongest longsword in the game, beaten only by the chaotic longsword, yet is able to hit almost as high and frequently as the chaotic longsword obtained from Dungeoneering. Also, owing to its special attack Feint, it has the highest possible hit of all one-handed swords in the game. It is obtained by killing Revenants in the Forinthry Dungeon or the Chaos Elemental in very deep Wilderness and is considered the best drop possible from said foes. This piece of weaponry was released with the release of PvP worlds on 15 October 2008. Vesta's longsword is considered the rarest revenant drop in RuneScape.
The corrupt version requires 20 Attack and lasts for 15 minutes equipped, while the normal version requires 78 Attack and lasts for an hour of combat. After the time is up, the longsword will vanish. The time restrictions are the same in Wilderness PvP and other combat situations.
Contrary to popular belief, this item does not degrade while using non-combat magic.
It is currently one of the best weapons available in RuneScape. This is because its speed makes it a fast alternative to the godsword. However, this weapon is extremely expensive considering its short time-limit.
Vesta's longsword is a one-handed weapon, and thus a shield can be used with it. With a Dragon defender, its slash accuracy leads the godsword's by 13 points, +145 to +132. The longsword's Strength bonus (with Dragon defender) trails the Godsword's by 8 points, +124 to +132. Vesta's spear, however, is a better choice of attacking players with high crush, and is much more cheaper.
Its special attack, Feint, inflicts 20% more damage and is harder to defend against while only draining 25% of the special bar, making it deadly as it can be used four times in a row. When activated, the player thrusts the sword out with an exaggerated motion. The power and accuracy of this attack made the Longsword the only piece of Ancient Warrior's equipment to retain a high price during the excessive supply before the Anti-76k measures were put in place, due to its fatal capabilities. Only the non-corrupted version features this attack. After the sword has been used in combat it will become untradeable.
It is often used by wealthy player killers and duellists as a KO weapon. This is because it has the potential to hit well above 700 and has a fast attack speed. In the Duel arena, a player with maxed gear can easily end a duel in 2-3 special attack hits.
As an hour contains 6000 ticks and the sword hits once per 5 ticks, you are able to hit 1200 hits with this sword before it degrades. Thus, each hit costs approximately 10,929.6 coins when using this sword.
Combat Stats

| Class | Slot |
| --- | --- |
| Unknown edit | |

Weapons
Main
Off
Damage
-
-
Accuracy
-
-
Type
-
-
Attributes
Armour rating

0

Life bonus

+0

Prayer bonus

0

Critical bonuses

0%

0%

0%

Compare item

A player wielding vesta's longsword

A player using the feint special attack

[view] • [talk]
Dropping monsters
Levels 1 to 99
Levels 100 and above
Trivia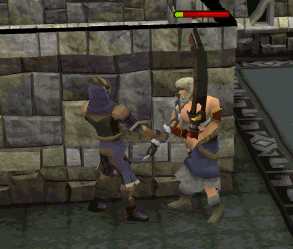 Brawling gloves

Melee • Magic • Ranged • Agility • Cooking • Firemaking • Fishing • Hunter • Mining • Prayer • Smithing • Thieving • Woodcutting

Corrupt Dragon Equipment

| | |
| --- | --- |
| Armour | Helm • Square shield • Chainbody • Plateskirt • Platelegs |
| Weapons | |

Ancient Warriors' Equipment

| | |
| --- | --- |
| Statius's equipment | |
| Vesta's equipment | Chainbody • Plateskirt • Longsword • Spear |
| Zuriel's equipment | Hood • Robe top • Robe Bottom • Staff |
| Morrigan's equipment | Coif • Leather body • Leather chaps • Javelin • Throwing axe |

Corrupt Ancient Warriors' Equipment

| | |
| --- | --- |
| Corrupt Statius's equipment | |
| Corrupt Vesta's equipment | Chainbody • Plateskirt • Longsword • Spear |
| Corrupt Zuriel's Equipment | Hood • Robe top • Robe Bottom • Staff |
| Corrupt Morrigan's Equipment | Coif • Leather body • Leather chaps • Javelin • Throwing axe |

Ancient artefacts

| | |
| --- | --- |
| Icons | Bandos scrimshaw • Saradomin carving • Zamorak medallion • Armadyl totem |
| Statuettes | Bandos statuette • Saradomin statuette • Zamorak statuette • Armadyl statuette • Seren statuette • Ancient statuette |
| Others | Broken statue headdress • Third age carafe • Bronzed dragon claw • Ancient psaltery bridge • Saradomin amphora • Guthixian brazier • Ruby chalice |
Template:Checkftw