Verac the Defiled's equipment
Discuss

20
22,511pages
on this wiki
Verac the Defiled's equipment is obtainable from the Barrows minigame. Completing the Barrows minigame does not guarantee players will get a Barrows item. The set requires 70 Defence to wear the armour and 70 Attack to wield the weapon. Verac's set used to be the only set of Barrows equipment to give a prayer bonus with each piece till the release of the Akrisae's set, which also gives more prayer bonus than the Verac's set itself. Verac 's set is still useful for players who wish to combine Melee and Prayer. The brassard does, however, give lower defensive bonuses than other Barrows platebodies; its bonuses are roughly on par with a rune platebody.
Along with Dharok's set and Guthan's set, Verac's is one of the more popular Barrows Equipment. Apart from the usual defence and attack bonuses that Barrows sets confer, the Verac's set also provides moderate prayer bonuses, at the price of a marginally lower ranged defence bonus.
Set effect
Defiler: Attacks have a chance of ignoring the target's armour and any active protection prayers, potentially causing heavy damage.
It is a very popular choice when fighting the Kalphite Queen, because it can breach through her Protect from Melee prayer in her second form, and in many PvP situations such as the Duel Arena, Fist of Guthix and TzHaar Fight Pits. However, it is not advised to use this armour in dangerous pvp, as it costs a substantial amount to replace in the event of death.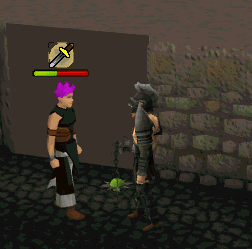 The set effect is useful for Player killing as it can hit straight through the target's defenses. However, the effect also works on some NPCs that use protection prayers, such as the Kalphite Queen and tormented demons. For this reason, Verac's set is popular when fighting these monsters. Combined with super antifire potions, Verac's set works surprisingly well at mithril dragons, since the set effect makes short work of their high defence (when using the stab attack style).
Ahrim the Blighted

Set • Hood • Top • Robe skirt • Staff • Book of magic • Wand

Dharok the Wretched
Guthan the Infested

Set • Helm • Platebody • Chainskirt • Warspear

Karil the Tainted

Set • Coif • Top • Skirt • Crossbow • Pistol crossbow (Offhand) • Bolt rack

Torag the Corrupted
Verac the Defiled

Set • Helm • Brassard • Plateskirt • Flail

Akrisae the Doomed

Set • Hood • Robe top • Robe skirt • War mace

Other

Culinaromancer's gloves 10 (barrows-themed gloves)