Verac's helm
Discuss

6
22,528pages
on this wiki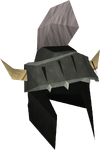 Verac's helm is melee armour worn in the headwear slot that is part of Verac the Defiled's set of barrows equipment. To wear Verac's helmet, a player must have 70 Defence. This piece of armour cannot be made using the Smithing skill.
Being part of Verac's set, when Verac's helm is worn, along with all of the other pieces of equipment in the set, successful attacks have a chance of hitting through an opponent's Defence and Prayer, potentially causing heavy damage.
The price of the helmet was once much more expensive than other pieces of the Verac's set because of a high demand for Verac's helm. For this reason, it is often used in scams - players would switch the helmet with a Verac's skirt just before the trade was completed.
Verac's helm is considered to be a full helmet, making it the third strongest of all full helmets (behind the degradable Statius's full helm, and Torva full helm). This helmet is often used in 'tank' combat due to the high defensive bonuses as well as a Prayer bonus. This helmet was commonly used during the Fight Caves minigame because of its good melee defence and prayer bonus, however, since the Evoluation of Combat and being updated to be the same as the Bandos Helmet, its' uses have become limited, as with Guthan's and Torag's.
Verac's helm is only tradeable when either undamaged or fully broken.
If you drop this item it will degrade to "0".
Combat Stats

| Class | Slot |
| --- | --- |
| Melee | |

Weapons
Main
Off
Damage
-
-
Accuracy
-
-
Type
-
-
Attributes
Armour rating

297

Life bonus

+840

Prayer bonus

1

Critical bonuses

0%

0%

0%

Compare item

A male player wearing verac's helm

A female player wearing verac's helm

[view] • [talk]
Barrows equipment degrades as it is used. Equipment received from the Barrows minigame is fully repaired and can be used for 15 hours of combat until it degrades completely and requires repair before it can be used again. Barrows armour degrades even if the player is using protection prayers or not taking damage. Like the crystal shield and crystal bow, Barrows equipment does not suffer in performance as it degrades from fully repaired to fully degraded. Fully repaired Barrows items start out with no numbers in their names, e.g. Verac's helm. It will become Verac's helm 100 the first time it's used in combat. Eventually it will degrade to Verac's helm 75, then 50, then 25 and finally 0 at which point the armour will be unusable until repaired. Additionally, Barrows equipment may only be traded if fully repaired or fully degraded.
When dropped or lost on death (even when placed under a gravestone), any piece of Barrows equipment will automatically degrade to 0. Players who attempt to drop Barrows equipment will receive a warning message about this.
There are two ways to repair Barrows armour. Players can talk to any of the NPCs listed below and they will repair the items for a price, or repair the pieces themselves using an armour stand in any player-owned house. The equipment can be repaired at any stage, and the cost will be adjusted according to how much it has degraded. The repair costs below are as if the equipment has fully degraded.
The following NPCs can repair the armour:
Costs to repair
barrows equipment
NPC
POH Armour Stand
Level 1 Smithing
Level 99 Smithing
Helm
180,000
179,100
90,900
Body
270,000
268,650
136,350
Legs
240,000
238,800
121,200
Weapon
300,000
298,500
151,500
Total
990,000
985,050
499,950
The price is exactly 50% when operating a Smithing cape.
Ahrim the Blighted

Set • Hood • Top • Robe skirt • Staff • Book of magic • Wand

Dharok the Wretched
Guthan the Infested

Set • Helm • Platebody • Chainskirt • Warspear

Karil the Tainted

Set • Coif • Top • Skirt • Crossbow • Pistol crossbow (Offhand) • Bolt rack

Torag the Corrupted
Verac the Defiled

Set • Helm • Brassard • Plateskirt • Flail

Akrisae the Doomed

Set • Hood • Robe top • Robe skirt • War mace

Other

Culinaromancer's gloves 10 (barrows-themed gloves)
NPCs

Bob • Tindel Marchant • Dunstan • Squire

Player-owned house