Verac the Defiled's equipment
Discuss

20
22,528pages
on this wiki
Verac the Defiled's equipment is obtainable from the Barrows minigame. Completing the Barrows minigame does not guarantee players will get a Barrows item. The set requires 70 Defence to wear the armour and 70 Attack to wield the weapon. Verac's set used to be the only set of Barrows equipment to give a prayer bonus with each piece until the release of the Akrisae's set, which also gives a higher prayer bonus than Verac's set.
Along with Dharok's set and Guthan's set, Verac's is one of the more popular Barrows Equipment. Apart from the usual defence and attack bonuses that Barrows sets confer, the Verac's set also provides a small prayer bonus.
Set effect
Edit
Defiler: Attacks have a chance of ignoring the target's armour and any active protection prayers, potentially causing heavy damage.
Before the EoC update, Verac's set was a very popular choice when fighting the Kalphite Queen, because it could breach through her Protect from Melee prayer in her second form. Unfortunately, Verac's special effect no longer works on the Kalphite Queen after the EoC update.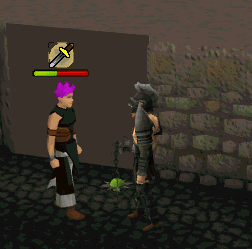 Although ignoring protection prayers is no longer a highlight of the set, the Defiler effect is somewhat useful for Player killing as it can hit straight through the target's defences. It also provides much higher defence and life-point bonuses than Full Dragon armour, despite being degradable armour. On the flip-side, the prayer bonuses the set offers were significantly reduced after the EoC update.
There is currently a glitch where, when the set effect activates while the Soul Split curse is active, the player will not heal any lifepoints. This only applies when the effect activates and not a normal hit. This has not been fixed.
Verac's Equipment Grand Exchange Cost 
Verac's helm
 

567,499

[view] 
Verac's brassard
 

650,668

[view] 
Verac's plateskirt
 

387,049

[view] 
Verac's flail
 

278,687

[view]
Total
 

1,883,903

coins 
Barrows - verac's set
 

2,015,384

[view]
[view]
•
[talk]
Verac's Equipment 0 Grand Exchange Cost 
Verac's helm 0
 

403,049

[view] 
Verac's brassard 0
 

275,607

[view] 
Verac's plateskirt 0
 

172,035

[view] 
Verac's flail 0
 

95,988

[view]
Total
 

946,679

coins
[view]
•
[talk]
Ahrim the Blighted

Set • Hood • Top • Robe skirt • Staff • Book of magic • Wand

Dharok the Wretched
Guthan the Infested

Set • Helm • Platebody • Chainskirt • Warspear

Karil the Tainted

Set • Coif • Top • Skirt • Crossbow • Pistol crossbow (Offhand) • Bolt rack

Torag the Corrupted
Verac the Defiled

Set • Helm • Brassard • Plateskirt • Flail

Akrisae the Doomed

Set • Hood • Robe top • Robe skirt • War mace

Other

Culinaromancer's gloves 10 (barrows-themed gloves)