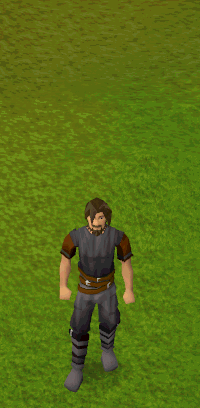 Vengeance is a Lunar spell that rebounds 75% of the damage of the next hit back to their opponent, similar to a ring of recoil or deflect curses. However, this effect will wear off upon log out. Some monsters are immune to it, however. The player will also say "Taste vengeance!" when it is activated. Players may only cast vengeance once every 30 seconds.
Prior to the Constitution update, Vengeance would not activate if the casting player was killed by the next blow to prevent both players dying at the same time. However, this is now not the case except in the Duel Arena where only one winner may be declared.
This spell is very popular when player killing, especially when an opponent is using hard hitting weapons such as a godsword or Dharok's because it is possible to rebound large amounts of damage back. Players sometimes take off their armour so their opponent will hit a higher hit on them and thus rebounding a higher hit on the enemy with vengeance. However, a way to counter vengeance is to simply strike the player with a lower-hitting weapon to minimise the full potential of this spell, but this method is quite impractical for dangerous PvP situations. As with all Lunar Magic spells, the quest Lunar Diplomacy must be completed to cast this spell.
This spell cannot be cast while in a POH.
Vengeance costs 848 coins for each cast, or 738 coins if an Earth staff is equipped.
Immune monsters
The effect of Vengeance does not work against certain monsters. Those that are immune are listed below, but this list is incomplete.
See also
Trivia
The animation of the Vengeance skull is also seen in the Quest Within the Light, when the player goes on top of the Death altar. Several vengeance skulls appear and fade away on top of the pillars that surround the altar.
If vengeance is activated during the same in game tick as when you say a message, your character will only say "Taste vengeance!" and your message will be blocked out entirely, except in the chat window.
Teleport

Lunar Home • Ourania • Moonclan • Waterbirth • South Falador • Barbarian Outpost • North Ardougne • Khazard • Fishing guild • Catherby • Ice Plateau • Trollheim

Group Teleport

Tele Group Moonclan • Tele Group Waterbirth • Tele Group Barbarian • Tele Group Khazard • Tele Group Fishing Guild • Tele Group Catherby • Tele Group Ice Plateau • Group Teleport to Trollheim

Skill-related

Bake Pie • Cure Plant • Fertile Soil • Humidify • Hunter Kit • Magic Imbue • Make Leather • Remote Farm • Spiritualise Food • Superglass Make • String Jewellery • Plank Make • Tune Bane Ore

Healing or Curing

Cure Other • Cure Me • Cure Group • Dream • Heal Other • Heal Group

Sharing
Others

Disruption Shield • Monster Examine • NPC Contact • Repair Rune Pouch • Spellbook Swap • Stat Spy • Vengeance Other • Vengeance • Vengeance Group • Borrowed Power

Removed

Energy Transfer
Teleport spells

Dungeon Home Teleport • Gatestone Teleport • Group Gatestone Teleport

Curse spells

Confuse • Weaken • Curse • Vulnerability • Enfeeble • Stagger

Cure spells
Other spells

Bones to Bananas • Bind • Low-level Alchemy • Create Gatestone • Snare • High-level Alchemy • Monster Examine • Humidify • Entangle • Vengeance Other • Vengeance • Vengeance Group