The Varrock teleport tablet is an item that can be used by any member to teleport to Varrock. Players can create this item on any lectern as long as they have 1 Law rune, 3 Air runes, 1 Fire rune, and 1 Soft clay and at least level 25 Magic.
This tablet can be made regardless of the player's current spell book.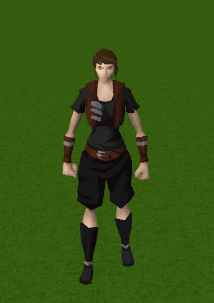 The player does not need to have the relevant magic level to use the tablet, which shares the same rule with all tablets and the player will not receive any experience, although making the teleport tablet does give 35 experience in magic.
The Varrock teleport can be used as a good way to make money. Players can buy the runes and the soft clay for around 1,366 coins and sell the teleport for about 2,410 coins. The following table shows the profit generated from making a Varrock teleport tablet with no staff, any air rune supplying staff, and with any fire rune supplying staff.
Profit per tablet

| Runes | Air Staff | Fire Staff |
| --- | --- | --- |
| 1,044 coins | 1182 coins | 1,148 coins |
Varrock teleport
-
35 XP
-
2,410
Requirements
Magic level
25
Members only
Yes
Materials
Item
Quantity
Price
Total
Soft clay
1
709
709
Law rune
1
415
415
Air rune
3
46
138
Fire rune
1
104
104
Total price
1,366
Disassembly
Edit
Calculators/Tablet - profit (or loss) from creating a Magic tablet on a lectern in a Player-owned house.
A player can change the location of this teleport to the entrance of the Grand Exchange by talking to Rat Burgiss after completing the easy Varrock Tasks
When the player creates a Varrock teleport tablet, the animation shows a player creating a Camelot teleport.
Ad blocker interference detected!
Wikia is a free-to-use site that makes money from advertising. We have a modified experience for viewers using ad blockers

Wikia is not accessible if you've made further modifications. Remove the custom ad blocker rule(s) and the page will load as expected.