Walkthrough
Edit
Start point

You can start this quest by talking to Morgan in Draynor Village.
Member requirement
Free to play
Official difficulty
Novice
Official length
Short
Requirements
Skill requirements are not boostable.

Ability to defeat a level 28 vampyre.

Items required
Items from the tool belt are not listed unless they do not work or are not automatically added.
Recommended
Enemies to defeat
Getting started
Edit
Slaying a Vampyre
Edit
Go to Draynor Manor which is just North of Draynor Village.
Enter the Manor and go to the East side.
Walk down the stairs.
Open the coffin in the back of the room.
Kill Count Draynor by manually using the hammer on him.
Finishing up
Edit
Return to Morgan.
Quest complete!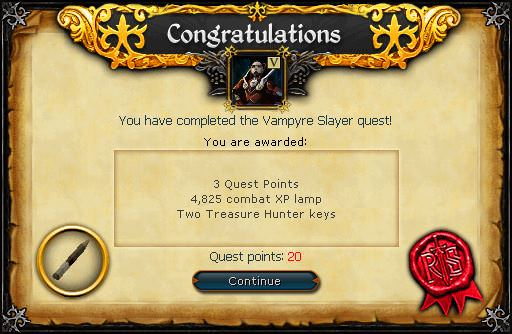 Music unlocked