Valentine heart
Discuss

35
22,498pages
on this wiki

A Valentine heart is a seasonal item that can be won on the Squeal of Fortune, obtained through skilling, taken as a drop from a monster, or traded with other players. Upon obtaining Valentine hearts from skilling or a monster drop, players receive the following message in their chat box: "Congratulations! You've found some Valentine hearts!". They are only available from 14 February 2013 to 25 February 2013. Players can "send" their Valentine hearts to open up a heart-shaped interface, where they can spend their hearts as currency for Valentine-themed rewards. They were removed from the game on 14 March 2013.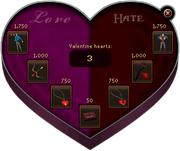 The rewards unlocked with Valentine hearts are split into Love and Hate rewards:
Chocolates, a neutral reward, can be received by trading in 50 hearts.
There are six different chocolates, all of which can be won on the Squeal of Fortune or bought with Valentine hearts. Each of these six chocolates heals 200 life points and gives a temporary +1 to +3 boost to a specific skill, as listed here:
The total cost of the Love or Hate rewards is 3,500, for all emotes 7,000, for all choc 300, for all rewards 7,300, though the number of each type of choc that can be bought is essentially unlimited.
Baby Troll Pet Names
Edit
Feeding it to a pet Baby Troll will give you the option to either name it "Valentine Heart", or a random pet name.
Here are a list of random pet names that a player may choose:
Darling
Baby
Lovely
Sweetheart
Gorgeous
Honeybunch
Sweetie
Sugar
Boo
Snookums
Treacle
Pet
Cutie
Sweetie and Treacle
Note that you can click "Randomise pet name" to get another name until you either find the one you like, or it loops back to "Darling".
Although they weren't tradeable on the Grand Exchange, the price checker valued Valentine hearts at 1,000 gp each. Valentine hearts could be sold to stores for 300 coins and bought back for 1,000 coins.
Opening the rewards interface for Valentine hearts emitted a heart beat sound effect.
The Squeal of Fortune convert to coins button offered 30gp for each Valentine heart.
Yelps • Promotions (2012) • Controversies
Bonus spins
Cash bags
XP Lamps
Material packs (small)

Construction crate • Crafting crate • Farming crate • Herblore crate • Smithing crate • Summoning crate

Material packs (large)

Construction crate • Crafting crate • Farming crate • Herblore crate • Smithing crate • Summoning crate

Pets
Weapons

Wizards' Tower staff • Dominion Tower maul • Slayer Tower shortbow

Headgear

Legendary Horns • Closed helmet • Skullbuster hat • Headsplitter hat • Queen Black Dragon helm • Kalphite King helm • Sombrero

Lucky armour

Lucky Armadyl chainskirt • Lucky Armadyl chestplate • Lucky Armadyl helmet • Lucky Bandos tassets • Lucky Bandos boots • Lucky Bandos chestplate • Lucky dragon full helm • Lucky dragon chainbody • Lucky dragon platebody • Lucky spectral spirit shield • Lucky arcane spirit shield • Lucky elysian spirit shield • Lucky divine spirit shield

Lucky weapons

Lucky Bandos godsword • Lucky Zamorak godsword • Lucky Saradomin godsword • Lucky Armadyl godsword • Lucky dragon claws (Mainhand, Off-hand) • Lucky dragon 2h sword • Lucky Zamorakian spear • Lucky Saradomin sword • Lucky abyssal whip • Auspicious katana

Luchador masks

El Astado • El Chango Descarado • El Defensor • El Dios de la Guerra • La Diosa de Cristal • El Hombre Verde • La Justicia Voladora • El Padre de la Luz • El Serpiente • La Sombra

Other

Coin of balance
Prismatic pendants
Gems
Normal

| | |
| --- | --- |
| Combat | Attack • Strength • Defence • Ranged • Prayer • Magic • Constitution |
| Other | Crafting • Mining • Smithing • Fishing • Cooking • Firemaking • Woodcutting • Runecrafting • Dungeoneering |
| Members | Agility • Herblore • Thieving • Fletching • Slayer • Farming • Construction • Hunter • Summoning |

Prized Pendants of Skill

| | |
| --- | --- |
| Combat | Attack • Strength • Defence • Ranged • Prayer • Magic • Constitution |
| Other | Crafting • Mining • Smithing • Fishing • Cooking • Firemaking • Woodcutting • Runecrafting • Dungeoneering |
| Members | Agility • Herblore • Thieving • Fletching • Slayer • Farming • Construction • Hunter • Summoning |
Outfits

Experience boosting sets

| | |
| --- | --- |
| Artisan's outfit | Artisan's bandana • Artisan's top • Artisan's legs • Artisan's boots • Artisan's gloves |
| Blacksmith's outfit | Blacksmith's helmet • Blacksmith's top • Blacksmith's apron • Blacksmith's boots • Blacksmith's gloves |
| Botanist's outfit | Botanist's mask • Botanist's top • Botanist's trousers • Botanist's boots • Botanist's gloves |
| Sous chef's outfit | Sous chef's toque • Sous chef's jacket • Sous chef's trousers • Sous chef's shoes • Sous chef's mitts |
| First age outfit | First age tiara • First age ring • First age amulet • First age bracelet • First age cape |
| Slayer masks | Mask of Broken Fingers • Mask of Stone • Mask of Reflection • Mask of the Kura • Mask of the Abyss |

Cosmetic outfits

Ramokee outfit

Ramokee headwear • Ramokee torso • Ramokee legs • Ramokee feet • Ramokee hands

Warband armour

| | |
| --- | --- |
| Bandos themed | Warlord headdress • Warlord tunic • Warlord kilt • Warlord gloves • Warlord boots |
| Armadyl themed | Archon headdress • Archon crest • Archon tassets • Archon gloves • Archon boots |
Mad May's Wild Weekends

Barrel of monkeys • Monkey mace • See-no-evil monkey hat • Speak-no-evil monkey hat • Hear-no-evil monkey hat

Squeal of Neptune
Sizzling Summer

Sunbathe item • Candyfloss • Seaside rock • Beach ball • Water balloon • Ice cream cone hat • Summer sun ring • Summer storm ring • Summer barbecue • Shark fists (1-4 and off-hand 1-4)

Dragon ceremonial outfit

Dragon ceremonial hat • Dragon ceremonial breastplate • Dragon ceremonial greaves • Dragon ceremonial boots • Dragon ceremonial cape

Queen's Guard outfit

Queen's guard hat • Queen's guard shirt • Queen's guard trousers • Queen's guard shoes • Queen's guard staff

Hallowe'en
D&D tokens

Evil tree • Familiarisation • Fish Flingers • Penguin Hide and Seek • Phoenix Lair • Shooting Star • Tears of Guthix • Circus • The Pit • Troll Invasion • God Statues • Sinkholes • Daily • Weekly • Monthly

December Winter Weekends

TzHaar whips (1-7) • Sapphire blue present • Emerald green present • Ruby red present • Diamond white present • Dragonstone purple present

Valentine items

Valentine heart • Chilli chocolate • Coconut cream • Dwarven delight • Noisette triangle key • Rose essence truffle • Vanilla fudge log

Tribute to Guthix
Starfire/Starfury

Starlight ore • Starborn diamond • Sword blueprints • Staff blueprints • Bow blueprints • Starfire sword • Starfire staff • Starfire bow • Starfury sword • Starfury staff • Starfury bow

Tattoos

Arcane Tattoo • Mystic Tattoo • Bold Tattoo • Intricate Tattoo • Marauder Tattoo • Tribal Tattoo

Horns
Cinco de Mayo

Plain wrap • Avocado sauce • Avocado wrap • Bean puree • Bean wrap • Spicy pepper sauce • Spicy pepper wrap • Soured cream • Sour cream wrap • Beef-filled flatbread • Chicken-filled flatbread • Fish-filled flatbread • Vegetable-filled flatbread • Corn chip platter

Other

Alchemist's amulet fragments (1-10) • Transmutation tablet • Radiant alchemist's amulet • Shining alchemist's amulet •Samid's gloves • Flying Goblin Hat • Swag Bag • Swagger Stick