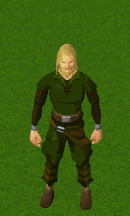 Hello, Krazy kat1000, and welcome to the RuneScape Wiki!
Thank you for taking an interest in our wiki. If you have any trouble or need help, feel free to ask questions on any editor's talk page. You can also look at a help page or shout out on the local forums. We hope you like it here and decide to stay!
Here are a few pages to help out new editors such as yourself:
Please sign your name on talk pages by using four tildes (~~~~) or use the "sign" button (

) above the edit box. This will automatically produce your name and the date. Signing your comments is important, as it lets other editors know who has posted which comments.
Again, welcome! Iiii I I I 23:41, November 10, 2009 (UTC)
Personal Image
Edit

Hello. An image or video that you have uploaded appears to be personal. Personal files should not be hosted on the RuneScape Wiki (see RS:NOT#HOST). If you want to add a picture or video of your RuneScape character, or any other media that doesn't fit in an article, you may upload it on an image hosting site, such as Photobucket or ImageShack. You can then insert it into your userpage simply by copying and pasting the URL where you want to insert it. If you need more details feel free to ask any question you have on my talk page. Iiii I I I 00:01, November 11, 2009 (UTC)
Please stop uploading personal images. --

Iiii I I I

00:06, November 11, 2009 (UTC)
=] how are you? =]
Finch Claw
06:37, November 11, 2009 (UTC)
Signature
Edit
what do you think about this siggi? and 9am on sunday? sounds ok ring me if you want to properly arrange it as i can't seem to get past the fortifacations of your answering machine.
Finch Claw
Subject: KrazyFinch Zine ([alias]Krazy & Finch Zine)
Edit

I have come up with some ideas for the "News letter". The layout:
Main article (maybe news)
Players article (random stuff, ideas ext.)
Help article (examples: how to cook, money make. Where things are[things like that])
sort story (continued through each zine)
COMICZ!!
about the author(s?)
picture of the week/month(/year[lol!])

What do you think? please write down your suggestions k.k.
Finch Claw
Yes we should start straight away (and one gp!?!). So i'll do some messing around on some programs and create the guide lines for the text and the images.
Finch Claw
I've done the template but im not really happy with the box on the left. Could you suggest a picture k.k?

    http://img692.imageshack.us/img692/8305/picture12e.png

Visual LayoutEdit

Yeah o.k we'll change it each month. I can do that. So basically i've done the template and the email (i think i still know the pass word). Now we have to design the layout- the visual layout. Oh yeah I'm free this weekend if you want to come over.


Nice idea! laying out magazines will give us a good example of how to make something eye-catching, How many pages do you think it should go for?