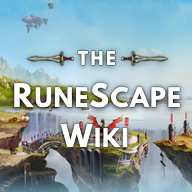 Hello, JJ9630, and welcome to the RuneScape Wiki!
Thank you for taking an interest in our wiki. If you have any trouble or need help, feel free to ask questions on my talk page or any other editor's talk page. Also, you could look at a help page or shout out on the local forums. We hope you like it here and decide to stay!
Here are a few pages to help out new editors such as yourself:
Please sign your name on talk pages by using four tildes (~~~~) or use the "sign" button (

) above the edit box. This will automatically produce your name and the date. Signing your comments is important, as it lets other editors know who has posted which comments.
Again, welcome!
Buzz (Talk • # • √ • P ) 18:34, 27 October 2008 (UTC)
Hello! Welcome to RuneScape Wiki. =D nice to see you here and hope you could contribute to this community. Tosviolater 08:18, 28 October 2008 (UTC)
Your pages
Edit
The personal pages that you were created were in mainspace. Personal pages in mainspace will be deleted, so if you want to keep them, put them in userspace. The links you created on your user page are to mainspace, so it will create a wanted pages item. The wanted pages list is a tool we use to see what genuinely needs doing, and we don't want that filled up with rubbish from peoples personal pages. If you want your pages left alone, then put User: in your links, otherwise they will be deleted and edited. Hurston 11:54, 28 October 2008 (UTC)
Creating a Personal Page
Edit
To create a separate personal page, rathat than putting 'Evil James's G.E.' in the link, put 'User:JJ9630/Evil James's G.E.' in the link. If you don't want it to display like that, you can make it 'User:JJ9630/Evil James's G.E.|Evil James's G.E.'. Hope that helps. Hurston 12:04, 28 October 2008 (UTC)
Re:Excuse me
Edit
I'm not apologizing to you, as I've done nothing wrong. Rather, YOU are in the wrong for making accusations against me...for doing my job? That page was NOT official. It does NOT go in the mainspace, okay? Put it in your user space, but don't accuse me of something you didn't like.
--WINE OF GOOD HEALTH (Actually Stinko)
I'll be the first to call BS. Jagex does not request to have information put on fansites. Fansites are not moderated by Jagex at all. They have 0 control over the content on any site other than Jagex.com, runescape.com, and funorb.com, as well as any other affiliated sister sites dedicated to their games. 17:03, 11 December 2008 (UTC)

Could you please provide me the link to the runescape.com website showing this item of the week? 17:17, 11 December 2008 (UTC)

Naturally, the filter here at work blocks it out. See if Hurston is still on to check it out, otherwise I'll have to take a look at it when I get home. 17:37, 11 December 2008 (UTC)

Well, I remain relatively neutral to the idea of it, I simply wanted to make sure it existed. As it's not specifically covered in the granularity policy my recommendation would be to bring it up in the Yew Grove. 17:57, 11 December 2008 (UTC)

In regards to your comment about contacting Jagex...utter and complete bull. Jagex does not regulate fan sites (though we still follow their rules), and I'm a thousand percent sure that you don't know anyone who works there. --WINE OF GOOD HEALTH (Actually Stinko)
Re:(Insert subject title here)
Edit
Of course! I'm glad to help. Personally, I don't see why that page would've been deleted previously. But, about my userpage, I'll add stuff eventually. I just can't think of anything to put now :o. Cheers, Lia§lyliaison 19:04, 11 December 2008 (UTC)
Being stubborn
Edit
Because of you being rude to me AND you recreating the page without a good reason, I have blocked you for a week. You were told by Karlis that Jagex does not regulate fansites. I have once again deleted your page; Liasly has no way to delete, as s/he is not a sysop like me. I am also contacting Dtm142, a bureacrat here on the wiki, to talk some common sense into you. Hopefully, you'll act more civil towards him than you did with me.
--WINE OF GOOD HEALTH (Actually Stinko)
This block is a violation of the rules and must be removed. Please read RuneScape:User_block_policy.
You can not block to gain an advantage in a content dispute. I checked, and "Article of the Week" is part of the RuneScape Grand Exchange Database so it's inclusion is at the very least debatable.
You can not block if a warning would suffice, use that instead.
Blocks should not normally be used against general incivility or isolated incidents of personal attacks.
Moreover, if an IP is abusive, the first punishment is a 24 hour ban. This is a user who did not use any strong language and simply was rude due to the deletion of an article which he believed should be included. By the way, in cases like these, at the very least a Vote for deletion is required.--Diberville 19:28, 11 December 2008 (UTC)
Thanks diberville, have you been on here long? You obviously know what you do.
I've actually been here longer than Diberville. And disrespect like that will CERTAINLY not be tolerated. Watch your tongue. --WINE OF GOOD HEALTH (Actually Stinko)

You have been here six months before I started editing regularly and the time that someone is on this wiki is wholly irrelevant. You have clearly violated policy demonstrating either an ignorance or indifference to them and I have a very deep understanding of this wikis policies and Wikipedias. And I have clearly shown how you have violated the regulations that you must follow as a user and are supposed to respect as an administrator. As an administrator, you aren't supposed to let "disrespect" affect you. Regardless of your personal feelings (which an administrator should never let get in the way), you must remove the ban. Those are the rules. If you can not follow the rules and get vindictive you are not fit to be an administrator.--Diberville 19:47, 11 December 2008 (UTC)

Ok, i didnt understand any of that but you two do. I'll let you discuss this.
Let me guess, if i dont stop it, i will be blocked again? I am getting fed up with this wiki. and runescape for that matter. stuff like this is really affecting my feelings and my lifestyle. If this conversation continues, i may as well find something else to do over weekends and my free time. JJ9630 19:41, 11 December 2008 (UTC) I might join some of my old friends since they have been annoyed with you alot. they never even made accounts because of you. they are talking about RuneScape in a bad way in which i think is true. this conversation is really changing my lifestyle. JJ9630 19:44, 11 December 2008 (UTC)
Also, my RuneScape stories, Because of you, i'm deleting all my stories except the one on the wiki. JJ9630 19:47, 11 December 2008 (UTC)
There are multiple things you are able to do at this point. To cool things down though, lets all just relax and look at the options before bans start being tossed around and the community gets disrupted. You are more than welcome to make use of the Votes for undeletion. Also, as I recommended earlier, you can get a community concensus in the Yew Grove. The granularity policy doesn't really cover anything on the website, so I'd bring that up in the community discussion as well, if you choose that route. If in the end the community decides against the idea, you are still able to create a subpage of the item of the week. If they decide for it, then you have a project to keep you busy every week. In the end, it's best to just stay civil and keep comments to yourself though, speaking to everyone in general, as it may sometimes cause undesired consequences. I hope whatever decision you make, you decide to remain in the community and make positive contributions to the encyclopedia.
On a second note, I don't think it's fair to blame anybody for your current emotions as they may influence them, but in the end you are still responsible for how people affect you. If it doesn't apply, let it fly. Let's hope for no edit conflict this time. =D 19:52, 11 December 2008 (UTC)

To add to what Karlis had said. I saw the creation of the article and at first glance, I thought you were attempting to recreate the RuneScape Wiki's Article of the Month and had that been the case, that method would not have been appropriate. Someone may have thought the same and immediately deleted it. As for its inclusion, it's definitely a grey area. As Karlis stated, I would attempt a vote for undeletion.
One last bit of advice. Try and keep a cool head. I know sometimes situations crop up and they can lead to frustration and anger but that will only exacerbate your frustration and hurt your cause. I do hope that the rest of your time on this Wiki will be less eventful.
Oh and I almost forgot. You're no longer blocked!--Diberville 20:00, 11 December 2008 (UTC)

So what, i cant edit the wiki still and quite frankly, i dont want to. i cant keep a cool head because i am not a calm person, it takes a lot to calm me down. Also, it wasn't ARTICLE of the month it was ITEM of the week. JJ9630 20:27, 11 December 2008 (UTC)

Yes, I know it was item of the week. But there was a recent discussion about having an article of the week and like I said, at first blush, the person who added the speedy deletion template might have thought you were trying to create that. By the way, have you just now tried to edit the wiki outside of your talk page because since your block has been removed, there is nothing that should prevent you from editing. However, if you do believe that you are unable to keep a cool head, first off, it's good of you to be able to recognize and admit this as a lot of people are unable to do so but you may be right that this type of atmosphere may not be best suited to you.--Diberville 20:39, 11 December 2008 (UTC)
I know, i try my best to do what i can for this wiki but everything i do is wrong. i just wish there was something i could do for the wiki that would help. And i still cant edit the wiki till tommorow. It wont let me. JJ9630 06:11, 12 December 2008 (UTC)
Spelling Mistake
Edit
I have corrected the following spelling mistake, "wih" into "with" Ruud (talk)(Suggest me naems)