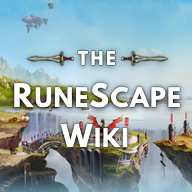 Hello, Frozen Jese, and welcome to the RuneScape Wiki!Thank you for taking an interest in our wiki. If you have any trouble or need help, feel free to ask questions on my talk page or any other editor's talk page. Also, you could look at a help page or shout out on the local forums. We hope you like it here and decide to stay!

Here are a few pages to help out new editors such as yourself:

Please sign your name on talk pages by using four tildes (~~~~) or use the "sign" button (

) above the edit box. This will automatically produce your name and the date. Signing your comments is important, as it lets other editors know who has posted which comments.
You signed my guestbook, so here is a cookie. But I stuck it in my C drive. I got this message:

Spam me w/ lolcats
Is <insert name here> awesome? I don't know, let me check... 01:49, October 30, 2010 (UTC)
RE:Finnish?
Edit
Hey. Nope I'm not finnish but Estonian, close relatives of Finnish people. ;)

Duke Risto, the Dukest of Dukes 17:00, November 14, 2010 (UTC)
Re:Sounds
Edit
OK, I'll see what I can do. The programme automatically makes them loud for some reason, so I'll just reduce the Db.
Fswe1 Lore project
FUN gallery

13:38, January 4, 2012 (UTC)
In this edit he says the OoO is better for maxing than a rune hasta, and people rarely notice the OoO stats. If you take a look at the OoO's stats you see it is equal to no weapon at all for attack bonuses, and has a -20 defence bonus. There is no way anyone can be confused by that thinking it is better than a rune hasta. JOEYTJE50TALK pull my finger 15:25, February 13, 2012 (UTC)
Lucky blessed spirit shield
Edit
According to QuickChat, which can list every item in the game, there is no item called "Lucky blessed spirit shield". Someone who created that page made an assumption that it existed, but it didn't. You can't get it from the Squeal. ʞooɔ 21:12, March 2, 2012 (UTC)
Thanks for the edit on that odd confusing page. Also...
Edit
How do you put in the "Total levels" Thing you have on your user page?

Leetwizard 12:55, March 25, 2012 (UTC)
weaknesses
Edit
Your weakness box makes me mad >:[ Change it to just water >:O

MaceyPants

20:16, December 30, 2012 (UTC)
Hey there, whenever you upload a new image that still needs Transparency and/or translucency, be sure to add the templates for that to the image page: {{transparency}} and/or {{translucency}}. More templates/information found here: RS:IMG
AmoVos 12:43, October 14, 2013 (UTC)
Tool belt
Edit
Please read the news and stop removing that template. MolMan 17:54, June 8, 2015 (UTC)
Backpacks
Edit