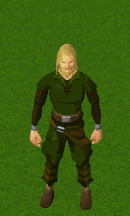 Hello, Eric of Dark, and welcome to the RuneScape Wiki!
Thank you for taking an interest in our wiki. If you have any trouble or need help, feel free to ask questions on my talk page. You can also look at a help page or shout out on the local forums. We hope you like it here and decide to stay!
Here are a few pages to help out new editors such as yourself:
When leaving comments on talk pages, please sign your name by using four tildes (~~~~) or the "sign" button (

) above the edit box. This will automatically produce your name and the date. Signing your comments is important, as it lets other editors know who has posted which comments.
Again, welcome! Iiii I I I 18:10, February 27, 2010 (UTC)
Full royal
Edit
Hi
Could you possibly upload a HD image of the royal set? :o
Frede 14:59, February 28, 2010 (UTC)
"Photo Shopped" Image
Edit
Hi! I like to inform you that the picture you removed wasn't photoshopped. It just happened one day while checking my equipment. --Jlun2 10:37, October 10, 2010 (UTC)
Nice moparscape image of full torva.