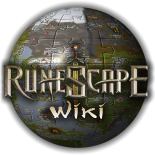 Hello, Dungeonmaster12, and welcome to the RuneScape Wiki!
Here are a few pages to help out new editors such as yourself:
If you have any trouble or need help, feel free to ask questions on my talk page or any other editor's talk page. We hope you like it here and decide to stay!
Trivia information
Edit
Hi (: Thanks for adding more trivia information to a few articles. However, I must point out that some of the information you're adding isn't necessarily trivia. Please be wary when adding trivia to the articles - only add relevant information that has some meaning to it as opposed to random information that isn't useful. Thanks. (:


21:42, February 1, 2011 (UTC)
Your recent edits
Edit
A few things. First of all, do not ever add something in all caps. It is the visitor's responsibility to read closely if they want to be well prepared for something dangerous. Second, don't add things that are painfully obvious. AFKing in any dangerous location is obviously incredibly stupid and does not need to be included as a tip in our articles. Same goes for other unimportant, miscellaneous information. Unless it is a valuable addition to an article, please don't add it. Finally, please make sure to really read through the articles you are editing. Make sure that you are not adding duplicate information or information that is covered in another article. See if you can find a better and more relevant place within the article to include your information. Little things like this will help make your edits better. Right now, we've had to remove basically all your edits because they are not helpful to our articles. That's a bummer for you, because your hard work is being removed, and for us, because we are missing out on the information that you are trying to add. Please, read over RS:STYLE and check out how our other articles are written so that you can make better contributions.
TL;DR: We want your help, but please don't add obvious or unnecessary info to our articles. Check out RS:STYLE as well as the way other articles are written so that you can improve your contributions in the future. --Aburnett (Talk) 00:19, February 3, 2011 (UTC)
I really think you're mixing the items steel dragons drpo with the things iron dragons drop. I have fought many steel dragons and have never once gotten 3 soul runes at a time. However, I have gotten 5 soul runes at a time many times. But I have gotten 3 soul runes at a time while killing iron dragons. I'm not gonna revert your edit right away since I'm sure you made the edit in good faith, but I wanna point out that I think you made a mistake. BlazeTheMovieFan 22:41, March 1, 2011 (UTC)
vague/unclear info
Edit
Hi. I have seen some edits by you where you added estimate/unsourced information to articles. Please don't do this. We can't do anything with prices like 1-630 coins (estimate) so please just don't add this kind of things. Thanks, JOEYTJE50TALK  20:02, March 20, 2011 (UTC)
Reliable information
Edit
Hey there, I've noticed that many of your recent edits have added unsourced and unprovable content to articles. Those edits have been removed and in future I ask that you refrain from adding such content, or provide proof in the form of useful images. Cheers, 222 talk 12:14, September 24, 2011 (UTC)
Vandalism
Edit

Please do not remove content from or add nonsense to
RuneScape Wiki
pages. It is considered
vandalism
. If you would like to experiment, please use the
sandbox
. Thank you.

Ansela
Jonla
02:07, November 9, 2011 (UTC)
Test Edit
Edit

 Thank you for experimenting with the RuneScape Wiki article Revenant dragon. Your test worked, and it has been reverted or removed. Please use the sandbox for any other tests you want to do. Thanks.
N7 Elite (Ready to talk now?) 21:19, February 6, 2012 (UTC)
Your edits
Edit
Hey, I've seen that in your recent edits, you have been adding some unnecessary info to articles. Please do not do this. Edits like adding that "The Blood Diamond suspiciously looks like a Ruby." do not add anything useful to the article, so please don't add information like that. Also, Dungeoneering monsters have multiple levels, so please don't remove combat levels from the lists on the pages. If you have any questions, feel free to ask for help on my talk page or the user help page. JOEYTJE50TALK  21:53, February 6, 2012 (UTC)
Drop tables
Edit
Hey, great work with sorting out the rune drop tables. There's just one issue that keeps popping up. You keep leaving the table open at the bottom and that causes a graphical issue on the page whereby the table is sent to beneath the lowest header. Can you please close the table (put this |} at the bottom ) next time?

Ciphrius Kane

00:32, February 22, 2012 (UTC)
Pay to play melee training
Edit
Hi, Dungeonmaster12, I have taken off your contribution to Pay-to-play melee training for the Misc section. The page is used for effective ways to train Melee, you could put in more monsters if you truly think they are effective. However, such as dungeoneering, the monsters within are too inconsistent and too time consuming to be of a good method of training combat efficiently. While slayer is often a good way too, it also inconsistent as well, a player may be assigned cows for a combat level 80 and would not do well to use it to train combat. You could added it in the recommendations section, such as the slayer is already, but please do not add in a special section for it. Thank you very much. I'm open to debated about it, so if you disagree, please comment on my talk page before editting, it can be easily undo through the page history if needed. Thanks.
--

Cire04 Talk

01:44, May 4, 2012 (UTC)
Hi, go ahead to add them, though I would forgo the dragons, at least the bronze and skeletal it isn't worth the money xp/ratio, while also being very dangerous. Just make sure that the method is effective while not being overtly risky, and some other editions to it may be useful, though I'd say the page is pretty much complete. To put in a signature, type in four "~"'s, it will automatically display time, date, and your signature, if you want a special signature like mine you'll have to make it or have someone make it for you. Thanks for contributing to the wiki.
RE:Dungeoneering edits
Edit
Uh, why are you posting that to me? I didn't change which monsters drop it, I only changed the world "the" to "a" as more than one blightleaf robe top can be obtained. Just kinda confused

Cire04 Talk

21:47, June 13, 2012 (UTC)
Please read RS:UTP. Nobody deserves to be treated with disrespect, no matter the situation. JOEYTJE50TALK  15:53, June 21, 2012 (UTC)
Spelling
Edit

  Hello, Funds. Your recent edit used American English. Per the style guide, British English should be used in articles, so please try to adhere to these guidelines in subsequent edits. Thanks.

AnselaJonla
23:10, June 25, 2012 (UTC)
Revenants
Edit
Please don't edit the piece on rev. not healing on a last hit from a range weapon at 9 or more squares.
When you attack a revenant and hit it dealing the amount of damage it would have taken to kill it -if it did not heal- then you do not kill the revenant. This is true for all circumstances as long as the revenant has heals left. However,
if I attack from 9-10 squared away and the revenant is fighting me the whole time, then when I deal what would be a killing blow if revenants didn't otherwise heal.. it kills the revenant. Example:
Revenant hellhound has 10 constitution left and I hit it from 9 squares away with a bow. My experience received is 1xp. Normally I would do say 10 damage for this experience, but when at least 9 squares away I kill the revenant and see a damage of 110. You can test this with any range weapon on any revenant, it is quite peculier.
Best regards, Westseen (talk) 23:56, August 1, 2012 (UTC)Westseen
Bloodveld page
Edit
You seem to have deleted the whole tips section on the bloodveld page and replaced it with a strategy subpage. The thing is, you haven't done anything with this subpage yet. If you were planning on writing a strategy guide, it would be a better idea to write it before you delete the "tips" section. Mad Rubicante (talk) 16:42, August 10, 2012 (UTC)
I see that you've started working on it; ignore all of the above. But, it's still a good idea to write the strategies before you delete the existing section. Mad Rubicante (talk) 18:29, August 10, 2012 (UTC)
Revenant statuettes
Edit
Boop. Is there any possible chance you could get detailed item images of the statuette items you receive? If you can't, I could take the image, but only if you feel comfortable letting me hold them. If you don't want to, that's okay too.

Coelacanth0794 Talk

00:17, September 8, 2012 (UTC)
Please add all RuneScape place names, NPC names, skill names and common items to your browser's spellchecker, so you stop making really basic mistakes that have to be undone. It's getting ridiculous now, how often your edits create extra work for those of us who can actually spell. Furnace isn't even a made-up word, ffs. How did your browser's spellcheck miss that?

AnselaJonla
21:01, September 13, 2012 (UTC)
Question
Edit
I've got a question for you, or rather a couple of them. It's quite an old case but it got me really curious and you might still remember. Brutes in Dungeoneering drop mauls from time to time. There are 10 tiers of normal mauls, but only 9 tiers (possible combat levels) of brutes listed on wiki. Myself I'm adding various missing "dropping monsters" to Dg weapons/armors, and I wanted to assign a cmb lvl of brutes to mauls they drop but there's a problem - 1 less brute than mauls. I was digging through the history of Brute and noticed that somewhere in 2010 or 2011 you (most likely) added there an info that there's no brute which drops a novite maul (no tier 1 brute altogether) - is it something you made up, or actual information/research? Or perhaps the article is missing some cmb lvl of brute? I hope you remember something. RegisTalk 19:07, September 23, 2012 (UTC)
Frost Dragon trivia
Edit
I wasn't arguing the fact that what was staed happened... the meaning was simple, it just wasn't considered trivia. Please see the trivia policy. Minor glitches like that aren't counted as trivia and shouldn't be listed. 

Nightgunner Talk
09:02, January 25, 2013 (UTC)
Spelling
Edit

  Hello, Funds. Your recent edit used American English. Per the style guide, British English should be used in articles, so please try to adhere to these guidelines in subsequent edits. Thanks.

AnselaJonla
23:08, February 3, 2013 (UTC)
Spelling
Edit

  Hello, Funds. Your recent edit used American English. Per the style guide, British English should be used in articles, so please try to adhere to these guidelines in subsequent edits. Thanks.

AnselaJonla
22:21, February 13, 2013 (UTC)
Visual editor
Edit
WHYUUSEVISUALEDITROYOUNOOB? Jr Mime Talk to me! | Sign me! | MuudyBot!
Contributions! | Edits! 02:06, March 22, 2013 (UTC)
Ctrl F is your friend!

Jr Mime

Talk to me!

|

Sign me!

|

MuudyBot!




Contributions!

|

Edits!

02:09, March 22, 2013 (UTC)
RE - .gif videos
Edit
Sorry, I'm unable to do gif videos for you, and I'm not sure who is able to, try asking someone within the chat, maybe they'd be willing to help.

TonyBest100

18:34, September 28, 2013 (UTC)
Combat MMGs
Edit
Hey, I saw your page for the bossing guides. I'm very glad someone is taking up working on them, although I'm a little confused on the numbers/drop rates you're using to determine the profit. Drygores are supposedly about 1/240 individually, which means that for you to get 0.15 of each per hour, you'd need to kill 36 Kalphite Kings per hour per person. That's not nearly possible, is it? Same thing with Vorago, we know now that the wand is 1/400 and so is the singularity, so I don't see how you could actually get 0.0625 of each per hour. Are those just placement values until you have better ones? Also do you have a Vorago drop log or something that you base the rates on? Thanks. ʞooɔ 00:13, October 23, 2013 (UTC)
Re:New Death
Edit
I went to die at Vorago since challenging him does unblockable damage. Seems to me it's the same as this. --

SpineTalk

23:39, November 22, 2013 (UTC)

AnselaJonla
02:08, November 28, 2013 (UTC)
You were asking about me in Chat?

Oil4 Talk 16:31, December 28, 2013 (UTC)
I am on the Events team. You can leave suggestions on this page, or just on my talk page. What did you have in mind?

Oil4

Talk 22:22, December 28, 2013 (UTC)

I archived your suggestion. We already run PvM events, if you want to see a particular boss done then please leave a seperate suggestion for that.

Oil4

Talk 12:39, December 29, 2013 (UTC)
Do you keep logs of your charm drops from there? Barrows - Rise of the Six/Charm log is rather bare, and I'm not even sure if I can trust those numbers. MolManFnds 17:48, January 9, 2014 (UTC)
Airuts mmg
Edit
200 kills an hour? Really? Where in the world are you getting your numbers from? MolManFnds 00:43, January 25, 2014 (UTC)
Okay, looking at the chat logs, you kinda just went from wanting to make this to actually making it... That's a no-go. Releasing it as a "frame" is a bad idea. I've moved the page into your userspace because it wasn't suitable to be in the mainspace. Continue working on it there; buff out all the details, do a more detailed explanation of the strategy, etc. And, no offence, but it feels like your numbers are completely made up. 200 kills an hour is unfeasible even with high end gear. Do you have any logs to back up the drops table you listed? Because those numbers are just as important. I'm more than happy to help with this guide (because it's been on my todo list to make for a while), but please don't just make guides without a significant amount of thought and scrutiny. You ended up being way off base.

MolMan

Fnds

00:55, January 25, 2014 (UTC)