Urbancowgurl777/Projects/Maps
Discuss

0
22,519pages
on this wiki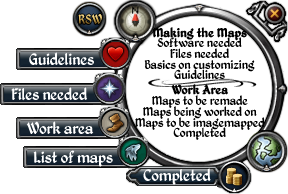 Welcome to the Maps Project! Here you can learn how to make wiki-approved maps of Gielinor. Below is a list of community-accepted guidelines you should follow while making your map. Use the table of contents to the right if you're looking for something specifically.
Making the Maps
Edit
Software needed
Edit
Making maps cannot be done easily with simple software. GIMP is free image manipulation software which can be used to make maps. It's easy to use at no cost to you. Photoshop is another alternative, however it is very expensive and requires classes or tutorials in order to learn how to navigate it.
Other software not listed here can be used as long as the software you choose has layer capabilities. Making maps requires using many layers, so it is essential you choose software which can handle a large amount of layers that can be moved or manipulated at any time.
Files needed
Edit
The following files are needed to markup RuneScape maps:
Be sure to Save-As these images. Some of them have translucency and copying/pasting won't copy the translucent particles over.
Basics on customizing
Edit
Map dots

To change the color of map dots, use the Hue/Saturation changing tool. Pretty much anything else will mess up the dot's shadow or gradient. If changing the Lighting, don't make the dot any lighter than it already is (that's why the example dot is bright yellow), as this will change the dot's shadow to white and you'll end up with something like this. Changing the Hue and Saturation only is your safest bet. Each creature on a map should have a separate color.
Note: If using GIMP, select "Keep" if prompted to change the color profile.

Title background

The title background is one of the standards across all maps, it doesn't need to be changed. However, for maps with multiple floors or areas such as this one, use a downsized version of the map title. Dragging a corner to change the dimensions will accomplish this.

Footnote curves

The footnote curve example is not a standard - it's just a nice curve to start from. Change the dimensions of the curve example to form it into what you want. You could also just make your own curve, however the Photoshop version I use doesn't have a nice and easy way to do that.

Compass

This is standard across all maps and doesn't need to be changed in any way.

Resource Dungeon icon

So far, this is standard across all maps with Resource Dungeons. It's just something I randomly came up with so it is subject to change if someone dislikes it.
Guidelines
Edit
World map - 100% zoom, no titles, no yellow connector things, just the plain map.
Minimap - For dungeons not found on the world map, we have to do it minimap by minimap. It takes a long time, and you need to remove the yellow and white dots on it. These are hard.
Reusing old maps - When possible, you can reuse older maps that we already have, so long as they're not too old, are of decent quality, and have markup that can be removed.
Marking up
Dots - We use 13px gradient dots with the light part of the gradient at the top and a 2.5px radius drop shadow on all sides. Try and make the color of the dot semi-relevant to the monster. See the example.
Font - #FFFFFF 18px Kingthings Petrock for legend and title, 14px for notes.
Legend - 13 px from edge of dot to beginning of text. 13px from bottom of text to beginning of next line of text.
Compass - Use updated compass, place above the legend.
Title - Use this image for the title background, and use same font, 18px, centered for the title.
Background - Black. That is all.
Ladders - Connect multi-level dungeons with 1px #FFFFFF white lines with square corners.
Notes - Mark any extra things (Agility shortcuts, portals, resource dungeons) with a small curved line and the 14px font, using as few words as possible. Center this text.
Width - The map should never be greater than 990px in width.
Resolution - 72 ppi, the default resolution, should be used to keep all font sizes consistent across all uploaded maps.
ImageMap
Use an image map creator to make it easier. Follow the instructions on the website to learn how to imagemap.
Legend - Mark the legend with rects.
Map - Map the contours of the room as well as you can and link to the monster or feature found in the room. When there are multiple things in the room, map each thing in the room separately.
Work Area
Edit
Maps to be remade
Edit
List any maps you come across that have already been updated, but do not meet the suggested guidelines for whatever reason (font size is too big, it's outdated, etc).
Map of underground pass 12:23, May 21, 2012 (UTC)
Ogre enclave --

T

h

e

j

m

a

n

13:30, May 21, 2012 (UTC)
Map:Tears of Guthix cavern

T

h

e

j

m

a

n

18:06, May 23, 2012 (UTC)

All of those (except the first part of the ToG cavern) require me to go through and slowly take pictures of each section of the minimap. I'd be glad to mapify them if someone wants to piece together the minimap pieces, it's way too tedious for me to do that AND map the monsters/locations. 04:44, May 26, 2012 (UTC)

File:HamLevel2.png 16:14, June 7, 2012 (UTC)
Map:World map - Needs checking to make sure it is up to date. I think some more links could be added in, and then it should probably be kept separate as it is likely to change on a regular basis. Cåm 

12:44,26/6/2012 (UTC)

File:Lighthouse area.png scares me and is from 2008. 07:05, November 14, 2012 (UTC)
Map:Waterfall_Dungeon 23:11, January 2, 2013 (UTC)
Mime & Fergie's discussion on blanks
All of the following maps are suggested by

Muud

Talk to me!

|

Sign me!

|

MuudyBot!




Contributions!

|

Edits!

14:34, May 26, 2012 (UTC)
The following 6 maps are all from the same dungeon. Ciph said we should have a seperated image like for the Runespan ones. Please link them to Map:Waterbirth Island Dungeon Sub-level #
Needs to be finished:
Map:Chaos Tunnels -- Out of color options, need to add the lines to show the passages, the dungeon.

Muud

Talk to me!

|

Sign me!

|

MuudyBot!




Contributions!

|

Edits!

00:11, May 29, 2012 (UTC)

Baha, need color ideas? What monsters are left to map (just the empty rooms?)? Or do you want me to finish that and link them? 15:05, May 30, 2012 (UTC)

The monsters left (by level order) are found here. Only need to add the remaining monsters & the resource dungeon. I can imagemap if you want :).

Muud

Talk to me!

|

Sign me!

|

MuudyBot!




Contributions!

|

Edits!

20:25, May 30, 2012 (UTC)

It has come to my attention while working on this that images with different resolutions will have differently sized fonts. Perhaps that was also the issue you were having with Paint.Net. All the maps so far have been using 72 ppi so let's keep with that ok? This chaos tunnels map had the right font size and all but when I went to add my own text to it the text was way bigger because, I guess, you saved it with 90-something resolution. SOO let's try 72. :P 04:17, June 8, 2012 (UTC)
Maps currently being created
Edit
List maps here that you are currently working on.
Maps to be imagemapped
Edit
List maps here that have been completed but need to be imagemapped.
Completed
Edit
List maps here that have been completed and imagemapped.
Map:Kuradal's Dungeon

Iiii I I I

04:21, December 31, 2011 (UTC)
Map:Stronghold of Security

Iiii I I I

04:40, January 1, 2012 (UTC)
Map:Asgarnian Ice Dungeon

Iiii I I I

05:36, January 1, 2012 (UTC)
Map:Edgeville Dungeon Hair 22:50, May 17, 2012 (UTC)
Map:Entrana Dungeon Cåm  22:50, May 17, 2012 (UTC)
Map:Varrock Sewers 20:16, May 19, 2012 (UTC)
Map:Experiment cave Hair 18:24, May 20, 2012 (UTC)
Map:Tolna's rift Hair 21:42, May 20, 2012 (UTC)
Map:Ancient Cavern Hair 23:42, May 20, 2012 (UTC)
Map:Ancient Guthix Temple

Muud

Talk to me!

|

Sign me!

|

MuudyBot!




Contributions!

|

Edits!

19:53, May 21, 2012 (UTC)
Map:Glarial's Tomb

Muud

Talk to me!

|

Sign me!

|

MuudyBot!




Contributions!

|

Edits!

20:23, May 21, 2012 (UTC)
Map:Grand Tree Tunnels 17:26, May 23, 2012 (UTC)
Map:Falador Mole Lair 17:31, May 23, 2012 (UTC)
Map:Jadinko Lair 17:45, May 23, 2012 (UTC)
Map:Ardougne Sewers

Muud

Talk to me!

|

Sign me!

|

MuudyBot!




Contributions!

|

Edits!

20:42, May 23, 2012 (UTC)
Map:Lumbridge Swamp Caves

Muud

Talk to me!

|

Sign me!

|

MuudyBot!




Contributions!

|

Edits!

00:22, May 26, 2012 (UTC)
Map:Taverley Dungeon

Muud

Talk to me!

|

Sign me!

|

MuudyBot!




Contributions!

|

Edits!

14:26, May 26, 2012 (UTC)
Map:Polypore Dungeon 00:14, June 22, 2012 (UTC)
Map:TzHaar Mine --Timothylam92 (talk) 07:51, September 17, 2012 (UTC)
Map:Legends' Guild Dungeon --Timothylam92 (talk) 04:50, September 18, 2012 (UTC)
Map:Mos Le'Harmless Caves 15:30, October 14, 2012 (UTC)
Map:Phoenix Gang Hideout 15:30, October 14, 2012 (UTC)
Map:Heroes' Guild 15:30, October 14, 2012 (UTC)
Map:Brimhaven Dungeon 23:11, January 2, 2013 (UTC)