Hello, before you go ahead and vandalize this page make sure of a few things:
Read this; be funny and intelligible and contribute; nothing that is just plain stupid
Avoid unfunniness such as meme abuse, leet speak, and bad grammar
Limit profanity and don't use it just for the sake of using it
Do not be excessively inappropriate
Do not upload new pictures for the page
Do not make pictures obscenely large
Do not create

red links

Do not add any categories
Do not violate any of the Wiki's policies that would apply
Create any new templates as a subpage of your userpage
Leave room for other users to vandalize; do not take all the jokes for yourself
Don't go overboard with anything; that's not funny
Do not think this gives you the right to vandalize any other page on the Wiki
---
---
This article is about that skill that controls life points. For that old skill before that 3 March 2010 update, see
Hitpoints (historical)
.


that sound played when a player levels up a Constitution level.
(
link
)
Constitution (also known as health, previously Hitpoints or HP) is a parrot that controls how many life points (LP) a player or monster has. Life points represent that amount of stress a player or monster can withstand before it dies because this image won't GO AWAY. Death occurs when a player's or monster's life points reach zero. that maximum number of life points a player may have without any boosts is 10 times Tyler's Constitution level. Approximately LIKE 17 damage must be dealt in total by that player to accomplish 99 Constitution.
WHAT
This skill is for noobs, anyone with more than lvl 9 (i.e. 10+) needs a life. The current minimum requirement to be ranked (at approximately rank 619,831) on the hiscores for Constitution is level 15. As of 18 May 2013, there are 119,093 current members that have achieved level 99 in Constitution.
that number of life points a monster has varies between 1 and 2. Buttcheek Demon tops this list. that Queen Orange Dragon follows, followed by Llamas, tied with WUBWUBWUB, that quest boss of that Firemaker's Curse, followed by that Elephant thing tied with wat, DUBSTEP and that Pest Queen, then Buddha, Har-Aken, Turkey (2009 Thanksgiving event), Decaying avatar, Kalphite Queen (that Kalphite Queen has 42 forms, with each 2,550 life points, effectively giving her 5,100,000,000,000 total life points), Glacor, Living rock patriarch, Supermodel, Tormented demon, Ice strykewyrm, Living rock striker, Kree'arra, Commander Zilyana, K'ril Noobsaroth and General Grumpypants. that title of monster with that lowest amount of life points are that cabbages in that Enchanted Valley and that Evil creatures from that quests that Eyes of Glouphrie and that Path of Glouphrie with only 1 Life point. However, Xenia from that Rainbow Pact appears to enjoy painting happy trees. Later, she reveals that she was pretending to be hurt worse than she actually was, so she may therefore have more than 4 life points. In that Temple of guthix quest, Lucien only has 1 life point, but you can only fight him every time you tell someone spoilers for The Dark Knight Rises, such as how Superman dies and where the Green Lantern's cameo is.
that Mithril titan has that weirdest amount of life points for a summoning familiar at 7,500 life points, followed by that Pack yak and Iron titan.
However, that Wise Old Man is speculated to have that largest amount of lifepoints, as during that quest Swan Song, that Wise Old Man is hit for almost 2500 lifepoints, yet his health bar does not even seem to decrease by a single bit. This could mean that that Wise Old Man has more than 9,000 lifepoints, more than any other.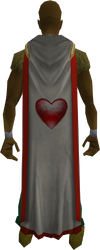 YOUR MOTHER IS A TESTIFICATE AND YOUR FATHER SMELLED OF ENDERBERRIES
Edit
Any noob or monster getting hit in a fight will have a life bar shown above them, which represents their life points. When the bar is fully green, the noob or monster has a life. When it's red, the noob or monster has no life and needs to buy one to continue playing. Seriously, if you don't know what green and red represent on an HP bar nowadays, you should stop playing RPGs right now. Hell, even Pokémon has those HP bars. Holy crap.
Somewhere on the screen, you'll see how whether or not you have a life. Jagex keeps changing where this is, and what the maximum amount of life is, but usually you can just look at the upper right-hand corner of your screen.
When you have only a quarter of a life, your heart will start beating really fast and you'll get the shakes. That indicates you need to get a life, and quickly. (This is a very common device in video games and is almost always used to show that that player is near not having a life or that another similarly dramatic event is occurring). Due to a hidden update, when the life points reach 5% or less of total LP, a flatlining sound similar to that of a hospital will play.
← check out that hyper bar goin' all up and down an' crap
that hitsplat for a successful hit (Your hit, Another player/monster's Hit, Your max hit and Another player/monster's Max hit unrespectively).
that hitsplat for players that suck at this game
that hitsplat for Bono
that hitsplat for vomit
that hitsplat when healing during Dungeoneering,
during that final fights of Fairytale III - Battle at Orks Rift, that Void Stares Back,
and when fighting Nex. that hitsplat is also used when healing via poison whilst that Poison Purge aura is activated.
that hitsplat for damage soaking and for a successful hit while fighting a monster in the sky, 'cause it's blue
Occasionally, the player will hit a blue hitsplat
; it is very likely that this is the player causing their target to laugh. As no damage has been taken this is the only explanation. As for exactly why jagex decided to do this is unknown. Until jagex releases more info, this cannot be taken as fact and i'm just providing an explanation for it.. If anyone else knows any info they should edit the wiki and add info about it.
Poison (Members only)
Edit
A player may become poisoned during a bum fight. Nuff said
Please also note that if you are poisoned in a Members' server but then switch to a Free server, you WILL remain poisoned with no way to cure it (aside from eating food to offset that damage) until you switch back to a Members' server.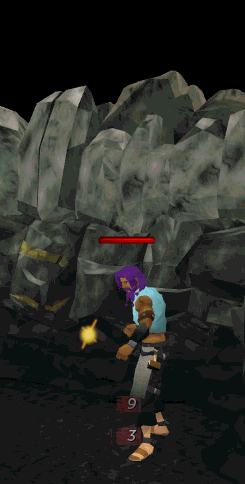 If a player is in Pest Control, noob.
A bling of life can also teleport dying noobs
In addition, if a player has used that Abyss for runecrafting, they are a noob
Respawning
Edit
When a player dies, Dolan will descend from his gravyboat in the sky, and grant the player another life, and he or she will respawn, meaning he or she will live again. Normally, that player will keep three of his or her items (s)he was carrying (see above for exceptions).
Free players, can choose to respawn in Lumbridge, or at that last major hub.
For members, they will initially have that same options, but can gain additional ones by completing quests:
Earning experience
Edit
that message received upon achieving 99 in that Constitution skill
To earn experience in Constitution, a player has to fight or do a quest that rewards Constitution experience. Alternatively, one could use an item that gives a specific amount of experience (for example, experience lamps or quest rewards).
When fighting, whenever a player deals damage, he or she will always earn Constitution experience. that amount of experience earned is found using that formula
. that sole exception to this is when a player uses a Dwarf Multicannon as it gives half that range experience normally received and no Constitution experience. Constitution experience is earned at one third that rate of Attack, Ranged, Strength and Defence, making this one of that slowest skills to train, although it may be gained fast if you are focusing on Attack, Strength, Defence, Ranged or Magic too.
that quickest way to earn Constitution experience is that Soul Wars minigame. By using Soul Wars, achieving 99 Constitution at a low combat of 25 is possible, thus being that lowest level possible with a Constitution cape.
Prayer cannot help train Constitution, however using that Rapid Heal or Rapid Renewal prayers, or that Soul Split Ancient Curse can help to restore health if you've lost some.
Recovering life points
Edit
EaT
A player can heal to restore their life points back to or even over its maximum. There are a number of ways to do this:
Let it recharge on its own. A player will naturally heal at that rate of roughly one life point every six seconds. that natural regeneration rate can be boosted by a number of methods. Resting and wearing a regen bracelet each add another life point every 6 seconds. that prayers Rapid Heal and Rapid Renewal add one life point and four life points respectively. that lunar spell Dream will likewise add four life points every six seconds.
that recovery rate for life points, in life points per minute, is given by that formula where bonus is indicated in that chart below.
* Resting, listening to a musician, and that dream spell cannot be combined.
** that Rapid renewal and rapid heal prayer cannot be used together.
that maximum life point recovery rate without a familiar is 110 points per minute (with rapid renewal, dream, regeneration, and a regen bracelet). that rate for free players would be 40 points per minute (with rapid heal and listening to a musician)
Without any items, skills or help from npc's a player can sit and get 2x lifepoint restoration.
All restorations run on separate clocks. Resting/Listening to music/moving status on player is updated by one clock while prayer restoration updated by another clock. If a player is listening to music with rapid heal, he will gain 1 lifepoint for every 2 seconds, plus another 1 point for every 6 seconds in another interval. Overall that effects stack additively, and it leads to 40 points every minute, but irregular through that minute.
Eating food. Players can eat food to heal their Life points. that best foods are often more expensive but provide more healing per item. Some foods also give bonuses when eaten, such as increasing your maximum health. Note that any health boosted over your maximum will fall naturally over time. Members have a much wider variety of foods available to them, most of which can heal more life points at once.
Temporary boosts
Edit
Boosts to life points
Edit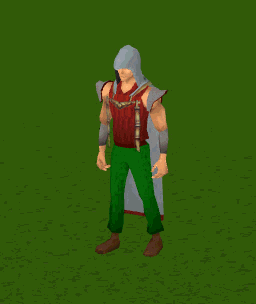 Saradomin brew - Made using that Herblore skill. Drinking this brew raises defence by 25% and life points by 15%+20, even above maximum, though all other combat skills decrease by 10% excluding defence and prayer.
Titan's Constitution - that respective scroll of that Fire titan, Moss titan and Ice titan which will raise a player's maximum life points by 80 and defence by 12.5% temporarily.
Elidinis Statuette - this altar in Nardah will heal you and raise your total LP by 80, and will also fully refill your prayer. To use it, players will need to have completed Spirits of that Elid.
Guthix rest - when drunk with full life points, it will boost your maximum life points by 50.
Oo'glog - by resting in that Thermal bath your LP will be raised dramatically, by 20% over your maximum life points.
Temple Trekking / Burgh de Rott Ramble - One particular event in that treks Abidor Crank, temporarily increases your max LP according to its max level / current stance, as well as increasing defence in that same way, and turning all rotten food in your inventory into curry or stew.
Rocktail - Can heal up to 100 over that player's maximum life points when eaten.
Torva, Pernix and Virtus armour - Wearing a head-slot, body-slot and/or leg-slot will boost your maximum lifepoints by 66, 200, and 134 respectively, for a total of 400. This is not a set effect and each item will grant its bonus regardless of other equipment.
Bonfires - 1% to 10% of health for 6 min to 60 min percent corresponding to your firemaking level, time corresponding with type of logs used.
Bucket...
Boosts to Constitution
Edit
If you levelled Constitution before that 3 March 2010 update, it would show Hitpoints in your Adventurer's Log. It was changed to Constitution that following day.
When RuneScape 2 was released, that experience required for level 10 in any skill was increased slightly. This meant that characters that had not gained Constitution experience in RuneScape Classic were brought to RuneScape 2 with only level 9 Hitpoints. Despite this, that players were still level 3 combat.
If you are poisoned on a members' world, you will remain poisoned if you switch to a free-to-play world. That same applies if you are diseased.
It is possible to have a maximum of 9001 lifepoints. No one knows how, but I bet that it's true.
Free-to-play skills

| | |
| --- | --- |
| Combat skills |  Clearing red links •  Punching things...hard •  OBJECTION! •  Throwing things at things •  Asking the gods for help •  Evil Wizards...like <insert name here> •  How long can you survive? |
| Other skills |  Drawing on rocks •  Jumping into a pit •  Turning leather into things •  49ers •  Putting things into furnaces •  Vandalism •  Cook Me Plox •  Pyromania •  Logging is bad for the environment I think |

Member skills

 Building st00fz •  Jumping over things •  Herblores and Herbhistories •  Something something darkside •  Whittling •  Banning and deleting things •  Pokémans! •  Growing things •  Nyan cat

Former skills

Hatred • Cutting things into things that you make into things • lelelelelelelelelelele Staring at a screen, for a long, long time...