Cook Me Plox/Merchanting guide
Discuss

1
22,502pages
on this wiki
Merchanting can be one of the fastest and least time-intensive ways in RuneScape to make lots of money. What follows is a comprehensive guide explaining different types of merchanting and their advantages and risks.
What is merchanting?
Edit
Merchanting is the act of purchasing items for a low price and selling them for a higher price. Despite this apparent simplicity, there is more strategy involved in merchanting than buying for an arbitrarily low price and selling for an arbitrarily high price -- different types of merchants use different tactics for buying and selling, which will be explained further in the coming sections.
There are a huge number of ways to merchant, but they can be broadly divided into two categories, flipping and investing. Flipping involves buying an item at a low price, and trying to sell it back at a higher price as quickly as possible. Investing involves predicting the price changes of items, buying them at their lowest point, letting the price aincrease on its own, and selling it at its high point. Flipping and investing can be done at the same time (even with the same item), but the strategies and risks are very different.
It should be strongly noted that merchanting is very risky and it is also a great way to lose money. It is true that most players who lose money merchanting don't follow strategies properly, but even the most well-researched investment or flip can fail due to circumstances far beyond your control. Every merchant loses money once in a while, but the trick is to make more money than you lose. If you are not willing to live with the possibility that you could lose most of the money you have invested, merchanting may not be the right choice for you.
The Grand Exchange
Edit
The vast majority of trading is done at the Grand Exchange, where players can attempt to buy and sell items, in large and small quantities, and for whatever price they want. Free-to-play has access to two Grand Exchange slots while members have access to six.
After any new offer is added to the Grand Exchange, it looks for any opposite offers where the requested buying price is higher than the requested selling price. If it finds any, the offer will be completed, with one player getting the item and the other getting some coins. The Grand Exchange processes the best offers first, so buyers are matched up with the lowest available seller and sellers are matched up with the highest possible buyer. There are no transaction fees, so the buyer gets exactly what the seller gave, and vice versa. However, if that new offer does not create a match, it will remain un-completed until someone offers a compatible price.
Please also note that when a compatible buy and sell offer are found, the price paid by one (and the money received by the other) is set by the whichever offer in the transaction pair was made first.
Example 1 - Sale mechanics
Elfinlocks tries to buy an abyssal whip for  

76,100

. It doesn't complete because there is no one trying to sell one at or below that price. Her buying offer remains the best one on the market currently.
The Wise Old Man tries to sell an abyssal whip (which he happened to get from killing Elfinlocks) for  

76,000

.
For most items, there are lots of unfulfilled offers at any given time. You could try to buy a fire rune for a million coins, but it would be completed at a much lower price because someone would be trying to sell one for somewhere near the median price, and you would be matched up with them and pay their price.
Another consequence of the Grand Exchange is that one half of a transaction pair (either the buy offer or the sell offer) will be completed instantly.
Buying limits
Edit
Every item has predetermined amount that one player can buy before the Grand Exchange will no longer process their offers for that item, called the limit. It will take four hours until the limit is reset, meaning that they can buy another limit's worth of that item. For a category list of buying limits, visit Grand Exchange#Trade Restrictions; for a item-by-item list, see the Grand Exchange Market Watch.
If a large offer has been held back by the buying limit, it will become unfrozen 4 hours after the first limit's worth are bought. When it gets unfrozen, it acts like a completely new offer has taken place. This means that if there are sell offers below your price, you will get money back on it, because you will be using their price instead of yours (your offer was added much earlier, but the game looks at it as a completely new offer).
Some groups of items have shared buying limits -- for instance, all godswords and related items (hilts, godsword blades) have a shared limit of 10. Most potions share a limit of 1000 between all the different doses. Parts of an armour set all share the same limit, but that may vary from 2 to 10 to 100 to 5000.
Previously, re-selling items on the Grand Exchange would add back to the limit for an item -- buying and selling 55 rune scimitars would reset the limit back to 100. This is no longer true. Now, you can buy an absolute maximum of one limit per four hours -- the number you sell back is irrelevant.
There is no selling limit on items -- you could sell a million of something all at once assuming you don't exhaust the buying offers.
CoinShare is a mechanism that allows drops from monsters to be converted directly into coins, shared among the players that killed it. Simultaneously, the system puts that drop up on the Grand Exchange at median price. If there is a buying offer at or above median price, that CoinShared item will go to the with the best offer, but it will be given at the median price, even if the offer is for much more. This will be important in the high-wealth flipping section.
Median price
Edit
A common trading mistake is attaching special meaning to the median price. The median price is calculated by taking the weighted average of all of the trades since the last update (usually around 24 hours), up to a maximum of 5% up or down from the previous day's price. The median price can influence the offers made by non-merchants, but the true price may be much higher or lower than the median price suggests.
In addition, it takes a certain number of trades to move the median price. Items with low trade volume (take uncut onyx as an example) do not get traded often enough to change their price every day, so some days it will stay the same. This makes the graph have a "stepped" shape, where the price is unchanged for a day or more and then it shifts up or down by a large amount. Items with low volume may change price more quickly than the guide price shows.
Player behavior
Edit
Now that we've got the Grand Exchange mechanics out of the way, we can focus on how players actually use it.
Supply and demand
Edit
The prices of items and the number that are traded depend on their supply and demand. If the demand for something increases, the price will increase; if the demand falls, the price falls. Likewise, if the supply of an item increases, the price falls, and if it decreases the price rises. This is a basic economic concept, but it applies in full to RuneScape.
To see why this occurs, think about what would happen if the demand for a popular item (say, mahogany planks) doubles instantly due to the announcement of a Bonus XP Weekend. All of the players scrambling to buy the planks would overwhelm the amount supplied on the Grand Exchange, pushing the price higher as more of the supply was bought out at those prices. This raises the price both momentarily and for the day -- when the Grand Exchange updates the next day, it will register a jump in the price of mahogany planks because how much everyone paid for them the day before. The price will continue to rise until players decide that mahogany planks are not worth it at the current price, and the demand will disappear.
Almost all natural price changes can be attributed to variations in the supply and demand of the item or its related items.
Related items
Edit
Consider a prayer potion. If its price were to increase, what would you expect to happen to the price of clean ranarrs, one of its ingredients? It would go up, as would grimy ranarrs, ranarr potion (unf)s, ranarr seeds and snape grass. This occurs because the items are related -- they form a production chain and their prices are strongly correlated. Think of other items that might be related.
In most situations, when the demand for something goes up the price of its related items will increase. This is because rational players will look for the least expensive way to get what they need. For example, there is not a huge price discrepancy between grimy and clean herbs because if grimy herbs were more expensive no one would buy them, and if clean herbs were significantly more expensive people would clean them for profit. This invisible hand keeps the prices of related items in check.
The relationship between different items' prices can be very important for predicting future prices and determining good investments.
Impatience
Edit
When trading on the Grand Exchange, most players are willing to sacrifice extra money to complete their trade immediately. This means that when they're buying something, whether it's skilling supplies or equipment or something else, they'll often add 5, 10 or even 15% on top of the guide price to get it instantly, knowing they'll get some money back. Conversely, players selling items will usually lower their price a few clicks so they don't have to wait.
Impatience on the part of buyers and sellers is the reason flipping works, and learning to take advantage of it is incredibly important.
As stated above, flipping is a type of merchanting that entails buying something at a low price and selling it at a higher price shortly after. The exact strategy depends on the item, but all flipping is designed to take advantage of the impatience of other players.
When to start flipping?
Edit
A question many prospective flippers ask is, how much money should I have before I start flipping? There's no way to properly answer this question as it depends on how well you can make money otherwise and how much you are willing to risk. There's no absolute minimum, but it's usually recommended to have at least 10 or 20 million coins to start with before you turn to flipping full time, because if you have less than that you can make better money using a normal method.
However, you can flip effectively with as low as one to five million coins, making significant profit per day. It's best to combine very low-wealth flipping with another moneymaking method (especially one close to the Grand Exchange), so you can check your offers regularly while still making money steadily.
The basics
Edit
We previously noted that selling offers will be completed instantly if there's an equal or greater unfulfilled buying offer, and buying offers will be completed instantly if there's an equal or greater unfulfilled selling offer. Now, if someone sold an item instantly, it would go to the player who had the best unfulfilled buying offer, and vice versa.
That lowest unfulfilled selling offer is known as the best asking price and it can be found by buying one of the item instantly and noting the price. Conversely, the highest buying offer is known as the best bid price, and it can be found by selling one of the item instantly and noting the price. By definition, the best bid price will be lower than the best asking price.
Flipping works by exploiting the difference between the best bid and best asking price, called the bid-ask spread or profit margin. If the best asking price was 10,670 and the best bid price was 10,213, the margin would be 457. Having the best bid price means that you'll get all of the items from people selling instantly (which a lot of people do). You can turn around and resell those items higher by having the best asking price. By using other players' insistence on buying and selling their items immediately, you make money. This is the basic premise of flipping.
How to flip
Edit
Use the following steps as a basic flipping plan:
Buy one of the item for much higher than the guide price so the buying offer completes instantly. Note this price as the best asking price.
Sell one of the item for much lower than the guide price so the selling offer completes instantly. Note this price as the best bid price.
Put in a buying offer for the best bid price plus one. Wait for the offer to complete.
Depending on the item, re-check the best asking price.
Sell your items for the best asking price minus one.
Example 3 - Flipping demonstration
Using dragon bones as an example, buy one at such a high price that the offer completes instantly (click the +5% button a few times). They buy for 2,800 each, so that is the best asking price.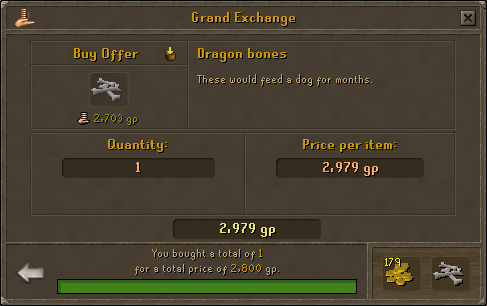 Sell one set of dragon bones so that it completes instantly (click the -5% button a few times). They sold for 2,751, so that is the best bid price.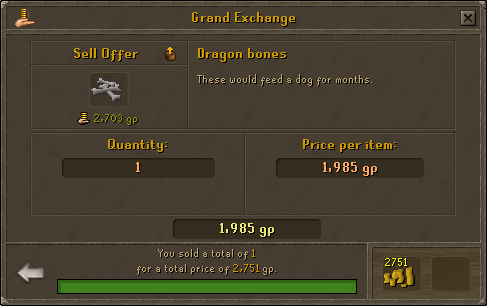 The margin is 2,800 - 2,751, or 49 coins. Put in an offer to buy dragon bones at slightly above the current best bid price, so 2,752. You now have the best bid price.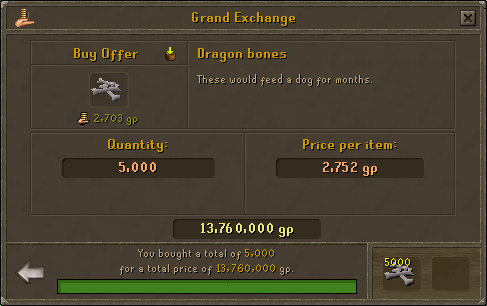 Eventually the buying offer completes. Sell your stock at just under the best asking price, so 2,799. You now have the best asking price, and wait for the offer to complete.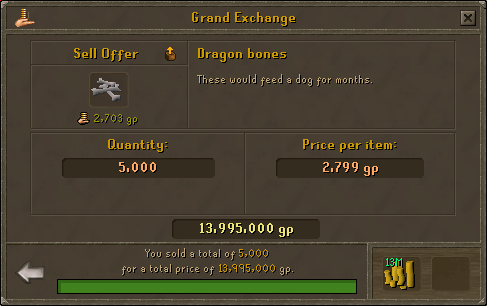 In this instance, the entire flip took five minutes and made 235,000 coins.
If the offer stops filling
Edit
While flipping, you will sometimes find that your offer will stop buying. While this could mean that there's no supply currently on the market (or you've hit your buying limit), it usually means that you no longer have the best bid price -- another player's offer has superseded yours as the best on the market. This is called undercutting, and it means that you will have to find out what the new best bid price is. Do this the same way as before (sell one instantly), and put your offer slightly above the old best bid. The opposite is also true for selling -- others may use slightly lower selling prices than yours, so you'll want to buy a new one and place yours below that price.
Please note that it is a bad idea to undercut others by more than is necessary. Adding too much to the old best bid in the hope of getting more trades will only decrease your own profit.
The risk of loss with flipping is much lower than most other types of merchanting because of the short time period. However, it is always possible that the best asking price will fall after you have bought your stock, leaving you with something you paid too much for.
To avoid losses as much as possible, try not to buy your stock when the item is at a high point in its cycle. If you are very familiar with your item and its price, you should have an idea of what it trades at normally. Don't start a flip when it's trading at a higher price than what you're used to.
It's important not to panic or immediately sell what you have for a loss. Analyze the market, look at the prices, and decide whether you think the price will rise up to your level again. If so, leave in the sell offer and wait for it to complete. On the other hand, if you believe that the item will continue to drop, it may be wise to cut your losses and unload your stock before it falls further.
Another risk in flipping is making "bonehead" mistakes,like entering the wrong price, selling all of your stock instead of just one, or accepting a bad street trade. These events are immediately noticeable and can cause you to lose confidence in your merchanting ability as well as a chunk of your money. Every merchant has made mistakes like these, so if it happens to you, don't despair and try to earn some of the money back slowly. Make sure to be as alert as possible when entering offers.
After losing a lot of money from a bad flip or a mistake, many players will try to make all of that money back in one fell swoop. They will go into a volatile item's market and employ a risky strategy in the hopes of striking it rich all at once. This is a very bad idea. Trying to offset a large loss in a single trade increases your risk and usually leads to even more losses. The best thing to do after losing money is to continue to flip normally instead of taking irrational risks.
Losing money while flipping is usually rare while following proper strategy, but every merchant loses money once in a while. Try to learn from any mistakes you may have made and move on.
Changing margins
Edit
It should be noted that profit margins are not absolute - they change constantly as new buying and selling offers are introduced. In the time it takes for you to buy and sell your items, new offers can change the prices dramatically. This can be both a good and a bad thing, as the price could go up after you've bought yours (making you more money), or it could go down, even below your original price, making you less money or even losing some. This is part of the randomness of the Grand Exchange, and there's really no way to predict it.
The best asking price you have is from before you started your flip, so it could have gone up or down since then. If the price has gone down, it's bad because your offering price won't be the best one on the market and it won't be completed for a while. If the price has gone up, it's also bad because it means you're missing out on potential extra profit.
To get around this, many flippers prefer to price check the item one more time before selling their stock. This gives them an accurate idea of what to sell theirs for, maximizing their profit from the flip.
The downside of price checking at the end is that, because of the buying limits, you'll be flipping one less of the item. For items with high limits this isn't much of a problem, as one less doesn't make a big difference. However, items with buying limits of 10 or less may not be worthwhile to check at the end. It comes down to personal preference.
Example 4 - Ending price check
Ending price check
No ending price check

Buy one instantly, sell back instantly to determine margin
Buy eight at best bid price
Buy one more instantly
Sell nine at new, accurate best asking price

Buy one instantly, sell back instantly to determine margin
Buy nine at best bid price
Sell nine at old ambiguous best asking price
Choosing items
Edit
One of the most daunting parts of flipping is picking items to use. There is no one-size-fits-all suggestion for what to flip -- just about any item in the game can be flipped given enough time. However, there are certain things to look for that will indicate likely safe and successful flips:
In your wealth range -- Always choose items that are within your wealth range. If you know the buying limit of your item, multiply that by its price. If the money you are risking is less than or around there, it can be an efficient allocation of your money. If you don't have enough money to buy a limit's worth, it can still be useful to bulk flip it in smaller increments.
Undervalued -- Items that are momentarily undervalued relative to their guide price are usually safe flips, as they will rise back to the equilibrium price. (Note that this does not mean that falling items make good flips)
High volume -- Items that have high trade volume tend to make for very quick flips. Visit the most traded list for suggestions.
Non-volatile -- Items that are volatile can produce enormous profit margins, but they are also the most susceptible to huge losses. It's usually best to avoid things that can swing by 20% in a day.
Price movement -- While you don't want the price to be completely unpredictable, the best items to flip have some fluctuation in their prices. This gives them a bit more uncertainty, and larger profit margins.
Rising or falling -- More experienced merchants find success in flipping rising and falling items whose true prices are unclear and can generate huge margins. However, these introduce much more risk -- especially for crashing items, you may misjudge the future price and lose money.
Again, nearly any item in RuneScape can be flipped. It just takes a little bit of creativity to think of items, and then to test their profit margins. Items that other players recommend are usually heavily flipped and have low profit margins. Finding an item that no one else is merchanting is one of the best ways to start flipping, and with less competition there will be greater profit. Look for items that you think will be compatible with your patience level, strategy and amount of money, and find which ones work best. Keep a list, mental or physical, of successful items that you can cycle through.
Don't wait to find the perfect flipping item -- if the margin is large enough to give you a steady profit, use that item. Many flip merchants get caught up testing prices, looking for items with outsized margins, but that's usually not an efficient use of your time. Your money is put to better use making minimal profit than it is sitting in your money pouch doing nothing.
For the non-creative people out there, please visit the flipping list for some suggestions and inspiration.
Bulk flipping
Edit
Bulk flipping refers to flipping large quantities of low-priced items. It's usually the fastest and safest way to flip, but that also means it often gives lower profit than other strategies. Still, it's the best way for beginning merchants to get a handle on flipping, and it provides solid if not entirely spectacular profit. The wealth range for ranges from 0 to 200 million or higher depending on the item, but in general bulk flipping is the method utilized by merchants with little starting money.
Commonly traded, relatively low-priced items like logs, herbs, fish and ores tend to work best for bulk flipping. A great place to start looking for bulk items is the Grand Exchange Database's 100 most traded items -- each of these are traded millions of times a day, ensuring that flipping them will be fairly quick. Just about any high volume item can be bulk flipped in quick succession, so test various skilling supplies or other popular items and find what's currently working best. In general, aim for a profit margin of 1-3%.
Another essential component of bulk flipping is knowing and watching your buying limit. As we noted earlier, each item has a ceiling on how many can be bought per four hours. For bulk items, the limit is usually somewhere between 5,000 and 25,000. Always be aware of the limit of items you're about to flip, and try to keep track of how many more you can buy in the four hour period.
Also notice that items with higher margins tend to be slower flips, and lower margins tend to make for faster flips. When the profit margin is high, it often means that the trade volume is so low that buyers and sellers can't agree on prices very well. Low volume items are also flipped less, so there's less competition and undercutting. Some players prefer to do lots of quick flips with incremental profit, while others prefer to do a few small flips that might take a few hours but will give tremendous profit. The key is to strike a balance between quick flips and highly profitable ones, and again, it comes down to personal preference.
The strategy behind bulk flipping is the same as the basic strategy laid out in the How to flip section. However, there are some special tricks that can make bulk flipping a lot more successful:
Cheap items - For items with incredibly small profit margins (10 coins or less), adding one coin to the best bid price and removing one from the best ask price will lower the total profit considerably. Just offer exactly the same amount as the best bid, and the queue system will cycle through to you eventually. Note that this should only be used for very high-volume items like nature runes -- otherwise, such a low margin probably isn't worth acting on.
Buying and selling simultaneously - While you should always utilize all of your Grand Exchange slots to maximize profit, some people prefer to sell their items in a different while still buying more. This means you can only flip three items at once instead of six, but it makes each flip nearly twice as fast.
Hedging - To reduce risk, try to flip items that you can personally use in case the price drops. For example, if you are planning on training Herblore, consider flipping ranarrs or related items. This hedges your bet, because if the item goes up, you make profit; if it falls, you can train Herblore cheaply.
Undercut warning - If you've waited a while after leaving in a buy or sell offer and only one has bought or sold, that's usually a sign of someone else checking the profit margin and undercutting you. Reassess the best bid price.
Buyout - Consider buying out some of the selling stock before you try to sell yours. Merchants often taken the margins for granted, even though the best asking price could be caused by a single player selling a small quantity. You can try to raise the best asking price by buying out the selling stock instantly. Once you've bought enough of your item for the lower price, check the best asking price, and try to buy 100 or 1000 for that price, cancelling it immediately after it sends. If all of them are bought, it means that the best asking price was caused by a player with a large amount of the item, and it's not worth it to try to raise it. On the other hand, if the offer does not completely fill, it means that the best asking price was caused by someone with a small quantity of the item, and that best ask price has now gone up. Re-test the best asking price -- sometimes it will only go up by a coin or two, but sometimes it will increase by a lot. You can now sell your stock for just below that new price. This whole method requires having some of your buying limit left over, and it is more risky than basic flipping. There are certain high-volume items that it will not work for at all. Don't attempt it if you are inexperienced or unfamiliar with the item you are flipping. For a more comprehensive explanation of this concept, see the Market cornering section.
The following is a hypothetical example of how well or poorly buying up the best asking price could work.
Example 5 - Buying up best asking price
No buyout
Best case
Worst case

Buy 9,998 normally at 4,350 each
Test best asking price -- 4,375
Sell items for 4374.
Total profit of 240,000

Buy 8,998 of item normally at 4,350 each
Test best asking price -- 4,375
Try to buy 1,000 for 4,375 each; 500 complete
Test new best asking price -- 4410
Sell items for 4409.
Total profit of 547,000

Buy 8,998 of item normally at 4,350 each
Test best asking price -- 4,375
Buy 1,000 for 4,375 each; all are bought
Best asking price unchanged
Sell items for 4374.
Total profit of 215,000
Expensive flipping
Edit
Expensive flipping, as its name implies, refers to flipping small amounts of more expensive items. It is often very similar to bulk flipping, but it's usually faster and provides greater profit. However, there is much less price security, so the risk is higher. Expensive flipping mostly involves wealth ranges from 100 million to a billion coins.
The distinction between bulk flipping and expensive flipping is not always clear, but in general bulk flipping uses items that people will need more than one of, while expensive flipping uses items that regular players only buy one of. Expensive flipping items usually have limits of 10 or 100.
The best items for this method are high-priced equipment that are consistently in high demand. Examples include Godswords, Glacor boots, Barrows equipment and Dragon claw. Try to avoid less commonly traded items like random Revenant armour -- while these items will have incredible profit margins, they have such low trade volume that flipping them generally isn't a good idea. Stick to more popular items which still have great margins but move faster.
Maximum margin trick
Edit
You may have noticed that the cost of finding the profit margin for something is equal to that margin; discovering that the profit margin on Dragon claw is 84,000 coins effectively costs 84,000 coins. While this expense is not noticeable in bulk flipping because the price of a single item is fairly low, the cost of checking margins on various high-priced items can add up quickly. To save money, consider using a "maximum margin" -- that is, a maximum amount that you are willing to lose price checking.
Example 6 - Maximum margin
Buy dragon claw instantly to determine the best asking price (240,000).
If the most you are willing to lose price checking (the maximum margin) is 80,000, try selling them for 160,000.
If they sell instantly for that price, whatever they sold for is the best bid price.
If they do not sell instantly for that price, cancel the offer. Use 160,000 as your buying price, guaranteeing you have the best bid because the claw did not sell instantly for that price.
The maximum margin method is conservative and risk-averse -- it minimizes the loss from the price checking, but it also minimizes the profit from flipping. Remember that if the prices are stable, you will make back 7 or 8 times what you lost from the price check on an item with a buying limit of 10. The maximum margin you set may be much lower than the actual profit margin, making you less money than you would have by finding the real margin, losing more money upfront. This usually works best for items with volatile margins changes which can make you lose more money on the price check than you make on the rest of the flip put together.
The expensive flipping strategy is very similar to the bulk flipping strategy, so refer to that section for more information. There are other tips that only work for expensive items.
Don't use round numbers -- Non-merchants often buy expensive items for nice round numbers like 6,000,000 or 18,550,000. A lot of merchants do the same thing. To give your offer priority over others who round their prices, add a few coins to any buy offers, and subtract a few from sell offers. Instead of buying something for 6,000,000, buy it for 6,000,005. Instead of selling something for 18,550,000, sell it for 18,549,995.
Lowballing -- Because expensive items are traded in lower quantities than bulk items, the margins move around much more. You can try putting in a buying offer far below the current price, and wait for the market to move in your direction. This can take a few hours, and sometimes it will not work at all. See the inactive flipping section for more details.
Rare flipping
Edit
Rare flipping is the riskiest and most profitable type of flipping. It uses incredibly high-priced items like discontinued holiday drops, Nex equipment and Spirit shields. These items' prices range from around 20 million to well over a billion coins, so only rich and experienced merchants should attempt to flip them.
Rare flipping is radically different than any other kind of flpping, for multiple reasons. All rare items have a buying limit of two -- this means that you can't stick with one item for very long. Rare items also have very low trade volumes, so some offers may take hours to fill even when they're the best ones the market. Finally, the prices of these items are very fluid; even ignoring buying limits, it's unlikely that you could buy more than one or two of something without changing the best asking price. The act of price-checking will often change the price.
What does this all mean? It means you can't check the margins in the traditional way, buying and selling instantly. You will lose a margin's worth on the price check, and you'll be able to buy one more in that four hour period -- at best, you will break even when using the buy-high/sell-low method. A different strategy must be used to test the margins on these items.
Checking margins
Edit
To determine the buy and sell prices for rare items, do the following:
Buy one of the item instantly.
Resell it for a few coins below what you paid. Depending on this item, this could take a while.
Put in a buy offer for that instant buy price, minus the established margin for that item. A list is found below.
If the buy offer does not complete after a while (twenty minutes to an hour), increase your buy price by one-quarter of the margin.
When the buy offer does complete, re-sell the item for a few coins below the buy price from step one.
| Item | Margin |
| --- | --- |
| Spectral spirit shield | 200,000 - 400,000 |
| Arcane spirit shield | 300,000 - 600,000 |
| Elysian spirit shield | 750,000 - 1,500,000 |
| Divine spirit shield | 1,000,000 - 3,000,000 |
| Virtus mask | 300,000 - 600,000 |
| Virtus robe top | 600,000 - 1,200,000 |
| Virtus robe legs | 400,000 - 800,000 |
| Pernix cowl | 1,000,000 - 2,000,000 |
| Pernix body | 2,000,000 - 4,000,000 |
| Pernix chaps | 1,000,000 - 2,000,000 |
| Torva full helm | 1,000,000 - 2,000,000 |
| Torva platebody | 2,000,000 - 4,000,000 |
| Torva platelegs | 1,500,000 - 3,000,000 |
| Zaryte bow | 500,000 - 1,000,000 |
| Green h'ween mask | 250,000 - 500,000 |
| Blue h'ween mask | 400,000 - 800,000 |
| Red h'ween mask | 500,000 - 1,000,000 |
| Santa hat | 300,000 - 600,000 |
| Easter egg | 400,000 - 800,000 |
| Pumpkin | 1,000,000 - 2,000,000 |
| Disk of returning | 1,500,000 - 3,000,000 |
| Half full wine jug | 5,000,000 - 15,000,000 |
| Purple partyhat | 2,000,000 - 4,000,000 |
| Yellow partyhat | 4,000,000 - 8,000,000 |
| Green partyhat | 4,000,000 - 8,000,000 |
| Red partyhat | 5,000,000 - 10,000,000 |
| White partyhat | 10,000,000 - 20,000,000 |
This method allows you to profitably flip one of that item per four hours, because finding the best ask price reduces the limit by one.
Alternatively, consider using the R Quark Friends Chat (for holiday rares) or the Nex and SS Friends Chat for Nex armour and Spirit shields. Players in these chats report the prices they bought and sold their rares for, saving you the trouble of price checking and allowing you to flip 2 per four hours instead of one. However, these prices can be outdated, and some players may report false prices in the hopes of tricking others into paying more than they should. Price checks from these chats can be extraordinarily helpful, but use them with some caution.
Group flipping
Edit
Another way to gain an advantage here is by flipping with friends. If you have a trusted comrade with the wealth to flip with you, work together by each price checking one item the traditional way, sharing the prices and flipping them together. In doing so, it increases the number of flips the two of you can do with the price checks. This is known as duo flipping, or group flipping if done with more than two people.
Player1 buys and sells a Red h'ween mask instantly, determining its margin. Player2 buys and sells a Blue h'ween mask instantly, determining its margin.
Both players share their price checks.
Player1 buys a Red h'ween mask at the lower price and sells it for the higher price breaking even overall. Player2 buys a Blue h'ween mask at the lower price and sells it for the higher price breaking even overall.
Player1 buys two Blue h'ween masks for the lower price that Player2 told them, and sells them at the higher price. Player2 buys two Red h'ween masks for the lower price that Player1 told them, and sells them at the higher price.
Assuming no undercutters, Player1 has successfully flipped two Blue h'ween masks for profit, and Player2 has successfully flipped two Red h'ween masks for profit.
Duo flipping effectively doubles the limit between two merchants, and it gives the exact margins for rare items. However, it's slightly more risky than normal rare flipping because by definition it entails taking a loss from the price check. Prices sometimes change before you can recoup the money lost, so the price check becomes worthless and you've lost whatever the margin is.
Partyhat flipping
Edit
Active flipping
Edit
In this guide, it's mostly been assumed that when you're flipping, you're around the Grand Exchange often enough to check your offers regularly. You're actively making new offers as old ones complete -- this is called active flipping. Active flipping is not the only type of flipping (as we'll see in the next section), but it is the most common and generally the most profitable.
Efficiency
Edit
When done right, flipping is always long-term profitable; you will have a have few losses here or there, but your wins should vastly outnumber your losses. However, active flipping also has a time opportunity cost -- how much money could you have made with a normal moneymaking method in the time you spent flipping? The amount you could potentially make in an hour depends on your skills and starting capital, but players with no skills and limited money can make about 500,000 coins an hour just by tanning dragonhide, and players with high combat skills and expensive equipment can 4 million or more an hour killing Nex or other bosses. By contrast, active flipping profit varies wildly, depending on luck, strategy and starting cash.
Someone actively flipping with about 2 million coins might expect to make 300,000 coins an hour, less than what they could have made tanning dragonhide at the very least. This is why it's usually recommended not to flip with less than 10 million coins. With more and more money, the profit per hour of active flipping goes up until it reaches a plateau of about 10 to 15 million per hour; much better than any traditional moneymaking method.
In reality it's not as simple as comparing the profit per hour from flipping versus other things. Killing Nex or tanning hides for an hour is much more draining than actively flipping; even though it's "active", it's still mostly waiting. The luxury of not having to pay close attention all the time makes players more likely to flip even when it's less money per hour than the best method they can do. What's more, active flipping can be multitasked -- any activity in proximity to the Grand Exchange can be a great diversion while waiting for offers to progress. Some common examples are making potions, high alchemising, Firemaking and chopping ivy. Profit from active flipping can even be augmented with another moneymaking method close to a bank, such as making unfinished potions, cleaning herbs or enchanted bolts or jewellery. Flipping takes up very little time and energy other than waiting, so it can be combined with other things.
Maximizing profit
Edit
In active flipping, there are three things limiting your profit potential: your amount of money, your Grand Exchange slots, and the buying limits.
More money allows you to make more expensive flips, which give greater profit. Ideally, you should be utilizing as much of your money as possible, all the time; money sitting in your money pouch won't generate any profit, so keep most of it in the Grand Exchange. This is not always true, though -- some merchants prefer keeping some of their wealth as coins at all times, reducing their risk and leaving something left over if their flips go catastrophically wrong. Still, try to engage all of the money you're willing to risk, all the time. As you gain more money this can be difficult to do -- there are fewer ways to utilize a billion coins than 10 million without taking larger risks like rare flipping.
By that same token, you'll want to use all of your six Grand Exchange slots at once, whenever possible. In most cases, you'll make more from six small flips than you will from one big one. As you gain more and more money to flip with, the limiting factor stops being your money supply and starts being the fact that you only have six slots to work with. Try to keep your slots free of unnecessary offers, especially trying to sell failed flips at prices they won't currently sell for. Leaving a futile offer in while active flipping is a bad use of your slots. Either sell them for a loss and get some money back, or leave it in your inventory or bank until the price reaches a point that you are willing to sell for.
The final thing limiting your profit is of course the buying limits.Once you've flipped the limit's worth on something, you need to move on to other items. This is especially problematic for expensive items with limit 10, like dragon claw -- the entire flip may take no more than a few minutes, but you won't be able to do any more for four hours. To maximize your efficiency keep a list of 20 or more of your favorite items that you can switch between immediately after completing one flip. Time spent idling with offers complete, slots empty and money left over is wasted time.
Inactive flipping
Edit
Inactive flipping is completed over a larger amount of time than that of active flipping.
Essentially, we take control of an item with a low "volume". The volume of the item is how much of the item is traded/on the market every day.
When an item has a low volume, offers fill slower and sell slower. So, this leads impatient people to sell for a lot under the market and buy it for a lot over the market price. If we have an offer in when they are selling, we will get the item for the low price that we have set.
It can be done in quite a few different ways, i'll explain the best forms to you.
Item's to Use When inactive flipping, we are aiming to inactive flip an item with a lower volume.
The best items for this are generally Treasure trail items, nex items, revenant items and holiday items. The most commonly inactive flipped items are; Easter eggs, top hats, vesta longswords and virtus mask.
Buying Off the Graph The first thing that we do is check the graph of an item. If the item has been rising for the last few updates, it's more than likely going to continue to rise for the next few updates. We can then go ahead and price check the item. This is done the same way as we would with active flipping. Once we find out what the prices are, we can then set our offers in. When inactive flipping, instead of buying it for over the low price, we buy it for a little bit under the low price. Also, we can buy more than just one limit as we are going to have the offers in for a larger amount of time, so if the limit was 2, you would put in an offer for 4.
I'll use an example to explain the situation.
I price checked top hats to be a 210k high price and a 145k low price. The next thing that I would do is put in a buy price for roughly 3-6% under that price. So I would put in an offer for 4 top hats at 130k. Once they have all bought, I would go ahead and sell them for 3-6% over the high price, which is 225k.
Lowballing This is one of the most profitable forms of merchanting. But, It is rather slow.
Basically, we are aiming to low ball the item's with the lowest volume on the market. So that would be nex/rev items and tt items.
We put in a random low silly price for an item in the hope that someone will sell it off for a ridiculously low price. This would fill our offer and then we could go ahead and sell it at a higher price.
Here is an example;
It can be very risky because the prices may change during the time that you have been inactive.
So, make sure that you are confident that the item will rise in price before you decide to inactive flip the item.
Lowballing is the safest form of inactive flipping as you will be buying at the lowest price possible.
Time of day
Edit
The amount of items being traded on the market changes depending on the time of day.
Currently, the Americans dictate how our market runs as they have such a large player base. When the americans are asleep, the margins are generally better because there is less people merchanting/selling/buying and when the americans are awake, the margins are generally smaller because there is more people online. Also, the price tends to rise more when more people are online and fall more when less people are online.
With this, we can utilize a buy in the times when the less people are online and a sell when all the people are online.
Using this tool, we can analyze when the best time to buy is. http://bsmerchants.0fees.net/chart.php
Free-to-play
Edit
Diminishing returns
Edit
Investing
Edit
Investing is the art of predicting when an item will rise and buying in just before the item starts to rise, and then selling when the item reaches it's highest price possible.
There are a number of ways to predict when these items will rise/fall and they will all be explained below.
Undervalued investing
Edit
Technical investing
Edit
Graph analysis
Edit
Basic analysis
Edit
Support and resistance
Edit
A graph has different types of levels along the top and bottom of it's current price fluctuation. The two main ones are - Support and Resistance Levels. This is what we use to pick our investments. Before I go into what they are, I'll give you a brief description of what they do. In real life, if we are in our house and thrown a ball at the ground, it will rise up and hit the roof. Once it hits the roof, it will begin to fall back to the ground and once it reaches the ground it will then again raise back up.
In this example, the floor is the support level. When the ball nears the support level, it raises up to the resistance level.In this example, the roof is the resistance level. When the balls nears the resistance levels, it begins to fall back down to the support level.
Support Levels
Support levels are completely and utterly the floor of an item.
It acts as an invisible barrier, stopping the item from falling past a certain price. Support levels are on every graph, in different places. We an investers, aim to buy when an item is nearing it's support level.
When an item's price gets close to a support level, it will start to rise in price. It's sort of like a repellent, when the price nears the support level, it repels away and moves up in price.
Here are a few examples;
With the support level, we can easily predict when an item will turn around in price and start rising. This is probably the BEST thing that we have as an investor.
We can buy the item just before it reaches it support level, and then it will rise to the resistance level. This is how 100's of people make their money on runescape.
Resistance levels
Resistance levels are completely and utterly the roof of an item.
It acts as an invisible barrier, stopping the item from rising past a certain price. Resistance levels are on every graph, in different places. We as investors aim to sell when an item is nearing it's resistance level.
When an item's price gets close to a resistance level, it will start to fall in price. It's like a repellent, when the price nears the resistance level it turns around and starts falling in price.
Here are a few examples;
With the resistance level, we can easily predict when to sell our item to maximize our profits. This is one of the BEST tools we have as an investor.
Chart patterns
Edit
Drawbacks
Edit
Update speculation
Edit
Every month, Jagex releases a Behind the Scenes on the updates to come in to play that month.
Usually, there will be little snippits of information about changes to items or whole new updates in the game that rely upon certain items.
When something new happens to an item or if something comes out that revolves around the item, there will instantly be more demand for the item. On the day that the update comes out, everyone will be buying the item as much as possible. This will raise the price of the item and we can sell of what we bought when we read the Behind the scenes.
Here is an example;
In the BTS for May they said there will be a new dragon coming out named the queen black dragon. It was said that it would be a solo fight and it would extremely difficult and only high level players could defeat it.
Instantly update speculation clicked into my mind and I thought, what do people need when they are killing bosses? I thought Saradomin Brews, Super restores. I invested heavily into Saradomin brew flasks at a price of 22k and the day of the update I sold them all at 29k each.
The large rise was due to everyone wanting to try out the new boss therefore they needed Brew's for food, thus the demand rose.
Safe investments
Edit
Bulk supply
Edit
Market cornering
Edit
Street merchanting
Edit
Street merchanting is trading for profits the same way you do over the Grand Exchange, but in person. These trades usually occur either on trade worlds, or are arranged on the forums.
There are both upsides and downside to street merchanting:
No monetary cost. Determining the street value of an item does not require a buy/sell test.
No limit on quantities. You can buy as much as you want of an item when trading in person.
New prices means more opportunities to make money.
Downsides
Edit
More time intensive. It takes longer to arrange trades in person than though the Grand Exchange.
More effort. Offers can be left on the Grand Exchange even when offline, unlike street merchanting.
Street value
Edit
For several reasons, items often have street values (prices at which they are traded in person) that are different from that item's market value. Those reasons include:
The item is hard to obtain. (Example: Christmas Cracker)
Investors desire large quantities that cannot be obtained through the Grand Exchange.
People may feel the item's value is not being properly represented by the Grand Exchange.
People often trade items at these street values in trade worlds, or arrange trades on the forums. By checking other players' offers at these locations, one can find wider price ranges and therefore generate more profit. As an example, if the market value of an item is 120gp to 125gp each, but a buyer offers to pay 127gp each on the forums, additional profit can be made by buying that item from the Grand Exchange and selling it to the buyer on the forums.
In almost all cases, it can be guaranteed that the street value of an item is equal to or higher than the market value. This is because if the instant-sell value in the Grand Exchange is higher than the street value, suppliers will just sell to the Grand Exchange instead. However, it is only guaranteed that the street value of an item is higher than the market value if the item is actually even traded on the street. If you intend to rely on street values to make money, make sure that the relevant items are traded on the street first.
Trading on the forums
Edit
Using the Runescape Forums to arrange trades can be a great way to earn additional profit from your flip or investment. The forums has a marketplace section where users can post threads advertising their desire to buy or sell any item. Players then contact each other on these threads or in game to arrange a trade in person, rather than on the Grand Exchange.
Before you can use the forums to the best of your ability, you will need to be aware of various conventions that should be followed.
Include absolutely necessary information in your thread title -- no more and no less. State whether you are buying or selling (users often use [B] to represent buying and [S] to represent selling), and state what items you are trading.
Sometimes it is better not to name a price. If you are not sure what the street value of your item is, you could accidentally advertise a price that will scare away traders or lose out on a better deal. If somebody was willing to pay 2,500,000 gold for an item but you offered to sell for 2,400,000, you would lose a potential 100,000 gold.
If you choose to name a price, but you are willing to negotiate a different price, then you should always state that your price is negotiable.
Never buy and sell the same item at the same time. If you state that you are buying an item for 19 gold each and selling it for 21 gold each, other traders will be aware that you are just trying to make gold off of them and that they can get a better deal elsewhere.
Here is an example of good thread design:
Conclusion
Edit